Santa Claus or Santa Claus is a character most children look forward to on Christmas Eve. They always hoped, he would come in a cart pulled by reindeer and bring cute gifts.
With this very simple and easy way to make a cute Santa Claus with paper, you can do it with your children to bring the Christmas atmosphere home.
Hand-made paper Santa Claus with meaningful Christmas greetings is a meaningful gift for friends and relatives.
Make Santa Claus out of paper
1. How to make Santa Claus from a very unique toilet paper core
From discarded toilet paper rolls, we can create very cute Santa Claus, let's do it.
Material:
Paper core
Red paper, white paper
Scissors, black marker, glue
How to make Santa Claus


Use red paper to seal around the toilet paper core.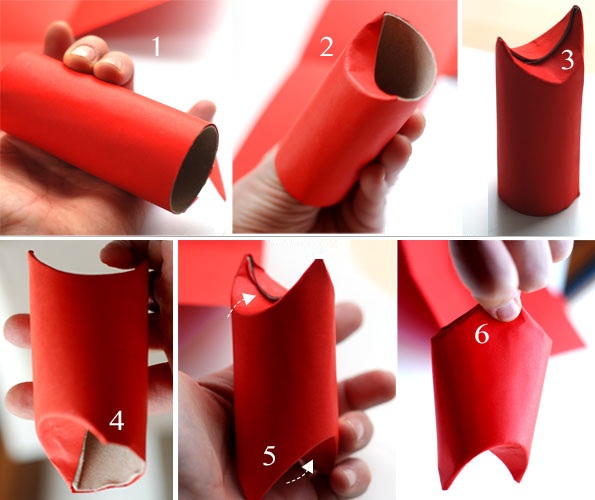 Then use your hand to press the top of the paper core (about 1cm) to the inside, then smooth the indentation down to the two halves of the paper core. Turn the other end of the paper core and do the same, but pay attention to the protrusion of the two ends of the paper core staggered with the other end as shown below.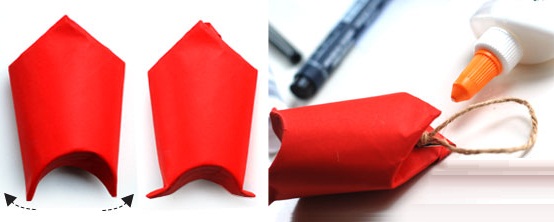 Gently squeeze the top half of the paper core with your hands, and then secure the two sides of the folded edge together with tape. Before gluing, you can use a small rope to put it in the middle to make a hanging rope when decorating. The two spikes of the rest, you bend slightly to the sides to make Santa's legs.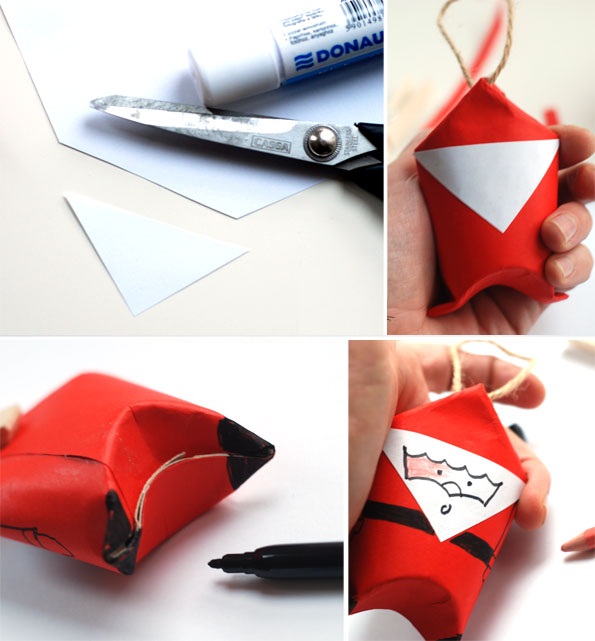 You cut an equilateral triangle of white paper and then use a marker to draw Santa's face. Then you use glue on the body of the paper core as shown below. You can also use a black marker to paint over the legs to make boots and draw a horizontal belt in the center of the paper to make a belt for Santa.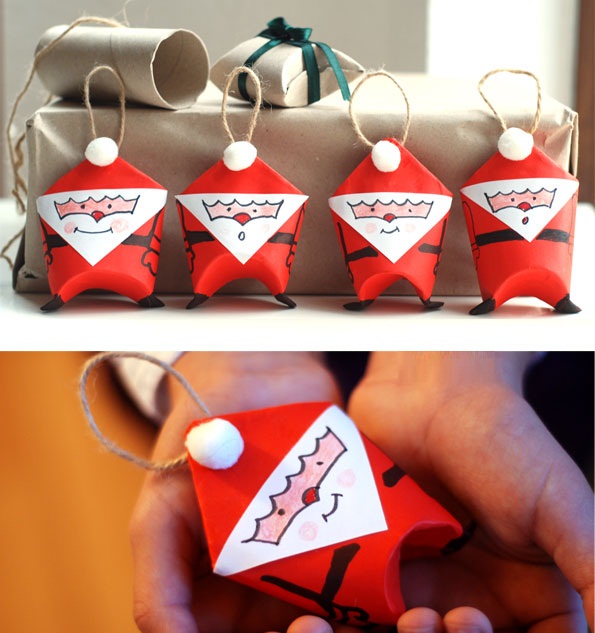 Don't forget to attach a little cotton ball to the top of the hat to make it Santa's standard. So in just a few minutes, you can recycle your discarded toilet paper cores into adorable Christmas decorations.
2. How to make a very easy paper Santa with your baby
Material:
Colored paper (white and red)
Decorative beads (if any)
Glue
Drag
Making: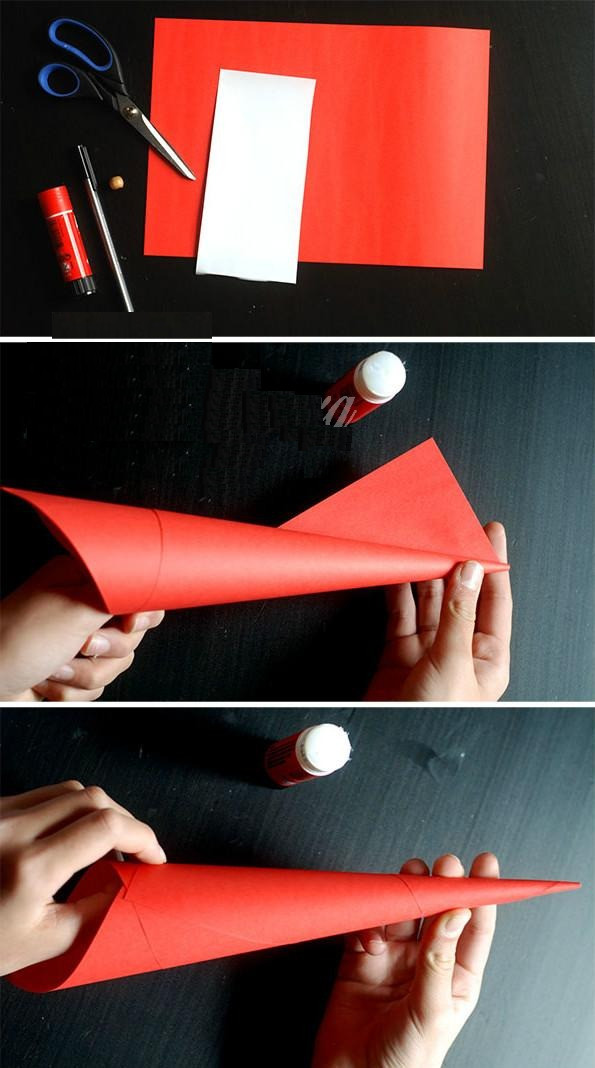 Use red paper to roll into a pyramid, then use glue to fix it.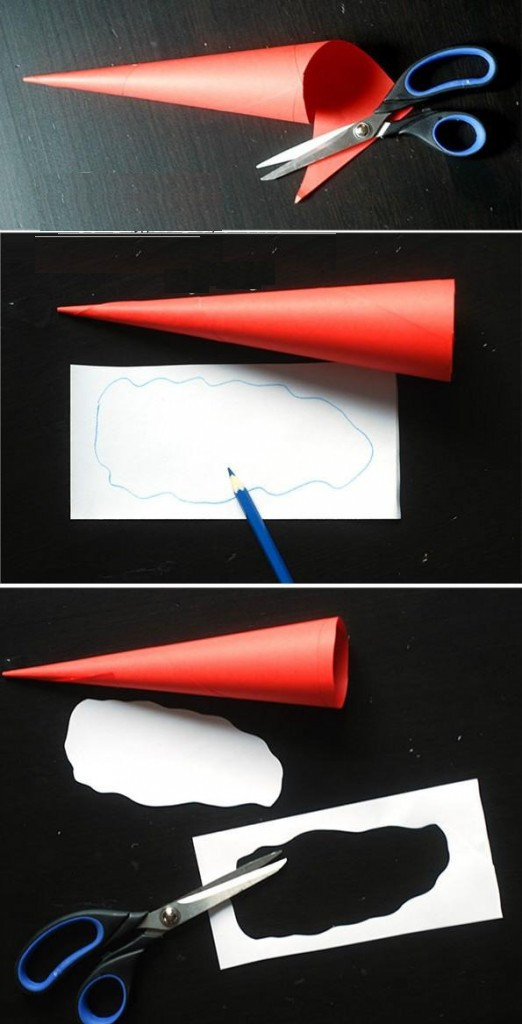 Use scissors to cut off the excess underneath to create a flat base that can stand up. Draw a picture of Santa's beard on white paper (as simple as an elongated cloud is fine) and cut it out. You should estimate with the height of the paper tip to get the appropriate size.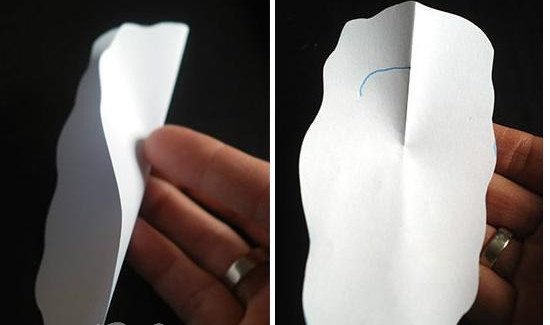 Slightly fold the top of the cloud, draw a blue subline (as shown below) and then cut along the drawn shape to create a 1/2 oval.

Fold the cut paper down to make a gap.
Slightly fold the pointed end of the cone to create Santa's hat. Insert the beard you just made and you have created a sketch model of Santa Claus.

Cut a small circle of red paper for the nose and a small white cloud to make Santa's mustache. Glue the mustache you just made onto Santa's face.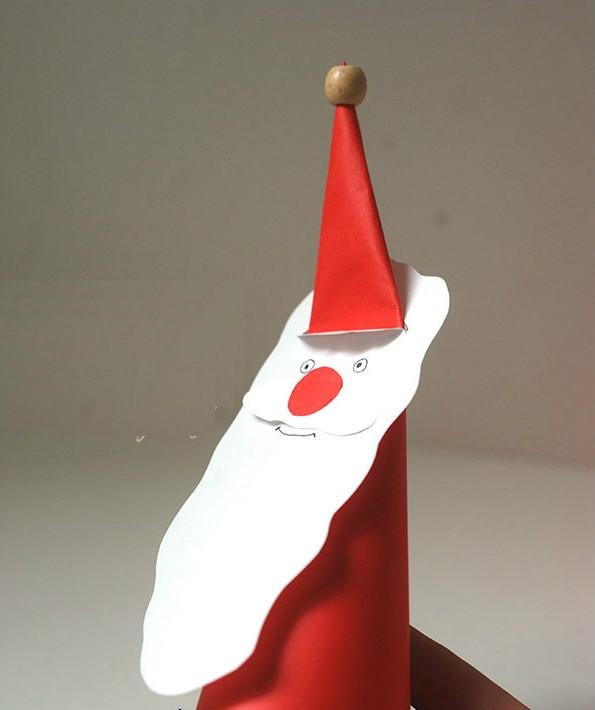 Next, you use crayons to draw more eyes and mouth for Santa. Finally, you use beads to attach to the top of the hat and you have completed a very lovely paper Santa.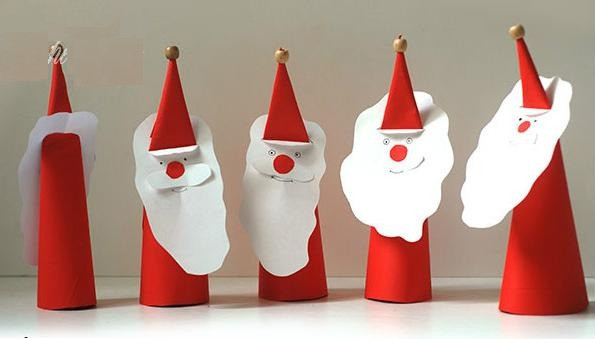 You can use paper of different sizes, large and small, to create adorable little and giant Santas for your baby and decorate your home during the Christmas season.
3. Ways to fold and arrange Santa Claus with beautiful paper in origami style
In addition to the above two ways, TipsMake.com would like to introduce to you some very cute and beautiful ways to fold Santa Claus pictures with paper.
The ways to fold these paper Santas are quite simple, just follow the instructions in the videos below to do it right away. In addition to Santa Claus, you can also fold a paper snowman yourself, make a laurel wreath to decorate your home and give as a gift to your loved ones this Christmas 2016.
4. Santa Claus collage from craft paper
With simple materials and tools including white, red, blue cardboard and human skin or light pink paper, scissors, glue and crayons, you just need to follow the instructions in the picture below. It is very easy to cut and paste Santa Claus.
How to make Santa Claus from this paper is very simple, parents can guide or work with their children to have both a beautiful Christmas decoration and help their children practice creativity, ingenuity and have creative ideas. relaxing moments.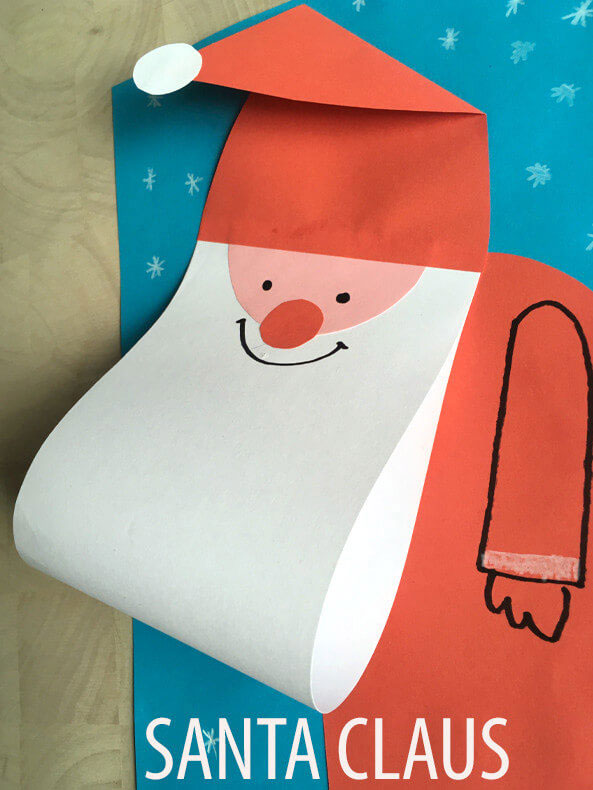 With Santa from this craft paper, you can make an extra part of the cape and stick it on the blue cardboard as shown in the picture to display or make a Christmas card for everyone.
5. How to make Santa Claus with paper plates
Materials to prepare:
Disposable paper plate.
Paper in white, black, red.
Water color.
Glue, scissors.
Making: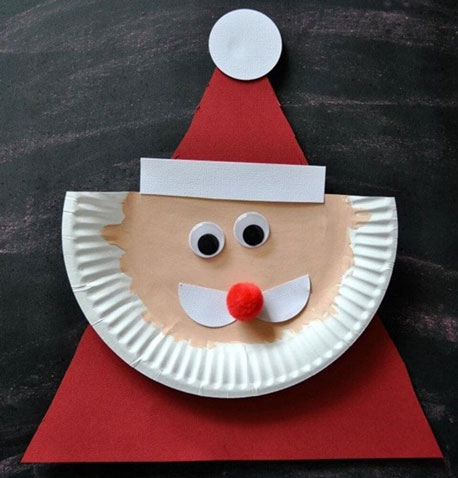 Step 1: First cut the paper plate into 2 unequal parts to make Santa's face.
Step 2: Use the same color as the skin color to fill the inside of the plate or you can use colored paper to cut a circle with the same size as the inside of the plate and paste it on, remember to leave the outside as a beard.
Step 3: Using white paper, collage eyes, beard, mouth, hat for Santa.
Step 4: Cut a large triangle to make the hat. Paste the Santa Claus face you just finished collage on the triangle. Cut circles and rectangles with white paper and stick them on to create a Santa hat shape.
.