Did you know that Windows has a built-in way to create screensavers? It's a great way to avoid downloading anything and create a real screensaver of your own.
How to create screensavers in Windows 10
1. Arrange the desired screensaver images in a folder of your choice (or use folders My Pictures default).
2. Right click anywhere on the desktop to access the applet Personalize. Select tab Lock Screen and then go in Screen saver settings.
3. In the window that opens, select Photos from the drop-down menu. To select a source other than My Pictures, go to Settings > Browse and choose another location before clicking Save.
4. Configure the settings according to the given options, click OK or Apply and your first DIY screensaver is ready to go.
How to create screensavers in Windows Vista
The process of creating screensavers on Vista is similar. Follow these steps to find tools that turn your photos into screensavers.
1. Right click and go to Personalize > Screen Saver > Settings.
2. Select Photos from the menu Screen Saver.
3 part Settings of screensavers will allow you to further customize:
You can have a lot of media content, but there are ways you can customize what you do and don't want to see with a few easy clicks.
To display only photos with a specific tag, enter the tag in the box With this tag associated with the image.
To show only photos with a specific rating, click the star rating on the list With this rating or higher.
To apply the slide show theme to screensavers, select a theme from the list Use this theme.
To play photos and videos in random order, check the box Shuffle contents.
How to create screensavers in PowerPoint
We all get high impact motivational PowerPoint attachments in our inbox from time to time. You can turn them into attractive screensavers quite easily with the help of PowerPoint 2021. Here's how to create screensavers from slideshows:
1. Open the presentation that will become your screensaver in PowerPoint 2021.
2. Click File > Save As to open the window Save As.
3. Through the window Save As, select an empty folder or create a new folder to hold the PowerPoint images.
4. Enter any filename you want. In the drop-down menu Save As Type, scroll down to select any image format (GIF, JPG, TIFF, PNG, BMP). Click Save.
5. PowerPoint provides an option to save all slides or just the current slide as an image. Select an option to end this part of the process.
6. Then screensavers can be activated using tab Personalization > Locks Screen > Screen saver settings as mentioned earlier. Remember that this method does not retain any of the animations, transitions, and embedded media present in the original PowerPoint slide.
How to create screensavers with Google Photos
Google Photos has replaced Picasa as one of the best free photo management apps out there, and it has a nifty feature that lets you create and download slideshows.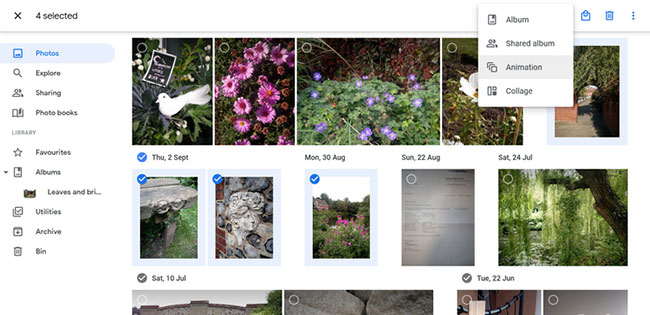 1. Open Google Photos and click tab Photos.
2. In Photos, select the picture you want in the screensaver.
3. Click the plus icon Add to or create new at the top, then click Animation.
4. When Google Photos shows you a slideshow, go straight to More options > Download.
5. Set the downloaded GIF file as a screensaver and you're done.
How to create screensavers with Finalhit
If you are wondering how to create screensavers with specialized software, check out what Finalhit has to offer.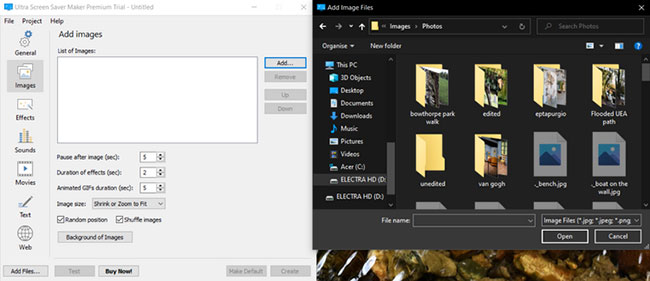 It's an app you can download and use to design screensavers that are a bit more detailed than the standard Windows options. It comes with a free trial, so you can try it out before you decide to buy.
Here's how to create your own screensavers with Finalhit:
1. Launch Finalhit and select the desired image, video, audio or text.
2. In all these tabs you will find the . button Add. Use it to upload the files you want.
3. Adjust the settings of each element, which may include pause options, duration, size, etc….
4. Click the tab Effects and choose any option you want.
5. When ready, click the button Create and use the file as a screensaver.
How to create screensavers with Blumentals
Another downloadable app to consider is Screensaver Factory by Blumentals. It works like Finalhit, including a free trial, but with a clean interface and more tools, especially for professional users.
For example, in addition to photos, animations, and sounds, you can add shapes, background patterns, and promotional features to market your brand.
Here's how to put all of this into a cool new screensaver:
1. Launch Blumentals and click the button New Project.
2. Use the buttons Add or Add folder to bring in all the audiovisual elements you need.
3. Customize Everything Through Button Properties, as well as the menu in Options.
4. Click Create Screensaver to save the finished project on your computer.
.