Recently, a 23-year-old boy from Dak Lak has surprised everyone when he bought himself a Lamborghini Huracan LP610-4 supercar for nearly 13 billion VND. Not stopping there, he also revealed his plan to buy another Ferrari supercar next year.
The boy in this story is TAQ born in 1998 in Ea Kenh commune, Krong Pak district, Dak Lak province. Q. said he ordered a Lamborghini Huracan from mid-September in Ho Chi Minh City. Ho Chi Minh City, but due to the complicated COVID-19 situation, it was not until September 25 that the car was brought back to Dak Lak.
Q. said that he had a passion for supercars since childhood, so as soon as he could, he decided to buy himself a car to travel. Initially, Q. aimed for a Porsche 911, but after consulting the owner of the car showroom, Q. switched to a white Lamborghini Huracan.
Q. studied IT in Da Nang and is currently helping his parents grow durian. At night, he researched more types of investment and business on e-commerce platforms. The amount of more than 13 billion to buy a car according to Q. is the money he accumulated from outside investments plus money from the family's durian business.
Notably, this is not the first car of Q.. At the end of 2020, this 9x boy bought a Mazda6 for about 1 billion VND.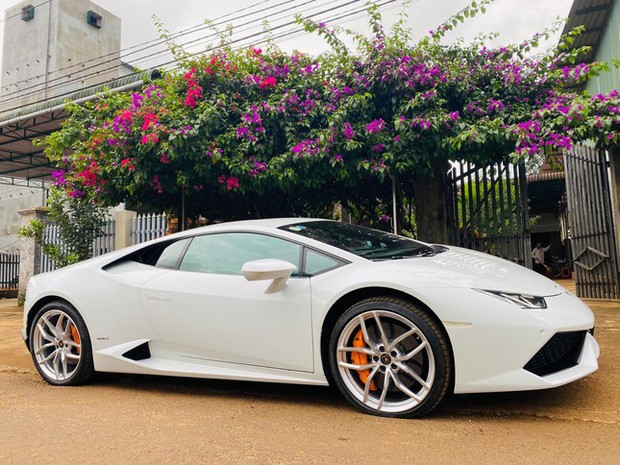 Sharing about the performance of the low-rise supercar in the mountain town, Q. said it was not as difficult as people thought. According to Q., the roads in his area are now paved, so traveling is quite convenient. Q. tried driving his "super cow" for a test round without any difficulty.
Q. also said that in his hometown, it is normal for young people to buy cars for billions of dollars. Many friends who also invest and do business like Q. can buy cars and build new houses. Q. set a goal next year to buy another Ferrari for the same price as the Lamborghini he currently owns.
Where have you been studying IT? The legend of the 9x brother studying IT is real!