Apple's switch to using its own research and development processor line called the M-series on new MacBook models has brought a huge leap in performance, battery saving, as well as improved performance. such as application compatibility that an ARM PC model can achieve. The perfect launch of the M1 chip on the MacBook 2020 models brought Apple great success. Following that success, the introduction of M1 Pro and M1 Max in 2021 is also highly appreciated.
Therefore, it is not an exaggeration to say that the launch of the M1 processor family is an important milestone for Apple in particular and the ARM processor market for PCs in general. It has been a year since the first MacBook M1s were released and the market was well received. To celebrate this event, Apple has just given its engineering team a small but meaningful gift, which is "limited edition" t-shirts printed with M1 chip, accompanied by a sincere thank you for your support. Help make this amazing product a reality:
""Every so often, something comes along that changes everything. Congratulations and thank you for helping make Apple ‌M1‌ possible!"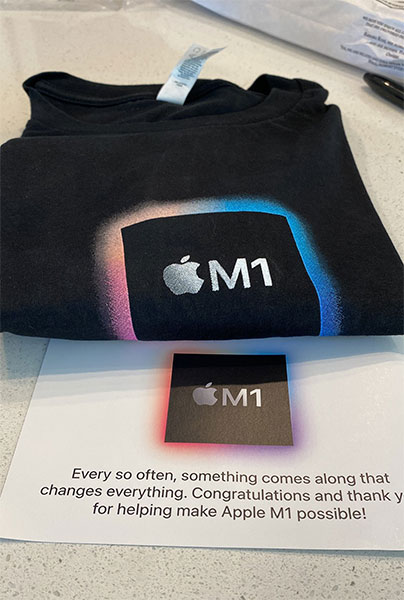 The image of the shirt and the meaningful message line was posted by Andy Boretto, a senior software engineering director at Apple, on his personal Twitter, and immediately attracted a lot of attention. Many people expressed their desire to own such a shirt from Apple, but it will be quite difficult because this is a limited gift. It is not excluded that these t-shirts in the future may be auctioned or resold for a high price. That is not uncommon for special products from Apple.
But of course, the gift that Tim Cook gives to his associates after a successful project like M1 is not just shirts. As Bloomberg reported last week, Apple has offered some of its high-contributing employees attractive and rare stock bonuses at the end of the year. Bonuses range from $50,000 to $180,000 – not small numbers.
.