Happy New Year Lien Quan Event is the latest New Year 2022 Lien Quan Mobile event that gives grandmasters hundreds of attractive gifts. You just need to log in every day, participate in a few matches, and you can own Mythical Hero Chests, Charms Paper, Avatar Frames and much more.
Too many HOT gifts in the chain Event 2022 Lien Quan Mobile, the exclusive costumes of God of Fortune in Nham Dan New Year are waiting for the masters to own. Let's review with Taimienphi through the classic series of events of the Lien Quan Mobile 2022 Tet through the following article,
Summary of events for Tet 2022 Lien Quan Mobile
New Year Event 2022 Lien Quan Mobile – List and how to receive rewards
1. Fragment Collecting Event
– Time: From January 12, 2022 to February 7, 2022
– How to join: Gamers need to complete First Time and Daily missions to collect Shards, use Shards to redeem rewards. Also daily login also allows the player to get the Piece.
– Reward: 1000 Gem Pieces, Avatar Frame, 45 Mystic Charms Paper, Greek Mythology Florentino or A Badge + Rename Card.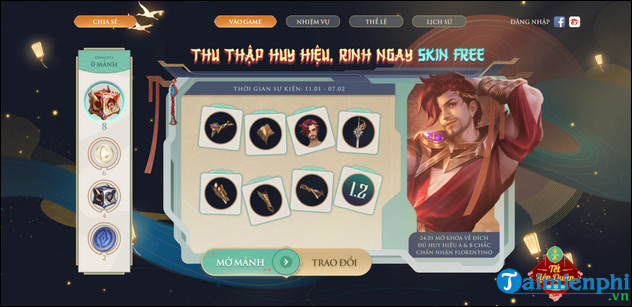 2. Event of the Destination Receiving Gifts
– Time: From January 24, 2022 to February 11, 2022
– How to join: Log in for 7 consecutive days to get the reward.
– Reward: When possessing Badge A and B, the player will receive the Greek Myth Florentino skin immediately.
+ Day 1: 1000 pieces of Jade
+ Day 2: 5 Cheer sticks
+ Day 5: 20 Amulet drawing paper
+ Day 7: Greek Mythology Chest B (Badge B + 5 Treasure Tickets)
3. Fireworks Together Event
– Time: From January 24, 2022 to February 24, 2022
– How to join:
+ Enter the event, choose the outfit you want to receive at the end of the event
+ Pricing yourself after choosing the outfit. on a mission to help your friends lower the price.
+ Ask your friends to lower the price of the outfit by sharing the Link.
+ After lowering the price to click low, you can buy them.
– Reward: Random skin, you can change to another skin if you already have it.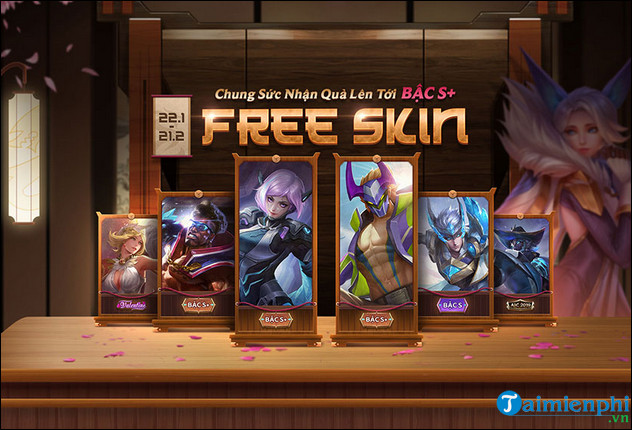 4. Lucky Draw Event
– Time: From January 27, 2022 to February 6, 2022
– How to join: Complete missions to get lucky money
– Reward: Opening lucky money gamers have the opportunity to receive Quan Huy, Shopee Voucher and In-kind gifts of super value. Especially if you snatch at the golden hours from 12:00 to 14:00 and from 8:00 to 22:00 every day, the chances and rewards will be higher.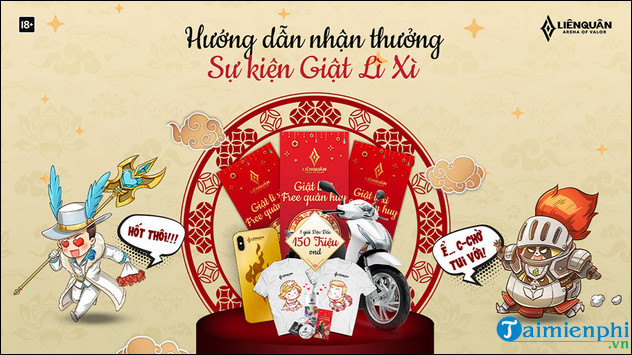 5. The God of Wealth Event
– Time: From January 24, 2022 to February 13, 2022
– How to join: Similar to other events, players need to complete the tasks listed by the system and get points Flip the Card to receive 6 special items. After reaching 6 items you can proceed to redeem the rewards.
– Reward: Valhein God of Fortune costume (on February 1, 2022 to receive rewards).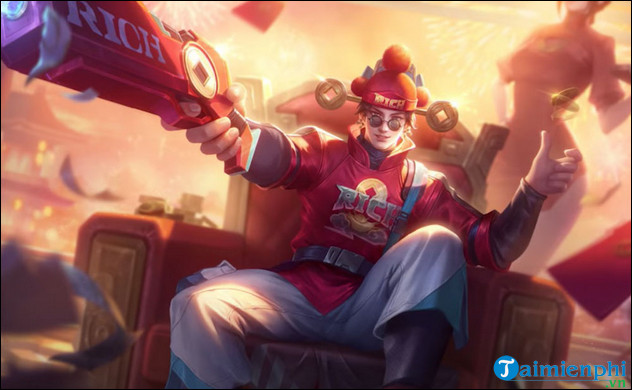 https://thuthuat.taimienphi.vn/chi-tiet-su-kien-tet-2022-lien-quan-mobile-67372n.aspx
Above is the list as well as how to participate in the Tet 2022 Lien Quan Mobile event to receive rewards, in total players can own up to 4 sets of free skins, including 2 S + tier skins for Tet Lien Quan Mobile 2022. not inferior to Free Fire event 2022, survival shooter on Android and iOS.
Related keywords:
Details of the event of Tet 2022 Lien Quan Mobile
, List of Happy New Year events Lien Quan Mobile 2022, New Year events 2022 Lien Quan Mobile list and how to receive rewards.,