After months of waiting, Apple has finally officially launched AirPods 3 at the event on October 18, 2021. The new product comes with many improvements not only in the external design, but also in the internal components. This has been shown in great detail in the first AirPods 3 "dissection" video of the 52audio team.
First, it must be confirmed that disassembling AirPods 3 is not an easy task. Some parts of the headset are glued together, so even if you remove them, reattaching is a problem, requiring meticulousness and skill. It seems that Apple created this headset model for the purpose of "single use". That is, in the future, if you experience shortened usage time due to a degraded battery, it is time to consider upgrading to a new product.
The wireless charging box of AirPods 3 contains a 345mAh battery. Unlike the AirPods Pro's charging case, which has two separate batteries, the AirPods 3's case will be a large battery. It's unclear if Apple chose to do this to avoid increasing component costs. Notably, there is the appearance of a graphite "cushion", most likely used to prevent overheating during battery charging, especially wireless charging.
Temporarily putting the charging box aside, the more complicated and interesting part is the headphone housing area. The disassembly process shows that each side of the housing of AirPods 3 is equipped with a completely new human skin detection sensor. As the name implies, this sensor will help the headset to detect whether the user is wearing it on their ear or has taken it off, thereby automatically turning on or stopping the corresponding music. In addition, it should be noted that AirPods 3 do not support active noise cancellation (Active Noise Cancellation), so there will be no additional microphone systems.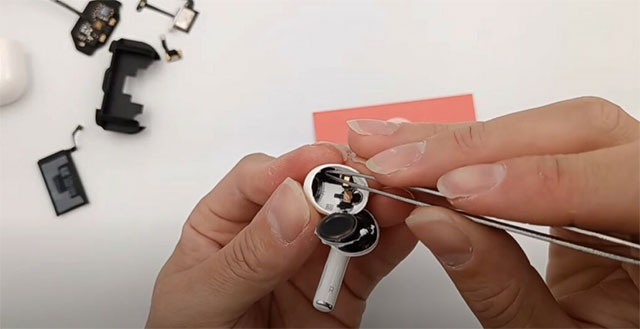 In general, the advantage of AirPods 3 will still lie in the modern design for comfortable wearing, and the number of diverse support features. However, the disadvantage will lie in the difficulty of repairing as well as replacing components.
.