Challenger is considered one of the attack-oriented clans in this season 6 DTCL. The nature of Challenger is to increase attack speed, so it is certain that the mainstays of the team will be labeled as Challenger.
Those are names like Samira, Quinn, Yone, Fiora and especially Kai'Sa for 5 money. This Yone season 6 DTCL with astral skills combined with Fiora DTCL season 6 will be two strong late game carry.
With the DTCL Season 6 Tech Core mechanism, having more or additional support upgrades for champions or adding Challenge buffs will help an already strong team become stronger. However, we still need a basic way to build a team, if you want to win a place in the top 4 as soon as you start season 6 with Challenger, follow the content below.
Challenger Generals
Camille (Machine – Challenge)
Quinn (Foreign Soldier – Challenger)
Warwick (Chemistry – Challenge)
Samira (Empire – Challenge)
Fiora (Guard – Challenger)
Yone (Academy – Challenge)
Kai'Sa (Mutant – Challenger)
Damage is abundant, but Challengers will have to rely on other tanky champions. Warwick and Camille can be temporary tanks when a champion heals and a champion creates a shield to protect themselves.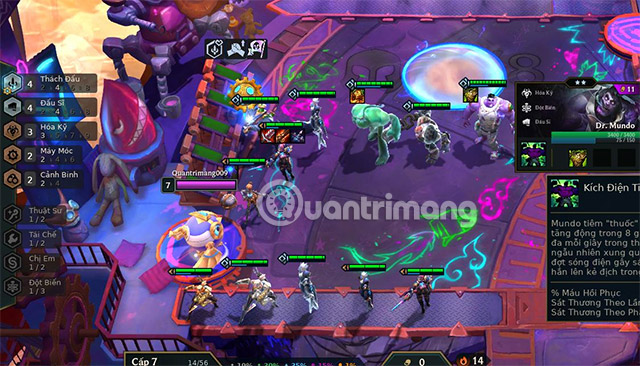 Quinn and Samira have the ability to create a detrimental effect on the enemy team's main tank and damage. Yone, Fiora and Kai'Sa will be the champions that deal damage in the back.
Build DTCL Challenger Season 6 squad
Early game

Let's start with the Challenges at the beginning of the game, adding Zilean to increase the attack speed of Camille standing in the tank line. Level 5 early if you're on a winning streak. If the team is weak, you can choose to take the losing streak at the beginning of the game.
Between game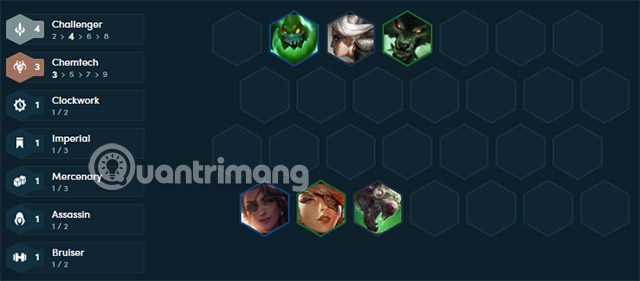 In round 3-2, try to level up to level 6 and gather more Samira for all 4 Challengers, and add Zac and Twitch to get Chemistry skills. Zac is a tanky Gladiator and does pretty well in the mid game. You can keep Zac from now until the end of the game to make him a tank. Start installing Fiora and Yone equipment for champions like Quinn, Twitch, Samira.
Endgame
6 Challenges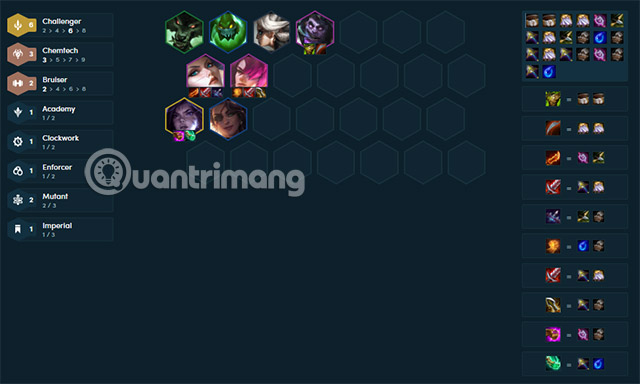 Go to level 7 in round 4-1, keep saving money to get to 8 and then gather the 6 Challenger sets as shown in the picture and get Mundo to be the main tanker at the end of the game now. If you find Kai'Sa, replace Quinn or Samira depending on who you want to keep.
Challenge Gladiators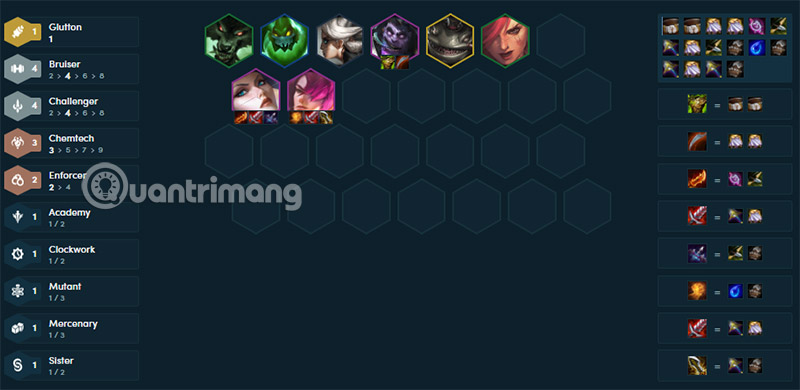 If there is a Tech Upgrade x2 size Challenge buff, add Gladiator champions if you find it necessary. Having more Vi will also have Canh Binh tie up the enemy tanker, helping the team attack the enemy carry faster.
Challenging at the end of the game can be combined with many other races. If the jack is buffed from Tech Core, you can add 5 or 4 gold champions for support or damage. But take good care of Yone and Fiora, the two main champions of the team.
.