Chances are you use Google Chrome on a daily basis. After all, Chrome is the most popular web browser in the world. And while this browser certainly has many advantages, you will be surprised by the features that other browsers offer. One such browser is Samsung Internet.
Samsung Internet isn't as popular as Chrome, but if you own a Samsung device, you'll find it available in the app drawer as soon as you buy it. In this guide, Quantrimang.com will compare Google Chrome and Samsung Internet to see which web browser is better.
1. Browser speed
First, let's talk about the specs. While benchmarks don't always match real-world performance, it's still a good idea to go through them before diving deeper.
For comparison, the article has chosen 3 benchmarks: JetStream2 to measure speed, MotionMark to measure graphics performance and Speedometer to measure responsiveness. To get the most accurate results, all 3 benchmarks were run 3 times in both browsers.
The results below are the average of a total of 18 test cycles. Higher numbers indicate better performance:
| | | |
| --- | --- | --- |
| | Google Chrome | Samsung Internet |
| JetStream2 | 55.47 | 57.43 |
| MotionMark | 154.92 | 126.68 |
| Speedometer | 35.87 | 33.50 |
As you can see, Google Chrome beat Samsung Internet in 2/3 benchmarks in the test, especially in terms of graphics performance. But as said earlier, the benchmark gap is not the same as in real-world usage. However, if you're interested in benchmarks, Google Chrome has the upper hand.
Winning Option: Google Chrome
2. Cross-platform availability and sync
Google Chrome is available for download on iOS, Android, and desktop, but Samsung Internet is limited to Android only. The Samsung Internet browser comes pre-installed on all Samsung mobile devices and is set as the default browser from the start. If you own a device from another manufacturer, you can download the browser from the Google Play Store.
Another area where Google Chrome beats Samsung Internet is cross-platform syncing. The way the browser syncs bookmarks across different platforms seamlessly is a big priority for some. With Chrome, you just need to sign in to your Google account to sync and access all your bookmarks and saved pages no matter what device you're using.
Things are not so simple when you switch to Samsung Internet. If you want to access the bookmarks you created with Samsung Internet on your Android phone on your desktop PC, you need to install the Samsung Internet extension on Chrome.
Winning Option: Google Chrome
3. User Interface and Customization
One of the things users love about Samsung Internet is the way it handles Dark Mode. Both browsers support this mode, but Chrome doesn't implement it well enough. Even though Dark Mode is enabled, many websites on Chrome still appear as usual, only the address bar and settings menu inside turn dark.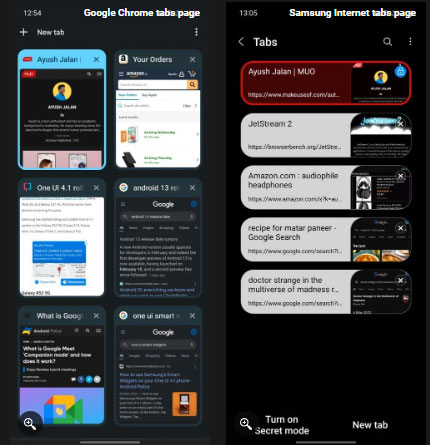 Meanwhile, Samsung Internet will darken your screen to the max and even make some elements on selected websites go completely black. This consumes less battery and allows for longer web surfing.
However, Samsung Internet does not support Material You's dynamic color system like Chrome. This means that if you change your phone's wallpaper and color scheme, Chrome will match those changes to beautify the app's user interface, but not Samsung Internet.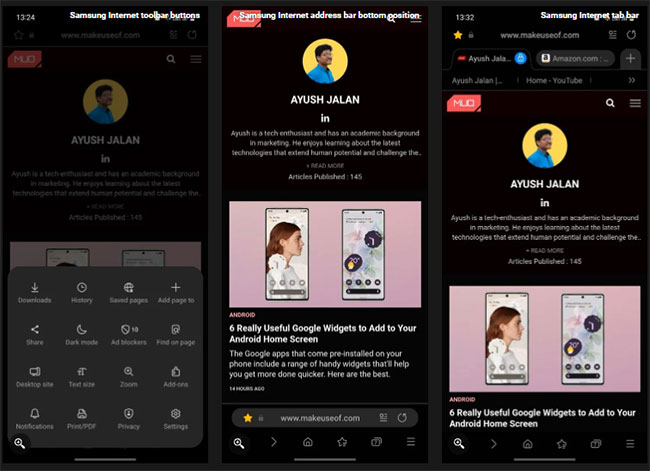 Talking about the user interface, Samsung Internet is more customizable and user-friendly than Google Chrome. There used to be a toolbar at the bottom of the screen with customizable buttons, which made interacting with the browser much easier.
Alternatively, you can hide the phone's status bar when scrolling web pages for a bit more screen space and move the address bar's position to the bottom for easier one-handed use. But if you want the address bar at the top, you can set the browser to show the tab bar – which mimics the user interface of the desktop browser.
Winning option: Samsung Internet
4. Privacy and Security
Both apps offer private browsing, but Google Chrome's Incognito mode can't beat Samsung Internet's Secret mode. Secret mode gives you more control. For example, you can choose to lock Secret mode with your password and biometric information so that no one but you can access private tabs.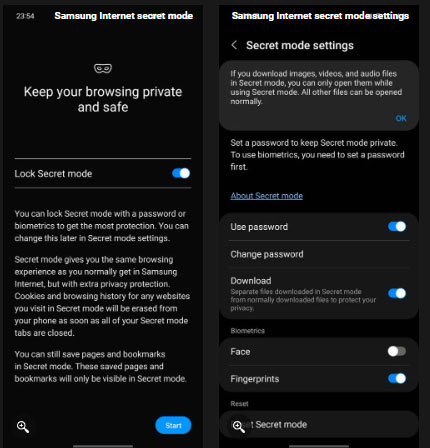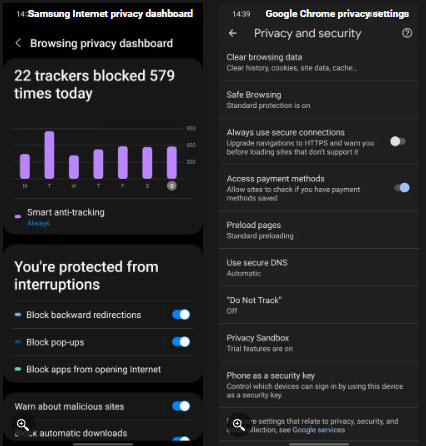 Also, if you download images, videos, and audio files in Secret mode, they won't appear in your library like regular downloads – you can only open them when using Secret mode. . This way your private downloads stay private. Pretty cool, isn't it? Sadly, Google Chrome's Incognito mode doesn't do any of these things.
Samsung Internet also has an official privacy dashboard where you can visualize which websites have been trying to track you. You can also block pop-ups and automatic downloads, and receive warnings about potentially harmful websites.
Winning option: Samsung Internet
5. Additional Features
Both browsers allow you to save your address and card details to automatically fill out online forms and make transactions faster. However, Chrome does a better job of translating web pages using Google's Machine Learning power. Plus, if there's a website you visit often, you can add it to your Home screen using Chrome.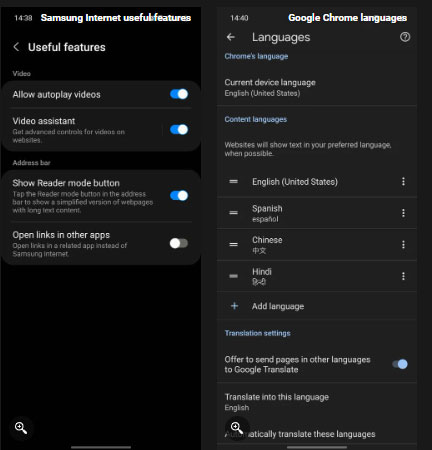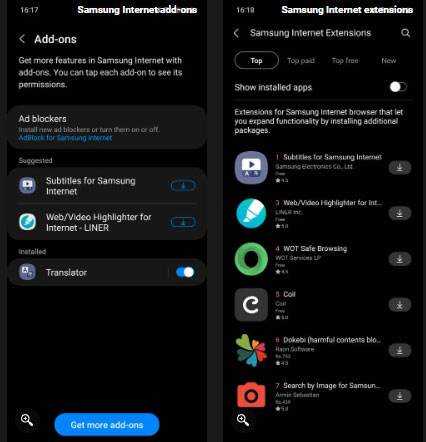 But Samsung Internet is also packed with other useful features, including a built-in QR scanner, a video player with gesture-based controls, and the ability to save web pages as PDFs. You can also download useful add-ons for Samsung Internet from the Galaxy Store, such as Amazon Assistant and an ad blocker. You cannot use Chrome extensions with Chrome on Android.
Winning option: Samsung Internet
Despite being the default web browser for billions of people, it's surprising that Google Chrome lags far behind Samsung Internet. Samsung Internet is more user-friendly, customizable, and has tons of useful features to improve users' surfing experience. However, its biggest weakness is that it is only available on Android.
There's nothing wrong with Chrome; but it is clear that Google has chosen to take the least changeable approach possible with this browser. If cross-platform syncing is really important to you, you should probably stay away from Samsung Internet; but if you want the best browser on your Android device, Samsung Internet is definitely a must-have option.