As the world's most popular web browser platform, Chrome is constantly being updated, refined and upgraded to best serve the tastes and needs of users. Therefore, with Windows 11 already out and well received around the world, Chrome's interface will also be tweaked to be more consistent and seamless with the new operating system's design language.
The main difference in the interface of Windows 11 compared to Windows 10 is mainly in the rounded corners and subtle transparency effects. And those features are being rolled out to Chrome by Google Plans as an optional theme pack.
Specifically, in the recently released update 96, Google has introduced a new theme pack that helps bring Chrome interface innovations to better match the general style of Windows 11. Master Pack This topic is still under development and is hidden as a flag. However, if you want, users can fully activate and experience it right now. Just keep in mind that your Chrome must be running on version 96 or later.
The way to turn on the flags to experience beta features on Chrome is generally very simple.
First, open the Chrome browser on your Windows 11 (or 10) computer.
On the Chrome interface that appears, enter the keyword "chrome://flags" into the address bar and press Enter. This will take you to Chrome's flag management page, also known as the Flag Menu.
On the flag management page that appears, click on the search box at the top and search for the keyword "Windows 11". Immediately, the corresponding flag will appear below. Looking at the options box to the right of the flag, you will see a drop-down menu. Click that and select "Enabled" (On) to activate the flag.

After enabling the flag, you need to restart your browser to apply the change. Press the button "Relaunch" at the bottom and Chrome will automatically relaunch.

All is as simple as that, your Chrome has now put on an interface with many features from Windows 11.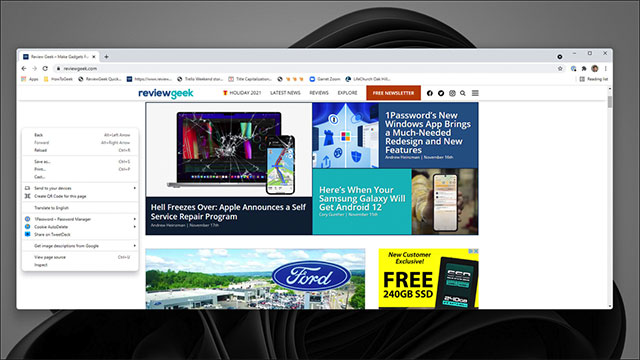 Note: Each flag is an experimental feature on Chrome, and is hidden by Google to imply that the feature is still in the development and completion stage. Google also warns that activating and testing the flag may lead to unannounced risks. For instance, they may not work correctly and negatively impact your browser's performance.
.