Collating lyrics to photos is a simple way for you to share your true feelings and memories of the shared moment, currently, you can easily do it on the multi-function Zalo MXH application without installing Set a support app, here are instructions for inserting lyrics into photos on Zalo in detail, please refer to and apply.
Normally, with a sharing status on Zalo, viewers will rely on the caption and content of the photo to feel the mood and emotions you want to share, however, to make the sharing moment more meaningful, lively, you can insert music files, insert lyrics into photos on Zalo.
How to combine music into photos on Zalo, post moments on Zalo with rich, multi-genre music.

Instructions for inserting lyrics into photos on Zalo
Note: Inserting music, combining lyrics in Zalo is a new feature, only applied to machines that install and use the new version of Zalo. For ease of use, you need to upgrade the Zalo you are using to the latest version. (Detailed how to track, update Zalo to the new version has been compiled by us in this article, please refer).
To be able to merge lyrics into Zalo photos, you need to follow the steps as follows.
Step 1: Access the Zalo application on your phone, log in with your name and password to access your personal account. If you do not have Zalo installed, you can download it by following the link below.
– Load Zalo for Android
– Load Zalo for iPhone
Step 2: At interface "diary" On Zalo, you click and click post photo to start sharing your status.
Step 3: Here, you can choose to take a new photo or select an existing photo on your phone. Next, click on the "volume" on the screen to select an image and switch to the editing interface, write a description, caption for the image.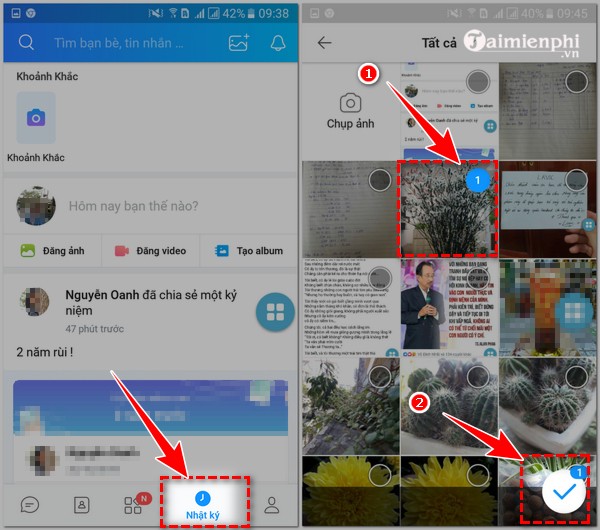 Step 4: Press select "more music" to insert music, lyrics into photos. Here, you can search for the name of your favorite song or choose from a lot of songs in the popular music store or under the themes of love, weekend, sad, travel on Zing MP3.
Step 5: With any song, click on the triangle icon in the song to listen to it and press "choose" to select the song you want to insert into the image.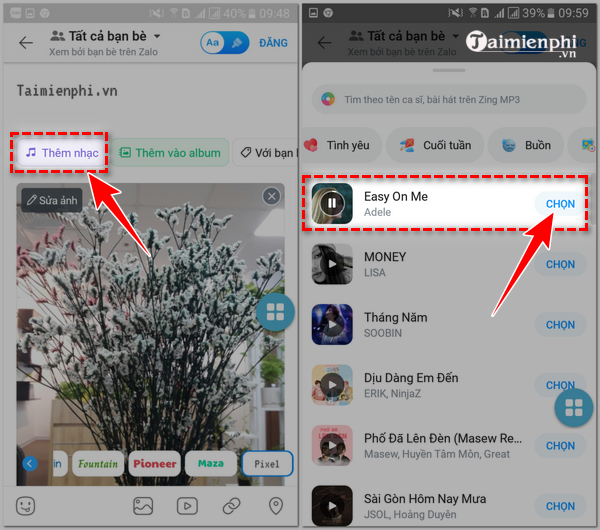 Step 6: After successfully inserting the song into the image, the song will be played right below the image as shown below.
If you want to display the lyrics when playing music, you can press the "lyrics" bar to activate it. Immediately, the lyrics will be displayed with the song under the photo.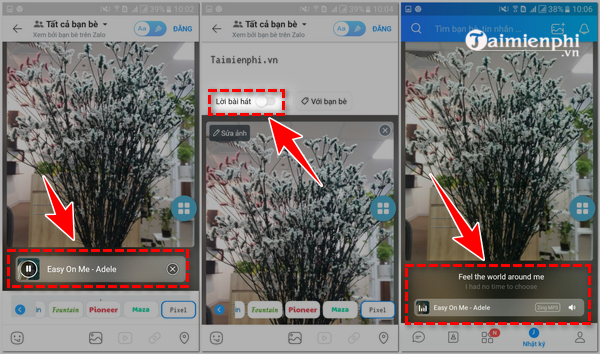 Step 7: The lyrics have been inserted into the photo on Zalo, you can write a caption, description for the song, tag your friends and then press "post" to start sharing photos with music, lyrics to your diary.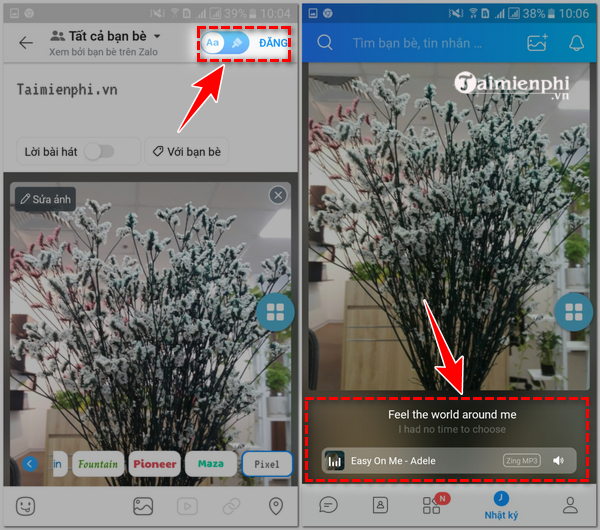 Above are details on how to combine music into photos on Zalo, insert lyrics into photos on Zalo in detail. You can refer to, synthesize to make more vivid moments, diaries on your Zalo multi-platform MXH.
If you are using Zalo to text or call but do not want to show your access status to others, you can turn off this feature. Trick details how to turn off recently accessed on Zalo has been shared by us in this article, please refer to it to increase your experience of using the application.
https://thuthuat.taimienphi.vn/huong-dan-chen-loi-bai-hat-vao-anh-tren-zalo-65366n.aspx

Related keywords:
How to get in touch with him on Zalo
, How to add music to photos on Zalo, How to post moments on Zalo with music,
.