Today, Taimienphi.vn will guide you how to book a room on Booking.com to help you choose the right hotel, book a hotel room easily and save money. In addition to Agoda, Traveloka… then you can consider booking through Booking.com.
In a recent article of Taimienphi.vn, we once introduced you to an application that helps you book hotel rooms like Booking.com. That's how to book a hotel room on Traveloka, a booking support application that is used by many people today. And like how to book on Traveloka, Booking.com is no less competitive, even Booking.com is more appreciated because it is one of the leading applications in online booking, supporting ordinary people. often travel for work or travel.
Instructions on how to book, how to cancel a reservation on Booking

Another special thing on Booking.com is the ability to secure customer information and a super-fast search system for those who use this service. And to be able to use Booking.com to book a hotel, the following guide of Taimienphi.vn should definitely be seen if you want to travel somewhere in the near future.
1. Booking.com User Guide for Hotel Reservations
Similar to Agoda, Traveloka, you can book hotel rooms through Booking on your computer or on your phone easily. In this article, Taimienphi.vn will show you how to order via Android and iOS phones. If you want to put it on the computer, do the same as the following steps.
Note:
– Download the Booking app to your phone.
+ Download Booking for Android
+ Download Booking for iOS
– Already have a Booking account. If you do not have one, you can register for a Booking account.
– If your Booking.com application is in a language other than Vietnamese. Please install to Vietnamese for easier use by going to Booking -> Sign in to your account -> Select My Profile -> Settings -> Click Language and then select Vietnamese.
How to book on Booking.com
Step 1: On the phone, you open the Booking app then tproceed to login.
Step 2: Right above your head, you Click on the box "Da Nang" (the first time you put it, you click on "Search around current location") (Figure 1). Next, you enter location that you come, want to rent a hotel. You will see Suggestions below, friend click there (Figure 2).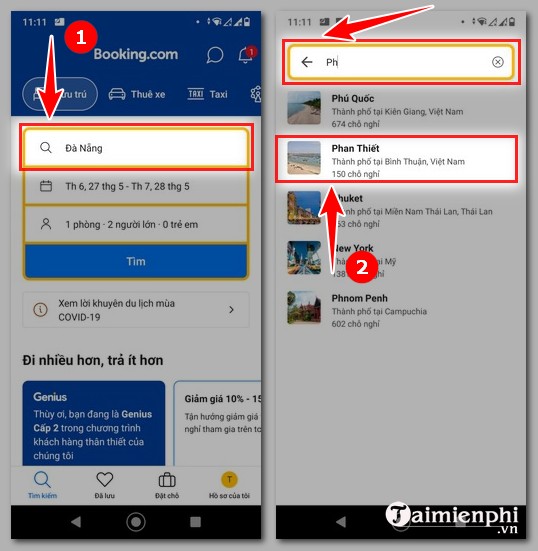 Step 3: The calendar will display, you to slide to choose check-in and check-out date (Figure 3) and then click "Choose a date" (Figure 4).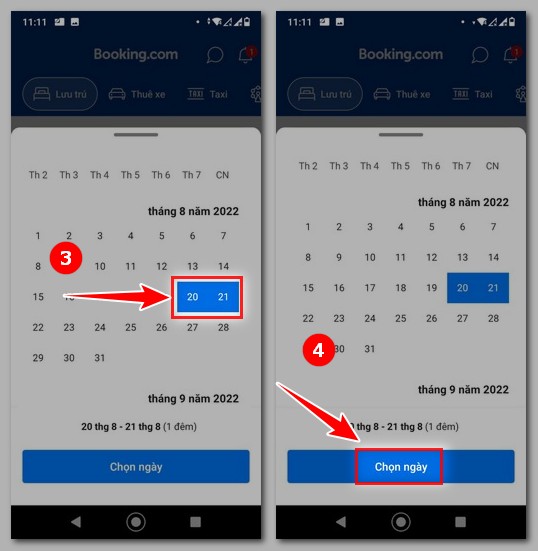 Step 4: You click on the box "1 room – 2 adults – 0 children" to change demand (Figure 5). Increase the number of rooms, adults, children then you click on the check box "+", reduce then you click the "–"then select"Apply" (Figure 6).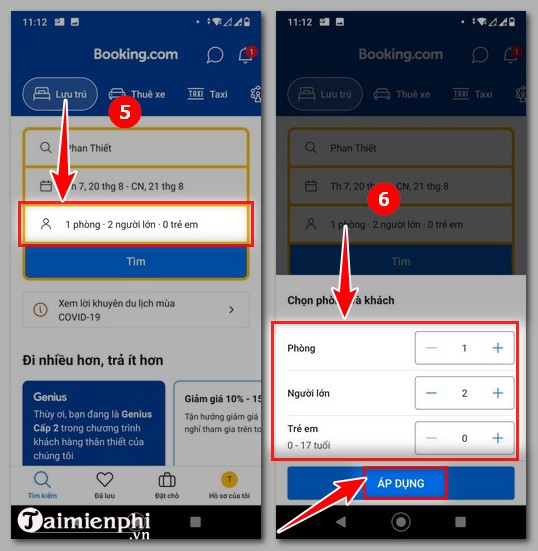 Step 5: You click "Find" (Figure 7). You slide the screen to choose the right hotel (Figure 8).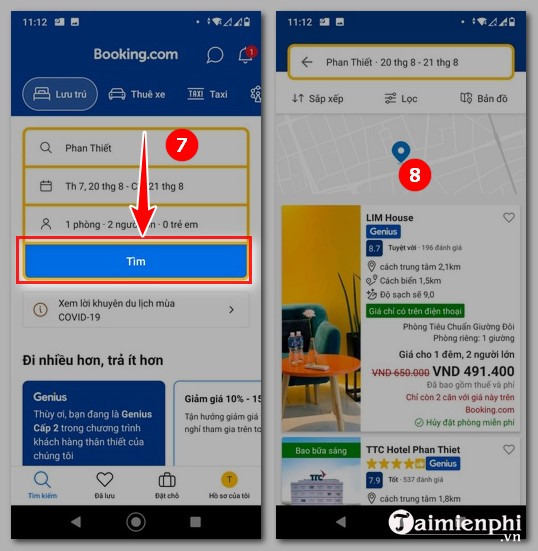 If you want to find it quickly, you can follow these instructions:
– LIVE upper left corner, you click "Sort" (Figure 9). You will see options appear, choose 1 suitable option according to your wishes in those options (Figure 10).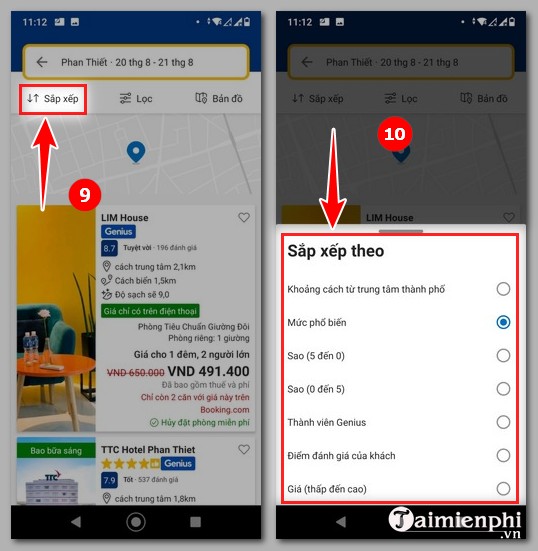 – You want to filter information such as budget, Free cancellation…, you click "Filter" (Figure 11). Next, you Select information in each section as desired and then click "View results" (Figure 12).
– If you want to find hotels by location, click "Map" (Figure 13). At this point, the map and location of the hotels will be displayed, you choose hotel in location that you want by clicking on the price VNDxxxx (Figure 14).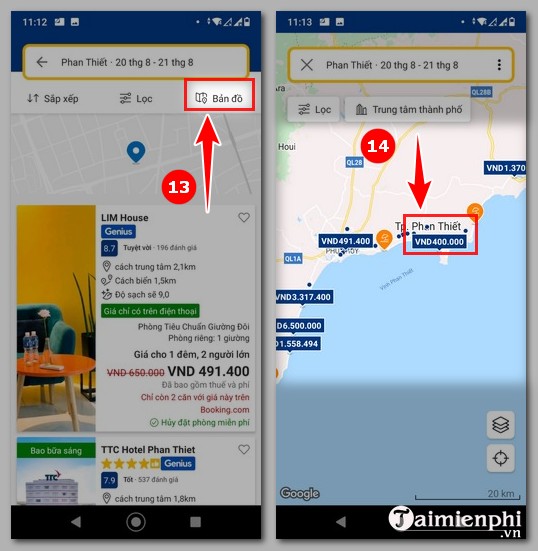 Step 6: Friend click on hotel that you like (Figure 15). At this point, you will see pictures and information, utilities of the hotel. You can click to find more. If you see fit then you click "View options" (Figure 16). And if you don't like then click on the back button.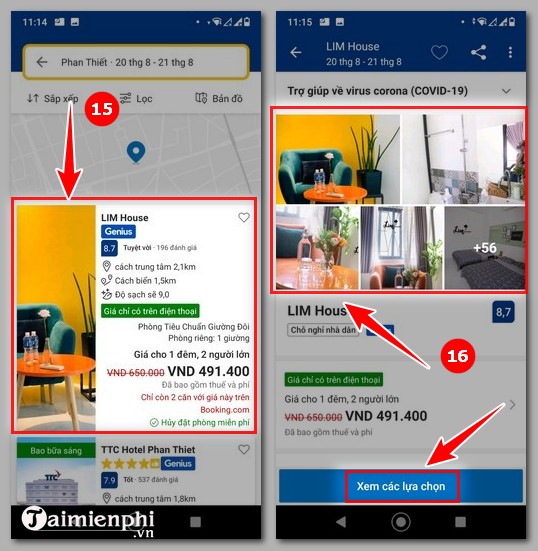 Step 7: You will see the available rooms displayed, next to the number of beds, the maximum number of guests…. You can Click on each room for viewing (Figure 17). You click Click on each photo to see the room. If you like it, click "Book now" (Figure 18). Otherwise, press the back button.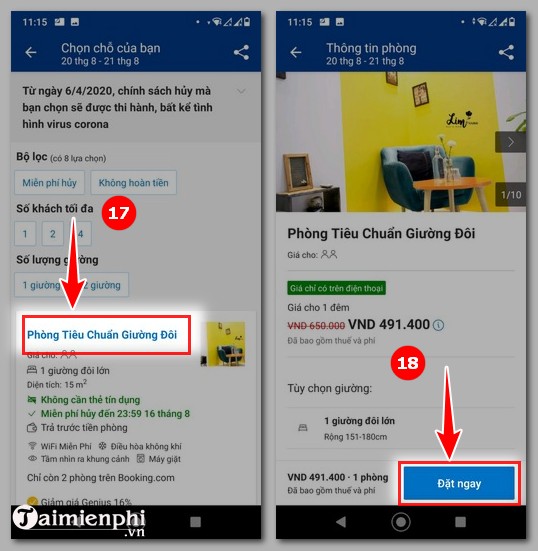 Note: If you want to select multiple rooms in the same hotel quickly, instead of clicking "Book now", you are back to the previous page swipe screen (Figure 19) and then click "Choose" (Figure 20). Then, you do the same for the next room.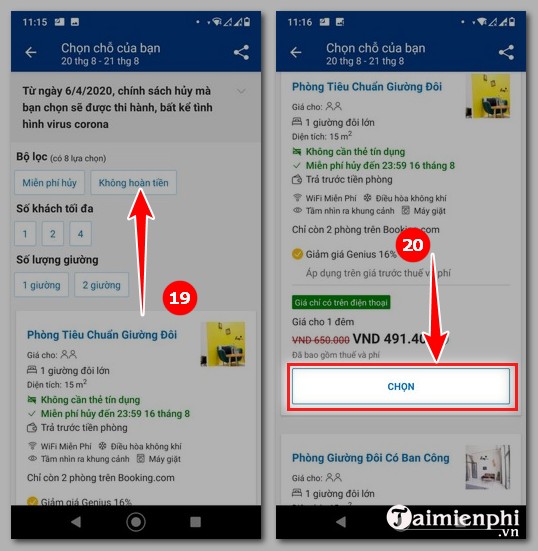 Step 8: After you have selected the rooms you want, click "Book now" and then follow the requirements of the system. Normally, in this step we enter payment information including full name and email address used to confirm the use of Booking.com to book hotel rooms. And Of course Booking.com supports payment via Visa and some other cards.
Note: In case you don't have a card, Booking.com will suggest you other hotels where you can pay without a visa.
2. Booking experience on Booking com
To make a booking on Booking.com convenient, successful and without problems, you need to pay attention to the following:
– How to make a reservation on Booking without a credit card: Most hotels when prepayment is not required will write "No credit card required". You can choose those hotel rooms to book so you don't need to pay in advance or make a reservation. Until the date of departure and check-in, you will need to pay for the hotel reservation without having to go through Booking.
– How to check booking on Booking: When completing the booking operation, you will be notified by Booking that the booking is successful. For more peace of mind, you can check your email and contact the hotel directly through Booking to confirm.
– Cancellation on Booking with no fee: Absolutely no fee, if you make the right request. Usually, when you've made a reservation, you'll see information from which date to which cancellation fee is free. If you cancel after that date, you will need to pay Booking.
– Please find out carefully before choosing the right room according to your needs: See pictures of hotel rooms, location, facilities, services of the hotel.
With the Booking.com user guide for hotel booking, readers have learned another service to help you register and book hotel rooms quickly and safely. In addition, you can download and use the TripAdvisor application to find a better hotel room for your holiday, how to book a hotel room with TripAdvisor already on Taimienphi, if interested, you can visit survey.
With more and more hotels being built to provide traveling customers with more options, that's why many hotel management software was born, if you don't know how to choose for yourself. Which hotel management software is suitable, please choose for yourself in the Top hotel management software that has been summarized by Taimienphi.
https://thuthuat.taimienphi.vn/huong-dan-dung-booking-com-dat-phong-khach-san-23564n.aspx
Currently, a very popular Grab service is emerging to help you save time and money when taking Grab, if you do not know how to use GrabBike it, the following guide of Taimienphi.vn will show you how. to call a motorbike taxi, how to use GrabBike specifically.
Related keywords:
use booking.com hotel room
register on booking.com, register online hotel,