Techcombank has supported customers to change their ATM card with chip right on the app [email protected] Mobile, besides changing ATM card with chip at the bank. Currently, according to regulations, banks are gradually changing to ATM chip cards for customers, or issuing new cards such as changing ATM cards with Vietcombank chips, changing cards with BIDV chips. The following article will guide you to change your ATM card with Techcombank chip.
Instructions to change ATM card with Techcombank chip
Below is a sample of Techcombank ATM card with new chip. On the top of the new ATM card, there will be a Contactless icon and a chip attached.
Currently, the bank is free to change cards at all Techcombank branches/transaction offices nationwide. Customers can actively register to convert to chip cards right on the app [email protected] Mobile, cards are sent to your door.
1. Change ATM chip card via [email protected] Mobile
When customers access the application [email protected] Mobile will be notified to change the chip card for free, click View details to do so. Or if there is no notification, click Item Cards and will also receive conversion notice, press Continue to perform the conversion.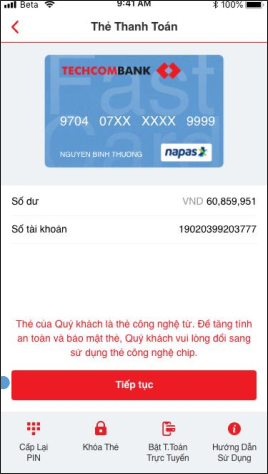 Later Click Sign Up to move to the step of selecting the chip card you want to change. Find to type of card Tecombank want to change then press Reissued.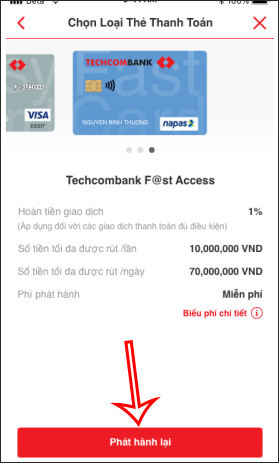 At this time, the address information of the Techcombank card with chip will be displayed when available, you Click Submit Registration. At this time, the screen will notify you that the current card will be locked after registering to change the card, press OK.
Finally, enter the Smart OTP unlock code to get the OTP code to confirm the registration transaction. The card issuance process will show details clearly so that customers know when they receive the card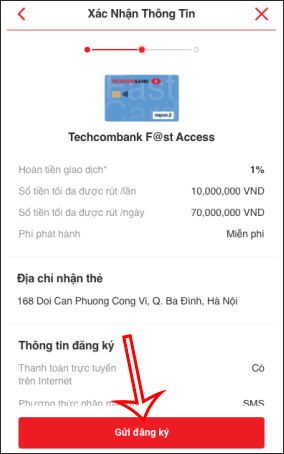 2. Exchange Techcombank chip ATM card at the bank
Step 1:
First of all, you need to bring your ID/CCCD to a transaction office or branch of Techcombank and notify the staff of your need to change to a chip card.
Step 2:
The staff gives the form for us to fill in the necessary information on the form and then give it back to the staff. At this time, the staff will compare your information with the previous ATM card registration information or not.
Step 3:
Once the information is matched, you will receive your ID/CCCD back and the staff will proceed to provide you with a Techcombank chip card for us to activate.
Note when using Techcombank chip card
It is not recommended to use ATM chip cards to withdraw money outside of Techcombank's banking system because the fee is quite high (4% of the transaction amount, minimum 50,000 VND).
Only transfer money within the system via ATMs.
It is possible to have a chip card for online purchases worldwide because chip card is an international card.
.