Starting with macOS 12 Monterey, Apple has added a feature to support users to restore factory settings to the device with just a few simple clicks, without having to restart in recovery mode "complicated" as before. this. This is useful if you plan to sell or give away your Mac to someone else, but it's also important to note that this new feature will only work on some recently released Mac models.
Prerequisites
As mentioned, this new feature will only be available on most Macs released after 2017 with the T2 security chip, and newer models running on Apple's custom ARM family of chips like the M1, M1 Pro and M1 Max. The specific list is as follows (as of November 2021):
Macs using Apple processors:
MacBook Air M1 2020
Mac Mini M1 2020
iMac 24 inch 2021
MacBook Pro M1 13-inch 2020
MacBook Pro 14-inch and 16-inch 2021
Macs with Intel processors:
MacBook Air (2018 and newer)
MacBook Pro (2018 and newer)
Mac mini (2018 and newer)
iMac Pro (2017)
You can check which Mac you're using by clicking the Apple icon in the upper-left corner of the screen and choosing "About This Mac." If you have an Intel-powered Mac, you can click "System Report," then "Controller" or "Bridge" to see if your system has a T2 chip.
In particular, you will also need to update your Mac to macOS Monterey or later to use this feature.
Wipe data and reinstall
Before you begin, make sure you back up your Mac using Time Machine or another backup solution of your choice.
This process will completely erase data on the system, including personal files, settings, and software. Additionally, you will also need a user account with administrator privileges to do this, and all other user accounts will be deleted simultaneously.
To get started, visit System Preferences.
Navigate to the menu bar at the top of the screen and click System Preferences > Erase All Content and Settings.

macOS will provide a summary of what will be removed from the system if you continue.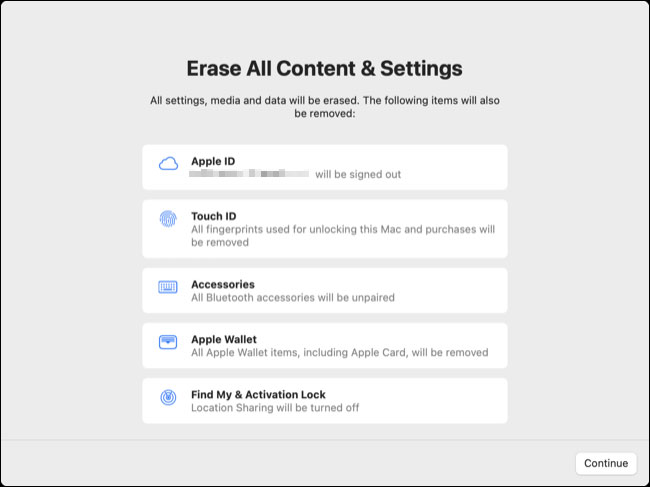 Now, enter your Apple ID password to sign out of your Apple account and turn off Find My Mac.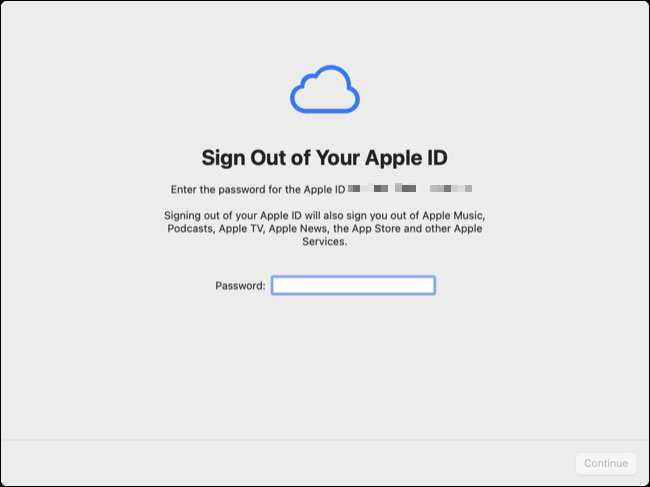 You will be asked to confirm one last time whether you want to continue the process. Click "Erase All Content & Settings" To confirm.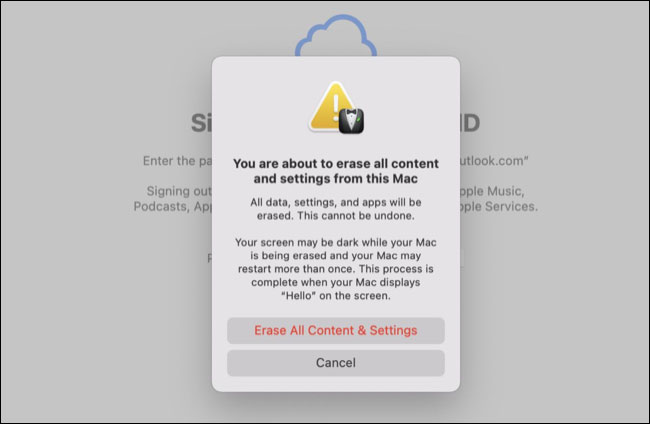 The data wipe and reinstall process will begin immediately. During this process, the computer may restart several times. Let everything happen automatically until you see the screen "Hello" familiar when you turn on the machine for the first time.
You can now sell/give away your Mac or start the process of migrating data back from backups.
Hope you are succesful.
.