There are many possible reasons why you might want to put photos side by side. If you want to do this on your Android device, you have several options available to you.
There are many image editing apps for Android that allow you to stitch your photos together. You can use one of these apps and have your images appear side by side on your phone.
The article will show you two ways to stitch photos on Android in the instructions below.
Use Adobe Photoshop Express to stitch photos on Android
Free Adobe Photoshop Express is one of the popular photo editing apps that you can use to stitch photos on Android. The app allows you to place your photos in various layouts and you are free to choose any photo you like.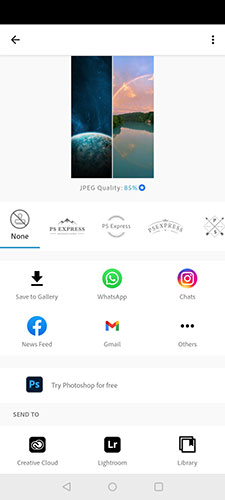 To stitch photos on Android phone with this app:
1. Download and install the Adobe Photoshop Express app on your device.
2. Launch the app and sign in to your Adobe account. If you don't have one, you can create a new account for free.
3. Grant memory access to apps
4. On the home screen of the app, tap the collage icon in the bottom right corner.
5. Select the images you want to put side by side. Tap the image once to select it. Then tap the . icon next at the bottom right.
6. By default, your photos will use a vertical layout if you select two or three images. In case there are 4 or more photos, the app will place them in a grid layout. To change this, tap any of the preview layouts in the bottom toolbar to have the photos appear side by side or in a layout of your choice.
7. You can pinch two fingers on images to adjust them.
8. When you're happy with the results, tap the share icon in the top right.
9. On the following screen, tap Save to Gallery to save your collage.
On the final screen, you can share your collage directly to your social media accounts as well as email accounts.
Use Image Combiner to combine photos on Android
Image Combiner – another free app – is dedicated to helping you combine photos on Android devices. With this app you can select any photo on your phone and put them side by side.
The app will manage the adjustment of your images, so you don't have to manually move your photos to make them look better.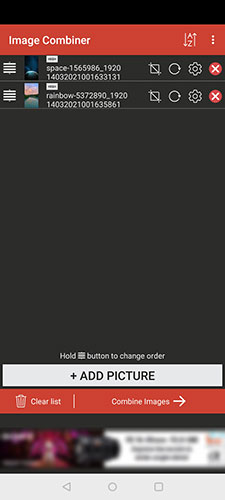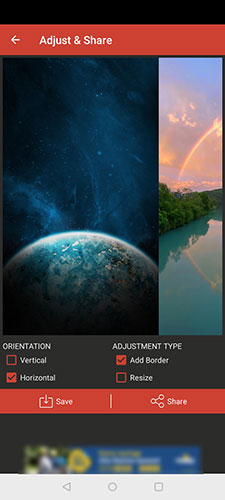 To use this photo collage app on Android devices:
1. Install the free Image Combiner app from the Google Play Store, then launch the app and agree to its privacy policy by tapping Yes, I Agree to continue.
2. Click Combine and choose Add Picture at the bottom to add the photos you want to combine.
3. On the pop-up window Add picture from, choose Gallery & other sources. Press Allow to grant application memory access. This will take you to the file manager.
4. In the file manager screen, tap the hamburger icon at the top left and select Gallery. This will allow you to select a photo from the Gallery app.
5. Select the photos you want to merge and tap the check mark in the top right.
6. Once your photo is in the app, tap Combine Images at the bottom. The photos will begin to be placed side by side.
7. You can configure how your photos are combined. For example, you can combine your photos both vertically and horizontally. Choose the option you like and press Save.
8. Enter a name for the new collage and press OK. Your photo is now saved in the Gallery app.
If you feel the image quality is not as expected, open the application, tap the three dots in the top right and select Settings.
You will see an option named Default image quality. Click this option to choose the quality for the collages. Remember that the higher the image quality you choose, the larger your image size will be.
If you're looking to stitch photos on your Android phone, you don't need to rely on a desktop app because there are apps out there that let you do this right on your phone. The only caveat is that you can't superimpose one picture on top of another using these apps – you can just put them side by side.
To further enhance the quality of your photos, you can use one of the many image editing apps available for Android devices.
.