Proceeding to create the Torrent file, you allow others to download the file directly from your computer, sharing the Torrent file is considered to be much faster and more efficient. So how to create this type of file? Thuthuat.taimienphi.vn will show you how to create Torrent files using online services as well as using the easiest qBittorrent software.
You'll want Create a Torrent file if you're sharing files that are too big for email or if the usual way to share files doesn't accept large files, or a certain type of file. Torrents do not discriminate on file type or file size, so users can share everything as they wish. When you download a Torrent file created by someone else from a Torrent site, the creator has gone through the same steps as you would follow the instructions below. Creating a Torrent file is quite simple, but the only problem here is what to do with the newly created Torrent file.
How to create Torrent files by software
Table of Contents:


1. Instructions to create Torrent files.
1.1. Create Torrent files offline.
1.2. Use the Online Torrent Creator tool.
2. How to share a Torrent file.
1. Instructions to create Torrent files in 2 simple ways
1.1. Create Torrent files offline
If you already have a Torrent program on the computer used to download the Torrent file, it also allows you to create your own Torrent file. If not, download and install some other options like Transmission, qBittorrent, uTorrent or BitComet.
These programs make creating Torrent files extremely easy, and since they are installed on your computer, creating a Torrent file for others to download can be done in the background and you don't need to do anything. . In the instructions below, thuthuat.taimienphi.vn will use qBittorrent to create Torrent file. Download and install qBittorrent here..
– You open it qBittorrent, go Tools> Torrent Creator.
– At the top of the window Torrent Creator, use the button Select file or Select folder to choose what you want to share via the Torrent file. You can also drag and drop data directly into the field Path if you want.
– In the section Settings, you can choose some options like start seeding (sharing) the Torrent file immediately or set the file privacy mode.
– In box Tracker URLs, you enter Torrent trackers (servers that serve as a bridge between peers) to facilitate communication between all peers downloading your file.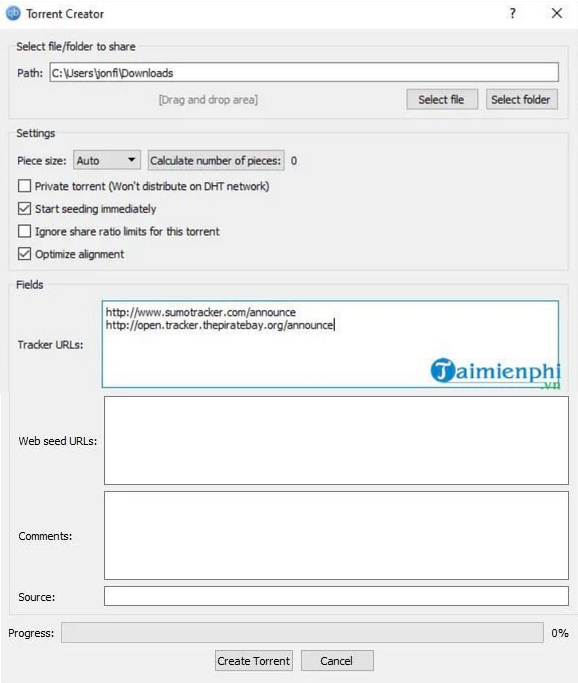 – Click the button Create Torrent at the bottom of the window Torrent Creator and then save the .torrent file somewhere easy to remember.
qBittorrent will now display the Torrent file that is seeding. That means the newly created Torrent file is ready for everyone to use. You can share a new Torrent file with anyone and all that person needs to do is download it into a Torrent downloader.
1.2. Use the Online Torrent Creator tool
Another way to create a Torrent file is with Online Torrent Creator – a web tool developed for this purpose. You only need to upload a file or the entire folder containing the files to the website, edit some settings and then download the newly created .torrent file to your computer.
2. Share the Torrent file
Once you've created a Torrent file using the offline or online tool, you still need a Torrent client to seeding the actual data files. You can use the options listed above or choose BitLord, Deluge, Vuze, and FrostWire. However, a simple way to share your Torrent file is via email as an attachment. You can also upload files to some cloud storage services like Dropbox or Google Drive and then send the sharing link to others. If you're not afraid of strangers finding your Torrent file, upload it to a Torrent website like 1337x.
It is important to realize that one Torrent file is different from others. A Torrent file is extremely small in size as it is really just an explanation for the Torrent client how to handle the files you are sharing.
The documents, videos, photos and many other data you are sharing remain on your computer, even after you've shared the Torrent file. Others just get a copy of that data using the Torrent downloader to download your file.
The process goes like this:
– You create Torrent file to share data.
– The Torrent client creates instructions for accessing your data.
– You share a list of Torrent files with someone.
– His or her Torrent client uses the Torrent file to understand how to download data from your computer.
– Your Torrent client communicates with their Torrent client to transfer files.
https://thuthuat.taimienphi.vn/cach-tao-file-torrent-don-gian-54597n.aspx
All your files are still on your computer. No matter how many people download your file through Torrent downloader, your data is still unaffected by it being copied to other computers only, not moved.
.