Zoom is an application that supports online learning and online meetings used by many people today. To participate in online classes or meeting rooms, users need to have an account of their own. How to create a Zoom Cloud Meetings account on your computer is quite simple, you just need to follow the instructions to be able to create a Zoom account successfully.
ZOOM Cloud Meetings (abbreviated as ) Zoom or Zoom Meetingthe website is Zoom.us) is a useful solution to help people meet, learn and teach online easily and effectively, now, in addition to being compatible on computers, working software, online ZOOM Cloud Meetings is also integrated on iOS and Android phones, you can Download Zoom to your computer, phone to connect is okay. If you want to use ZOOM Cloud Meetings effectively, first of all, creating a ZOOM Cloud Meetings account is essential.
Sign up for Zoom.us, create a Zoom Cloud Meetings account
How to create a ZOOM Cloud Meetings account on a computer
When you register the software to work online, learn online ZOOM Cloud Meetings on your PC, you can use that account to log in to ZOOM on Android and iOS phones easily to be able to join Zoom for online learning or meetings easily. easy. Create a Zoom account as follows:
Step 1: Open the Zoom application on your computer, click on "Sign up" to proceed with registration, login.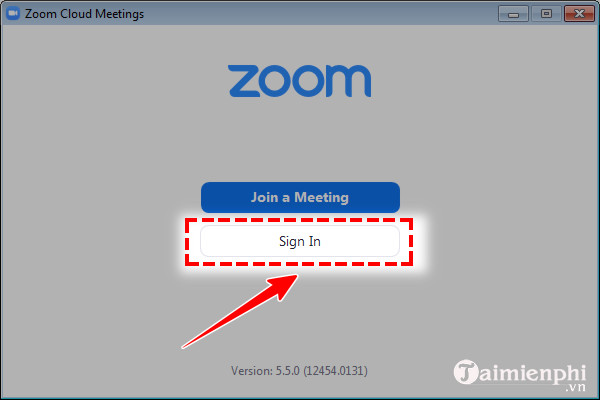 Step 2: To register, look at the bottom right corner, click on "Sign up for free".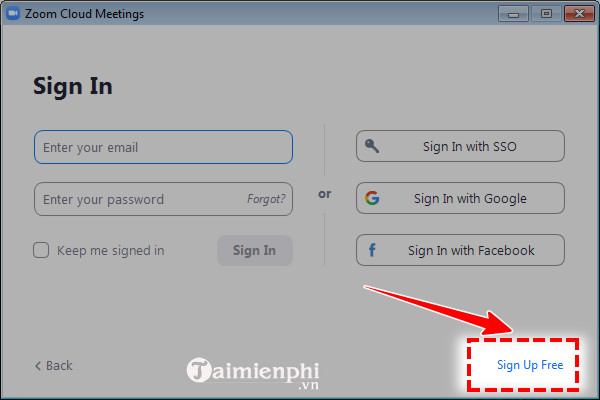 Step 3: You click on each box "Month","Day" and "Year" to select the date of birth and then click "tiếp tục".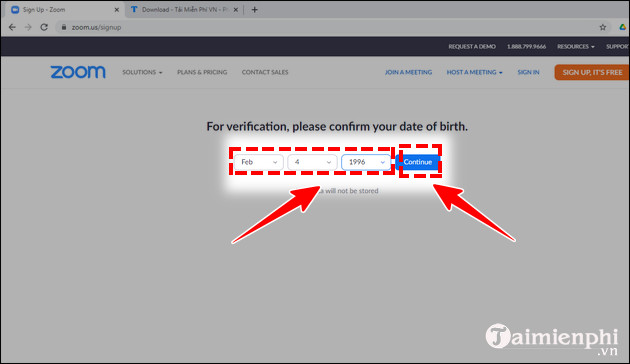 Note: Zoom is an online learning and meeting platform for people aged 16 and over. Therefore, readers under the age of 16 cannot register for this software, but can only ask parents, teachers … to register for the group.
Step 4: At this point, you enter your email then click on "Sign Up" to register.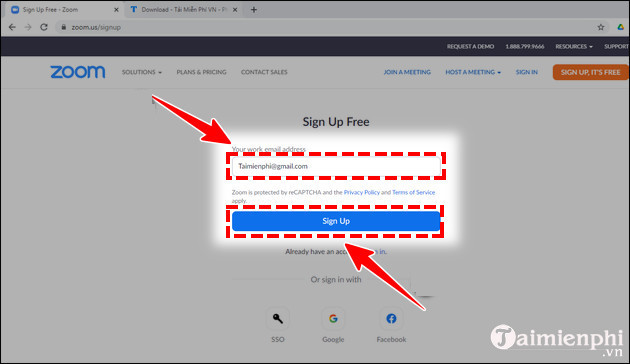 Step 5: Zoom will display a message saying "We've sent an email to…", which means that the Zoom system will send to the email you just entered a new message.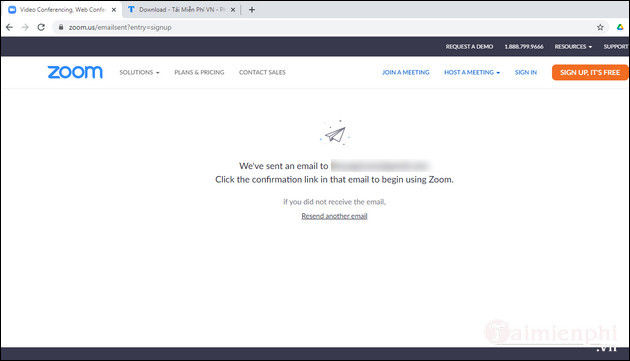 You open a new tab and proceed Log in to your email that you just entered in step 3 and then click on Zoom news submit and click "Activate Account" to be able to confirm the email.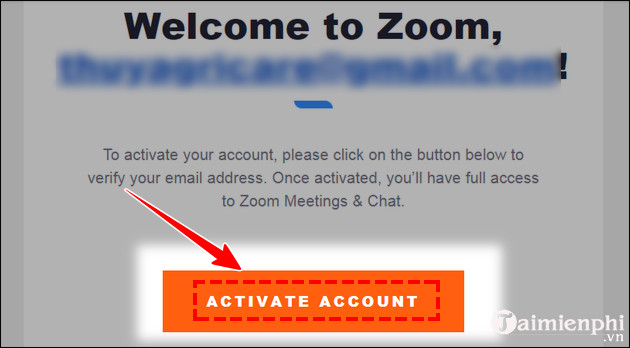 Step 6: Zoom will open a new tab with the interface Welcome to Zoom. Here you enter the box
– "First name": Enter your name.
-"Last name": Enter your last name.
-"Password": Enter password.
-"Confirm Password": Enter the password.
Next, if you create an account for a group, click on "Yes", otherwise you click "No".Continue to click"tiếp tục".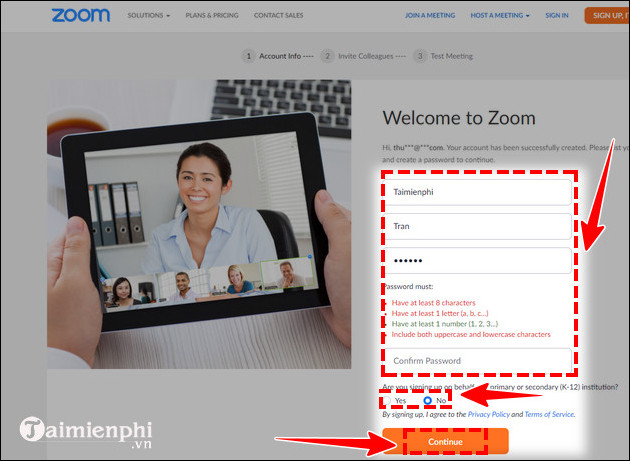 Note: For the password, you need to enter 8 characters, with upper and lower case letters as well as numbers. Until you enter the correct password as required, you can move on to the next step.
Step 7: At this step, Zoom asks you to invite your friends to join Zoom, you enter 3 emails then you click on "I'm not a robot".Continue to click"Invite".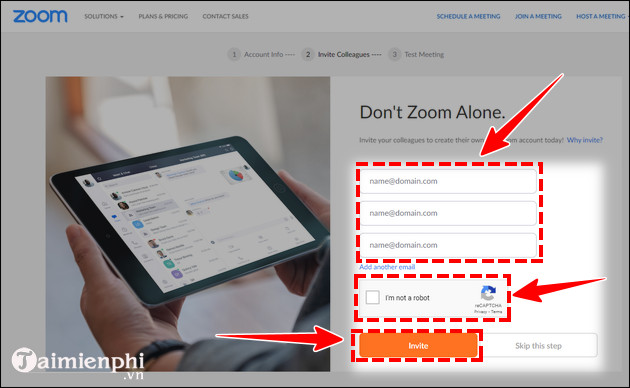 Step 8: You can try clicking on "Start Meeting Now" to start creating classrooms, meetings.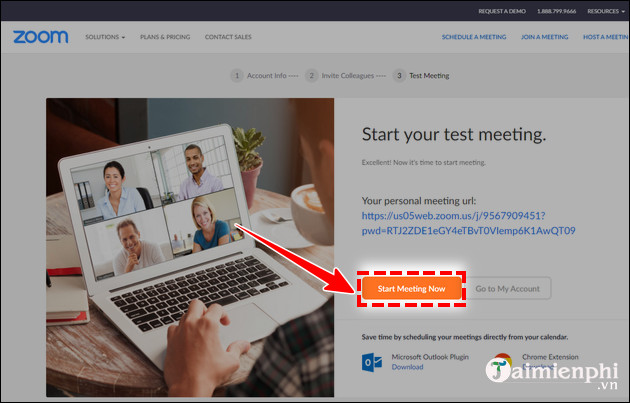 Step 9: As shown below, you have created a meeting room and registered successfully. If you want people to come to the meeting room and study, then click on "Launch Meeting".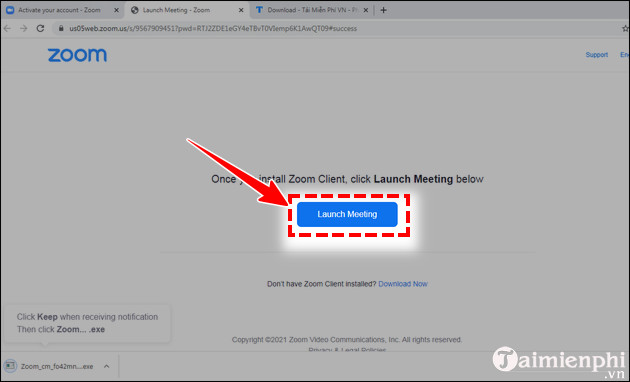 Attention: In addition to creating a Zoom Cloud Meeting account on PC above, you can create a Zoom application account by the following ways:
– Account with Google (You are entering by email. In this way, you do not need to create an account, password).
– Create an account with Facebook (Use Facebook to use the Zoom application to log in, it does not require you to create a new password).
– Create an account with SSO (Use an SSO account to use Zoom)
Notes to use Zoom application effectively:
To use the Zoom application to study and meet online most effectively, you need to pay attention to the following:
– Use a fixed Zoom ID To best manage account information on Zoom, when using another Zoom ID, you will join a random online class or meeting room. To fix the ID, you need to click New Meeting and then click "Use My Personal Meeting ID", continue to click New Meeting.
– Change passwords for classrooms and meetingsHelp secure information on Zoom. However, changing the password only applies to personal meeting rooms, and you cannot change it for normal meeting / study rooms.
– Invite others to join and the meeting/study room: You can invite via email, phone book, copy URL or as an invitation.
– Remove the 40 minute limit on Zoom easily so that you can effectively teach or study for a long time without interruption.
After you proceed to create a Zoom Cloud Meeting account like the steps above, you can use the Zoom application to create meeting rooms, meeting rooms easily, bring quality results when boxed, learn right when everyone is at home .
Learning online Zoom on TV is one of the ways to help your children learn to focus, not to access game sites, social networks on computers, and at the same time limit eye damage in young children. How to study on TV via Zoom as follows.
You can download Zoom to your phone by Link to download Zoom Cloud Meetings down here:
https://thuthuat.taimienphi.vn/cach-tao-tai-khoan-zoom-cloud-meetings-62360n.aspx

Related keywords:
I have a ZOOM . earphone
how to sign up for Zoom.us, sign up for ZOOM Cloud Meetings,