Organization chart, genealogy in Google Sheets will help us arrange the positions and order of members in a group, business or company by structure. In addition, we can also use this chart type to draw family tree in Google Sheets quickly and simply without resorting to computer genealogy software. The following article will guide you to draw organization charts and family trees in Google Sheets.
Instructions for drawing organization charts in Google Sheets
Note when drawing organization chart, genealogy:
If you're creating a chart for people's names, create a table with the first column being the names of the people you want to show on the chart. The 2nd column is the name of the senior management in column 1.
If you are creating a sitemap, enter each lower position in the first column and the higher position in the second column.
If making a genealogy, enter the name of each family member in the first column and parents in the second column.
Step 1:
First, you create the data you want to draw the organization chart on Google Sheets that you want to create.
Step 2:
Highlight all data then tap Insert item choose next Chart option.
Step 3:
Now display different chart types. Here you look to the right at Settings item. Scroll down below Chart type select Organization chart as shown below.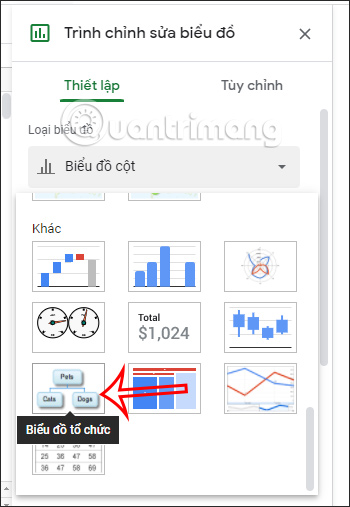 Step 4:
Soon you will see an organization chart displayed with the division of positions, names or family genealogies depending on the content displayed in the table.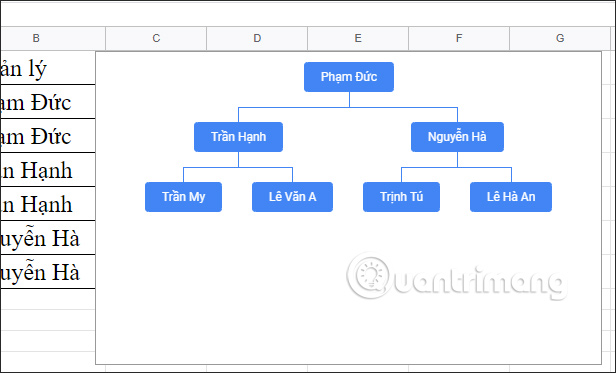 Step 5:
For edit org chart in Google Sheets, you click on the diagram and then click on 3 dots icon then choose Edit chart.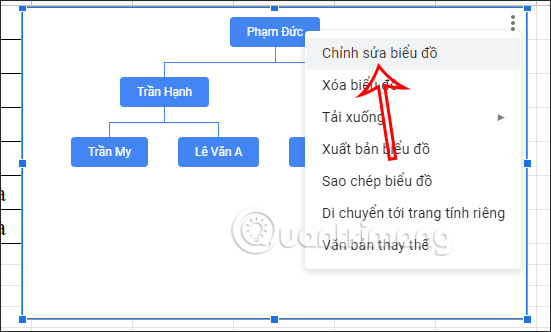 Looking at the right edge of the screen will see the option to change the chart again, click Custom item to change the color of the chart.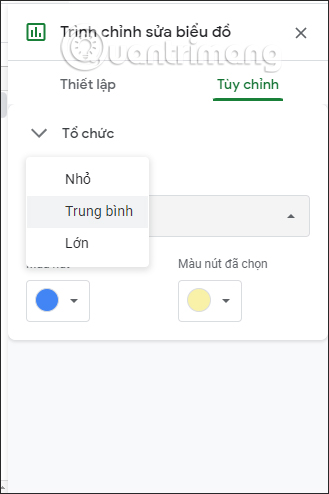 Video tutorial to draw a genealogy chart in Google Sheets
.