If you want to diagnose the problem you're having on your Windows 11 PC, or if you need an administrator's help, exporting a list of currently running processes to investigate the problem is the first thing you should do. think.
You can use Task Manager to see a list of currently running processes. The problem is that there is no way to export that list as a text file directly from the Task Manager. Instead, you will need to run the command in the Command Prompt.
First, open Command Prompt as administrator. To do this, click the Windows Search icon on the taskbar, enter the keyword "Command Prompt" in the Search bar, right-click the Command Prompt application in the returned search results, then click "" Run as Administrator" in the menu that appears.
Command Prompt will immediately be launched with elevated permissions. On the command line interface that appears, run the following command:
tasklist

This command returns a list of information related to each specific process running on the system:
Image Name
Process ID (PID)
Session Name
Session #
Meme Usage
Here is an example of the progress list returned after you run the command. Note that the actual list will probably be much longer, depending on how many open processes are on your system.

Now, if you want to export this list as a plain text TXT file for easy storage or sharing with others, run the following command:
tasklist>C:serviceslist.txt

You can replace serviceslist with whatever name you want for the text file.
The corresponding TXT file is now extracted and ready to use. You can find it in the Windows drive (C:). Open File Explorer, navigate to "Windows (C:)," and then look for the text file "serviceslist" (or whatever you have called it).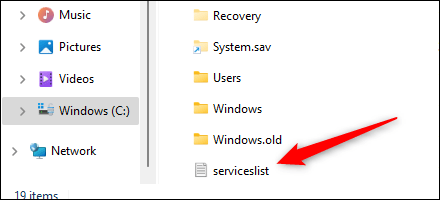 You can double-click the file to open it or share it with anyone as a regular text file.
.