The search feature in Google Docs will help you quickly search for certain text, through the words we enter. Then you don't have to search manually, saving time working with Google Docs documents. In addition, the search feature in Google Docs also has an option to replace words in the text, when you want to replace certain words simultaneously, similar to finding and replacing Find and Replace words in Word. The following article will guide you to search in Google Docs.
Instructions for searching in Google Docs
Step 1:
At the text in Google Docs, you press Ctrl + F . key combination to open the Google Docs search box on your computer.
You will now see a search bar to Enter the keyword you want to find in document content.
Step 2:
Then you will see number of keywords displayed how much is in the text, the position of each word using up and down arrows to move.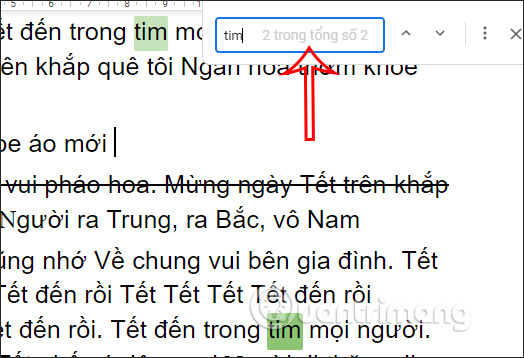 Step 3:
To use the search and replace feature in Google Docs, first click section Edit then select the next feature Find and replace.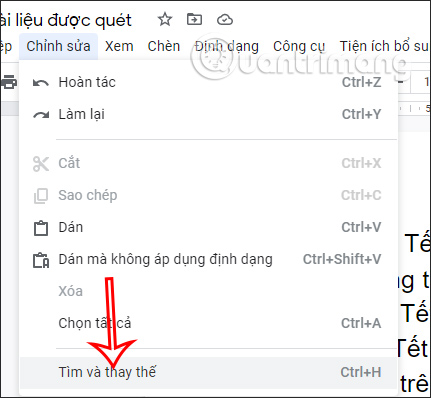 Step 4:
Now we will enter the word we want to find in the Find box, enter the word to be replaced in the Replace with box. Next, below, more options are displayed for you to replace words more accurately and specifically.
Then below will display the option to Replace for 1 position or replace for all. If you want to replace a word, you press Previous, Next move to the position to change.
If you need to replace all, click Replace all and you're done.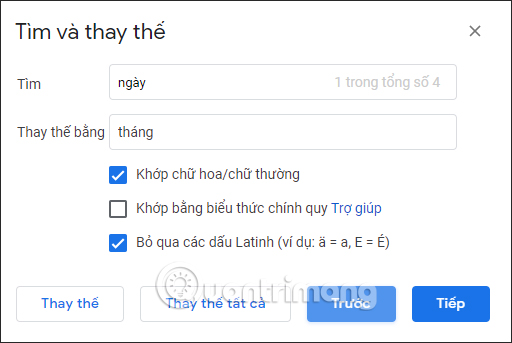 Video tutorial to find and replace words in Google Docs
.