You may not know it, but Google Forms supports a feature that allows you to quickly import questions from forms you have created in the past into your current form to save time. This is a great tip when you need to reuse questions, and create forms as quickly as possible.
Of course, you can also easily create a copy of any form you've created in Google Forms, and then edit it to suit your current requirements. But in case you just want to reuse a few questions from the old form, entering them directly into the new form makes more sense and saves time.
Enter questions into Google Forms
First, go to Google Forms, log in and open the maf form you want to enter your question into. Select the location where you want to insert the question, then click the . icon Import Questions in the toolbar on the right side of the screen.
Next, find the form that contains the questions you want to reuse. You can use the search box at the top or the "Sort" (Sort) on the right to find the form you need, especially if you have a lot of different forms.
When you have selected the form containing the question that you need to use again, click "Select" (Choose).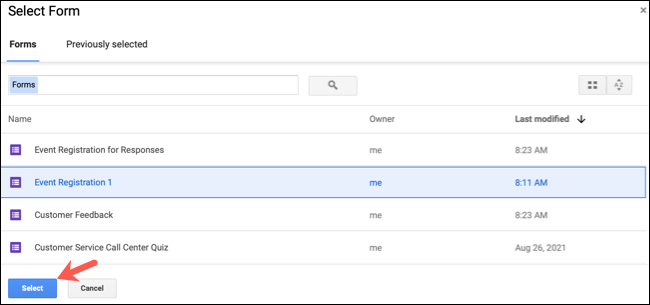 Immediately, the questions included in the form you choose will be fully displayed in the list on the right side of the screen. If you choose the wrong form, click "Change Form" and find the correct form.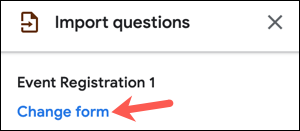 Now you can click on " Select All" (Select All) to use all questions in the form. Or just tick the questions you want to reuse. When finished, click "Import Questions" (Enter question).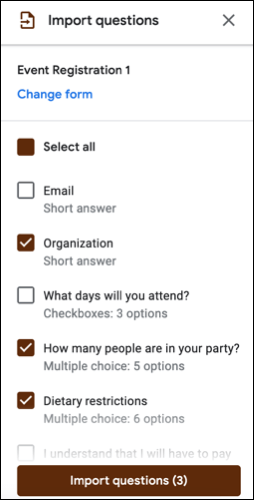 If you want to reuse additional questions from other forms, just follow the same steps outlined above. After a few minutes, you'll have a new form complete from the questions you already have, instead of having to re-enter it manually.
Also, when you import questions from the old form into the new form, they will persist like any questions you add. So you can edit, arrange and adjust them if you want.
Hope you are succesful.
.