Vietnam Social Security has officially allowed users to retrieve VssID password at no cost instead of having to text to reissue VssID password before. Accordingly, Vietnam Social Security will provide a new authentication code and password to the email address you provided when registering for a VssID account. Thus, all information about the new password is provided free of charge via your email account. In case the email you use has changed, you need to change a new email on the Vietnam Social Insurance Portal. The following article guides you to retrieve the VssID password.
Instructions to recover VssID password for free
Step 1:
First of all, you open the VssID application on your phone, then you click on the option Forgot password to request a password reset.
Step 2:
Then you are asked Enter your email address which I have declared with Vietnam Social Security when registering for VssID. Once you've entered it, press Send to send the verification code to the email address.
Step 3:
We open the email address and will see OTP code notification to re-issue VssID password.
This OTP code will only be valid for 5 minutes, so you need to quickly fill in the interface on the application as shown below. After filling it out, press Confirm.
Step 4:
Soon you will see Notice of successful VssID password re-issuance. A new password will be sent to your phone number. However, Vietnam Social Insurance will send you a new VssID password via email to avoid network congestion.
So you reopen your email address and you will see the content with the new password sent from Vietnam Social Security.
Step 5:
We then log in VssID with the newly issued password from Vietnam Social Security. Right after that, you need to change the VssID password to your number sequence. At the interface click 3 dashes icon then choose Change Password.
Next, enter the current VssID password, the VssID you want to change and then click Finish below. After that, we will receive a notification that the OTP authentication code is sent to the email address for you to enter.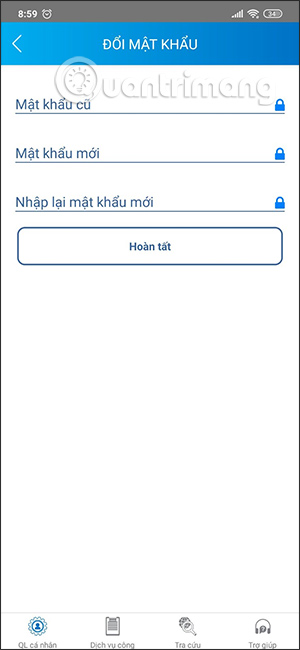 .