People were able to register new cars online through the website of the Traffic Police Department with simple and quick registration steps, reducing the waiting situation when going to the agencies to complete the new vehicle registration procedures. In addition, when accessing the Traffic Police Department's web portal, people can also change their name, change their owner's name, and report the loss of their vehicle via the online system. The following article will guide you to register a new car online on the Traffic Police Department.
Instructions for online vehicle registration on the Traffic Police Department
Step 1:
Users access the website of the Traffic Police Department by following the link below to register a new vehicle.
http://csgt.vn:8888/Home/FormNopHoSo/41
Then you download the vehicle registration form below and fill in all the information requested in the application.
You can refer to the registration fee for new vehicle registration by type of vehicle at the link below.
Step 2:
In the registration interface, you choose a new registered vehicle, which is a car or motorcycle, moped, electric scooter and other similar vehicles. Then select the registered organization or individual, the registrant's name, ID/CCCD number, address, and phone number.
Step 3:
Continue to scroll down below, you will see the documents that you need to prepare when bringing the application to the office for procedures. You will upload the newly declared vehicle registration form.
Later Click the Sign Up button below to submit your vehicle registration.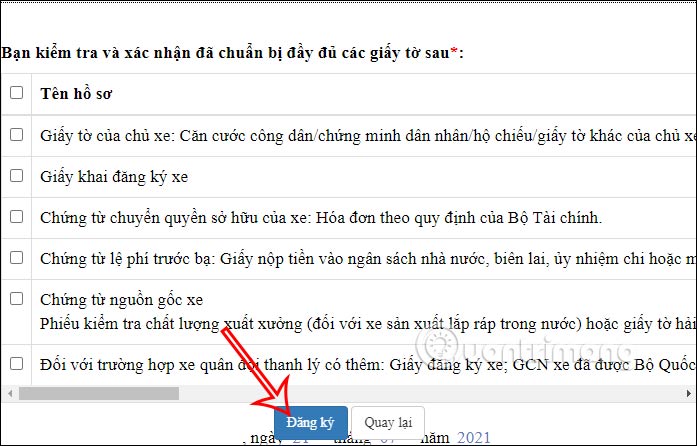 After completing the declaration, you need to call the phone number of the vehicle registration agency where you have permanent residence and the vehicle registration officer to schedule a specific appointment and location to receive registration via phone number. or email.
Step 4:
When you receive a specific time to come for the application, you bring the car and the vehicle record to do the procedure. After the officer checks the documents you bring, we will press the button to issue the number plate and get an appointment to receive the number plate. At the same time, you also need to pay the prescribed fee.
When it's time to receive the license plate, you will return the appointment letter and receive the Vehicle Registration Certificate.
.