You may not know it, but in fact, Twitter is "silently" collecting quite a few different types of data about you. From the moment you create your account and the places you've been, to personally identifiable information such as name, age, gender, etc., all are fully recorded by this social networking platform.
This article will show you how to see what data Twitter has collected from you.
What does Twitter know about you?
Basically, Twitter can capture everything you share with it. This platform may collect and store all information you authorize. It can be anything that you share, from account information like phone numbers and email addresses, login history, activity, to even your preferences.
Here is a list of the types of information Twitter may collect from you:
Account Information: Your basic account information, including your username, email address, phone number, account creation details, date of birth, gender, age, and location.
Account History: Details of your login history and any location you have visited Twitter.
Apps and devices: The browsers and mobile devices linked, as well as the apps connected to your account.
Account Activity: People you've blocked/hidden.
Interests and advertising data: Twitter makes assumptions about your interests based on a variety of account and device information. You can see the advertising partners that Twitter has automatically added you to their targeted audience.
Notably, any Tweets you've shared, or private messages you've sent are also stored by Twitter. If you want the details of this data type, you will have to request a copy of your data archive from Twitter.
How to request and download personal data archive on Twitter
As mentioned, you can request a copy of your data from Twitter. This allows you to review the information Twitter has collected from you, so you can decide to tighten your privacy or delete it.
You can do this from your computer or the Twitter mobile app. First, log in to your Twitter account. Then swipe right on the mobile app or click the . button More on the web to display the navigation menu.
Next, click on the "Settings and Privacy" (Settings and privacy) from the menu that appears.
From here, there will be a slight difference in operation between the mobile app and the Twitter website.
On the Twitter website, you can simply click "Download an Archive of Your Data" (Download your data archive).
For the mobile app, you need to navigate to Account (Account) > Your Twitter Data (Your Twitter Data) > Download Archive (Download archive).
Now, regardless of whether you are working on an app or a website, click the "Request Archive".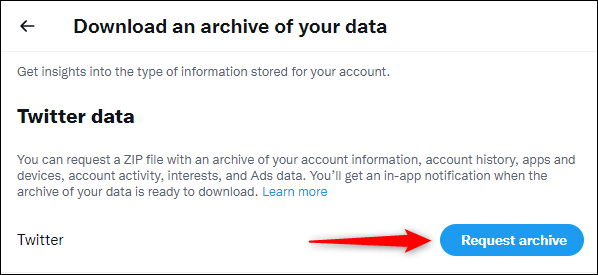 Twitter will send a verification code to the email address you associated with the account to confirm. Enter the verification code from the email and then you will receive a notification that the request has been received.
Please be patient as it can take up to 24 hours (or sometimes longer) to process this request. Twitter will notify you via email or right on the platform when your data hosting plan is ready for download.
.