Monitor Test is a free utility that allows you to test the contrast and color of your monitor. Screen testing includes color gradients, grayscale, the contrast of specific colors against different backgrounds, and you can even use it as a dead spot detector.
You can run Monitor Test online in a browser, or download and run the tool on a Windows computer. Here's how to use this tool to test screen color.
Download Monitor Test for Windows
How to use Monitor Test to test screen color
To run Monitor Test in a modern browser, you will have to use Monitor Test's Smart-TV & Tablet web utility, as other tools require Flash.
http://tft.vanity.dk/MonitorTest_pureHTML.html
If you are using Windows, the article recommends that you download the executable, as it provides more options. The browser engine limits you to a handful of colors and gradients.
You will find the navigation menu at the top; Scroll to view in the browser or move the mouse to the top edge of the executable window. Windows Tools also has a helpful infobox that will guide you through all the steps.
You can move the box around or turn it on or off via the menu. There is also a button to switch to full screen mode. Here is a summary of all the screen tests that you can run with this Windows utility.
Main Page: Grayscale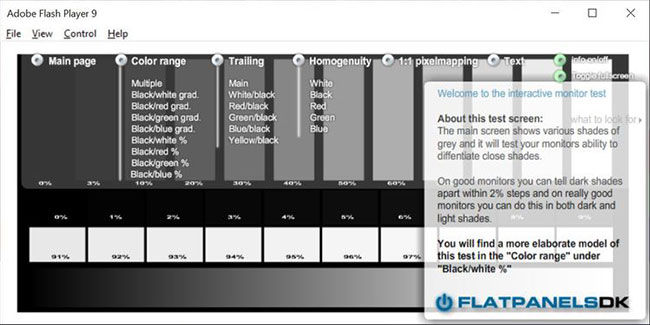 You can use this test to determine if your monitor displays standard grayscale and contrast.
Color Range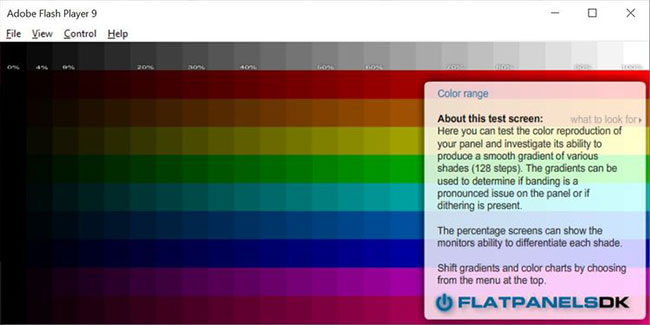 You can test color gradients across the spectrum to see if you get clear, rich colors and true blacks on your screen.
Trailing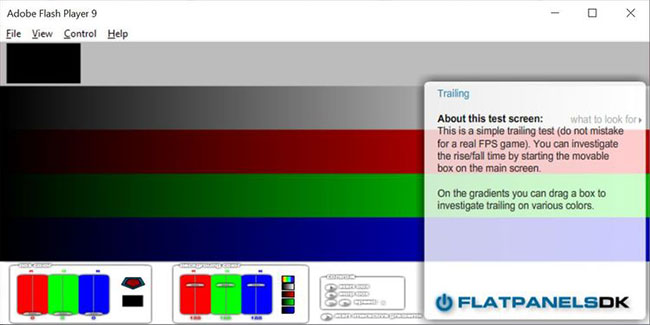 Test Trailing This simple allows you to check white, black or color boxes based on any background you choose. The controls at the bottom left let you set the color of the box and the background.
You can then set the speed and move the box back and forth across the background using the Start button.
Homogeneity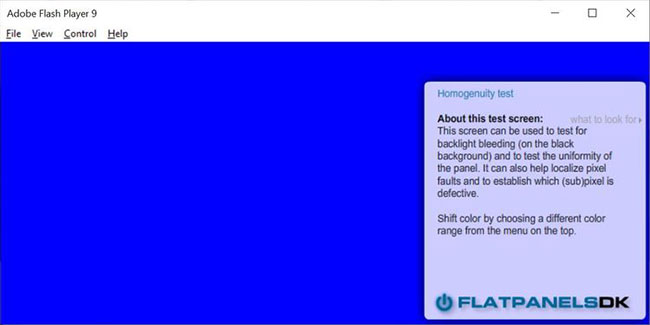 This feature is great for detecting dead spots, checking screen uniformity, and detecting backlight bleeding when using a black background.
1:1 Pixelmapping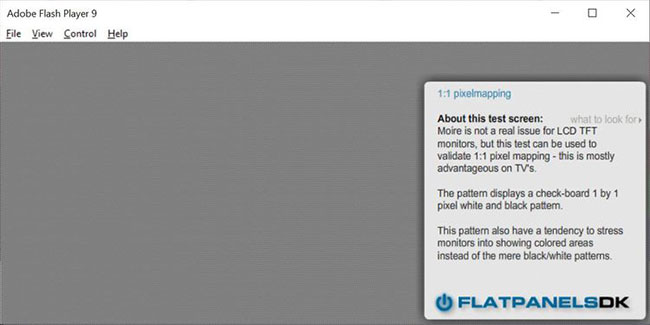 This test is best used on TV screens, as the Moire effect is not common on TFT LCD screens.
Text Reproduction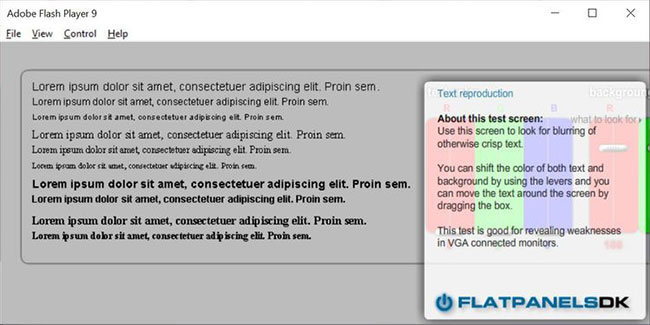 Check if the text on the screen is still sharp while changing the text and background color. You can also drag the text box across the entire screen. This test works best on older monitors that use a VGA connection.
Making sure that the display is correctly color calibrated is an important step in making sure content looks its best. If Monitor Test is not suitable, there are many other alternatives to try. Refer: 5 best online tools for screen calibration for more details.
.