Stellarium is a free and open source software for computers, using Stellarium to help you learn and reproduce the star sky in 3D in a real way right on your computer screen. The following article will help you experience TaiMienPhi.vn some features of this software.

With Stellarium, the exploration of the universe became simple and no longer a complicated matter. Stellarium simulates three-dimensional skies with all the stars observed from Earth's center over time with almost absolute precision. Not only that, Stellarium also provides quite a lot of tools for you to manipulate if you want to learn more about a certain planet and its relationship with the other planets such as: zoom in, zoom out , show location parameters …
INSTRUCTIONS FOR INSTALLING STELLARIUM
Stellarium Can run on all 3 popular operating systems today: Windows, Mac OS and Linux.
– Download Stellarium
– You perform the installation after downloading and starting to experience this software.
HOW TO USE STELLARIUM
Step 1: You boot Stellarium, the program opens on your screen a view of the sky from the Vietnamese capital, Hanoi.
The time and sky scenery are simulated almost exactly the current time in Hanoi. You can:
– Hold down the left mouse button and mousing or use the scroll buttons on the keyboard (up, down, left, right) to adjust the viewing angle.
– When you want to zoom in or out to have a more detailed view of the planets, press the key Page Up / Down on keyboard or Scroll the middle mouse button.
Enlarged image of the sun seen from Hanoi – Vietnam at 10:22 AM on 10/10/10.
Step 2:Instructions for using some software features.
1. Allow to select the location (Location Window).
You can view the current sky in another place on earth like in Ho Chi Minh City – Vietnam. Please click F6, then a location selection window will appear.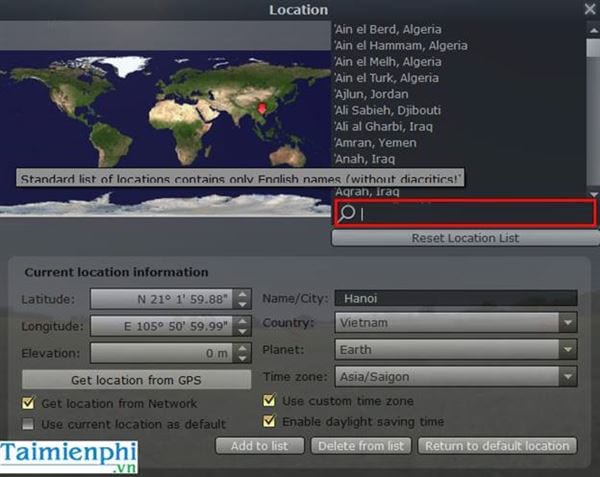 You type in the search box: "Ho Chi Minh City", then double-click on the results found. Meanwhile, the sky view at the present time in Ho Chi Minh City will appear on the screen.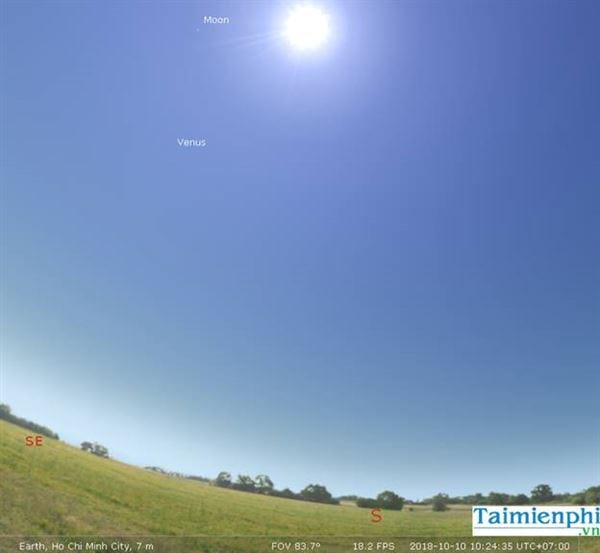 View of the sky from Ho Chi Minh City at 10:24 AM on October 10, 2018
2. See some information about a planet.
You can click directly on the planet, scroll the mouse to zoom into it. Information about the planet including distance to earth, magnitude, deviation … will show in the upper left corner of the screen.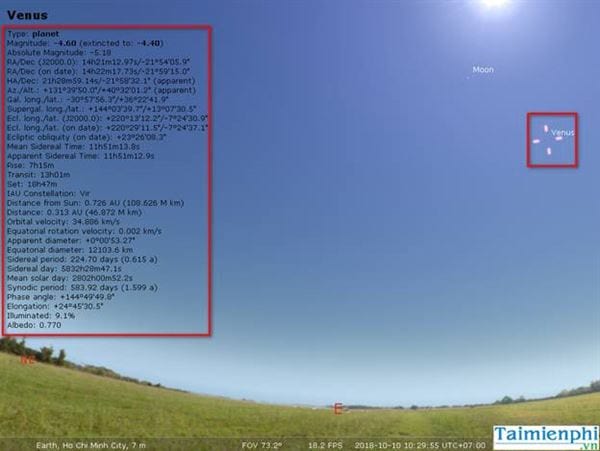 3. Turn on or off the longitude / latitude system.
To use, you can use 2 keyboard shortcuts E and Z to perform.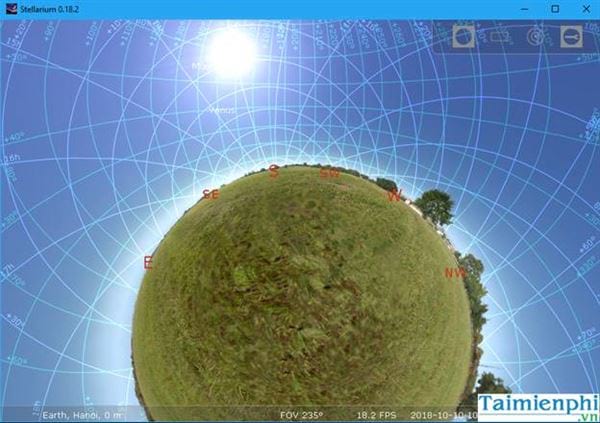 4. Display drawings of the constellations.
You can turn it on with keyboard shortcuts R. This is an interesting feature of Stellarium.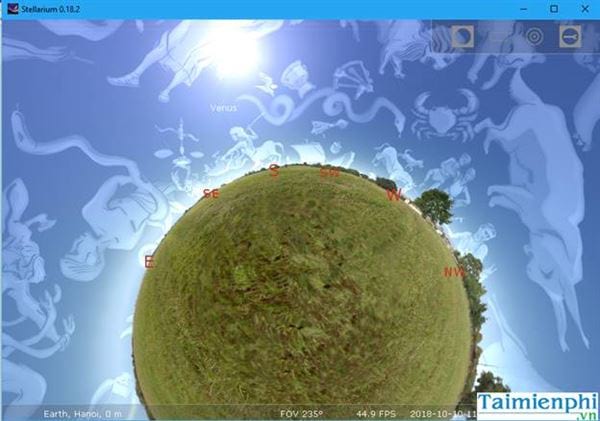 5. Turn on labels containing the names or numbers of planets.
You can press F4 or use Sky and Viewing Options Menu to turn on labels that contain planetary names or numbers to distinguish them from each other.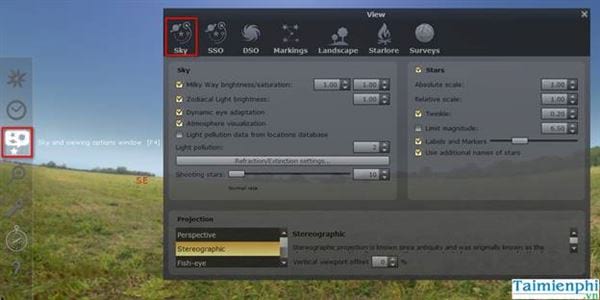 6. Search for planets.
To open the search window, use the keyboard shortcut Ctrl + F, then you can enter the name, number or specific parameters of the planet to be searched and press Enter. Immediately, the screen will zoom to the planet you are looking for.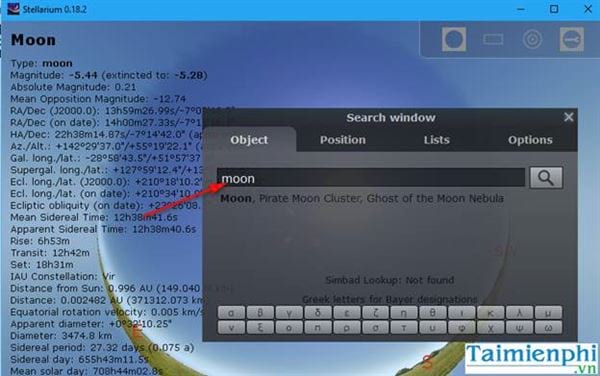 7. Adjust the time.
Stellarium is real-time software that runs on time installed on your computer. If it is evening, you can immediately observe. If it is daytime, you need to turn it on Date / time Window Up and select the time is evening.
You press F5 Or click the icon in the Menu bar as shown below.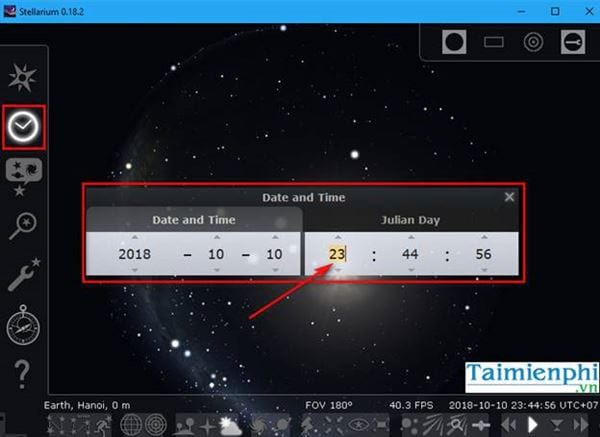 8. Fixed a planet to observe.
To fix the Moon for a "spotlight", click the button Center on selected object in the Menu bar below. Once fixed, you can zoom up to observe and find out.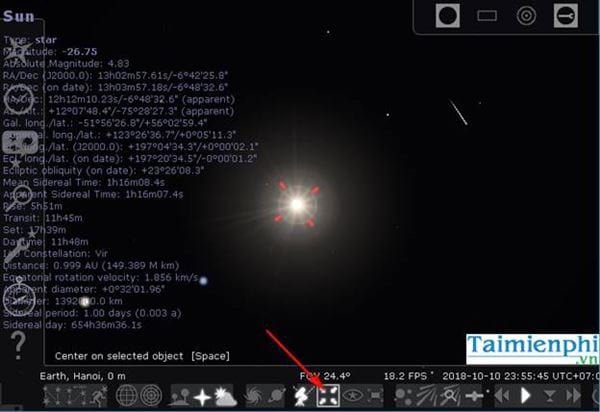 https://thuthuat.taimienphi.vn/huong-dan-su-dung-stellarium-39196n.aspx
So TaiMienPhi.vn just joined you to experience some interesting features when using Stellarium. In addition to the aforementioned features, Stellarium has many other powerful support features such as: powerful magnification, conversion of coordinate systems from the earth to other planets … Hope this article will help. for you. Good luck.
.