LG has continued to play the role of a pioneer "laying the groundwork" for a new standard in display quality for dedicated displays for professionals and content creators in general, with a class of products called New generation UltraFine OLED Pro.
The UltraFine OLED Pro 2022 series with two variants — 32BP95E and 27BP95E — will serve as LG's flagship products in the premium display segment. Carrying on the new generation OLED self-illuminating pixel technology researched and developed by LG itself, the new UltraFine OLED Pro 2022 screen models promise to provide not only accurate color reproduction, but also efficiency Excellent HDR and SDR performance for professional tasks.
Similar to its predecessors, the UltraFine OLED Pro 2022 series will have two 27-inch and 32-inch variants. Both offer 4K UHD (3,840 x 2,160) resolution with a contrast ratio of 1,000,000:1, along with 99% DCI-P3 color gamut coverage. Each display will offer independent pixel control to deliver image reproduction with incredible color fidelity and contrast, since OLED panels essentially don't require some form of lamp. background. LG's new UltraFine display can eliminate the distracting halo effect, also known as "blooming," one of the "chronic diseases" of other high-end LCD screens in general. .
LG's two new Pro OLED display models both provide optimal vivid color reproduction in even the most challenging brightness environments with a removable self-calibrating sensor and screen cover. . Together with LG's free downloadable Calibration Studio software package, the calibration sensors calculate the light level emitted by the display at set user-scheduled times, then immediately automatically adjusts in real time to ensure accuracy at all times, while producing the highest level of color realism.
In addition to increasing color and image accuracy, LG also equips the screen with a visor system that can be attached to the edges to limit reflections and glare from most light sources. may be affected by the surrounding environment.
In terms of design, the UltraFine OLED Pro 2022 screen models in general do not possess a too glossy, eye-catching appearance, but are thin and elegant. Enough for you to easily move to most positions in the office. The included stand is fastened to the back of the monitor with a One-click mechanism, allowing for easy adjustment of pan, tilt, and various heights without sacrificing aesthetics and stability. determined while working.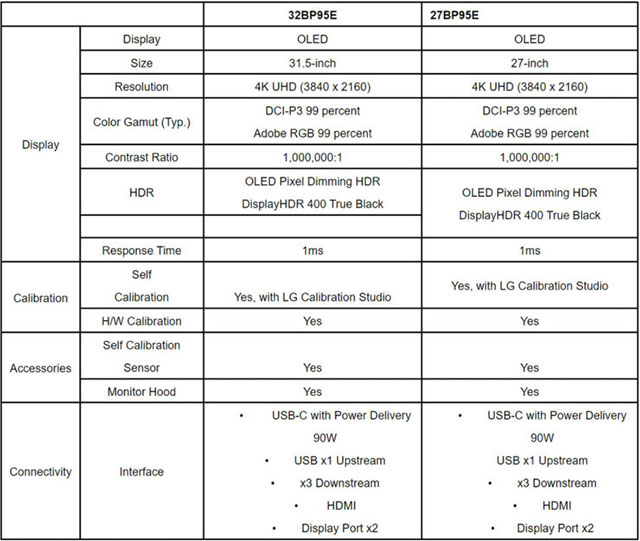 "Designed to serve the needs of creative professionals, our new UltraFine OLED Pro display delivers absolute image accuracy with stunning self-illuminating image quality and reliable calibration.

Incredible accuracy, wide color gamut and faithful reproduction of both HDR and SDR content make it the ideal display solution for professional users working in the film industry. photographs and digital media".
Both new screen models will be available from January in key LG markets. Although the company does not provide detailed information on the price, but based on the reference price of the 32-inch 2021 version priced at 3,999 USD (equivalent to 91.7 million VND), the list price of the new version will probably also around this level.
.