Apple's switch to using its own line of processors researched and developed on new MacBook models has brought a huge leap in performance and application compatibility that an ARM PC model has. can be achieved.
Previously, when the M-series chip line did not appear, MacBook Pro models in general became a reliable choice for a large number of users when it comes to content creation or design-related tasks. graphic design. Now, with the addition of a new line of custom chips, this ability is even further enhanced, especially in the case of the MacBook Pro M1 Max "flagship" model.
Indeed, experts from Cnet have just conducted an in-depth test to evaluate the performance of the M1 Max chip in the MacBook Pro with Adobe Lightroom, one of the most commonly used photo management and editing toolkits. most variable in the world today.
The test is divided into 2 reference cases. In the first test, the Cnet team used a brand new 16-inch MacBook Pro 2021, equipped with a powerful M1 Max chip with 32GB of RAM. For the second test, the referenced device is a MacBook Pro 2019 model with an Intel Core i9 CPU and 16GB of RAM. The end result is quite impressive and shows the amazing processing power of the new M1 Max processor when it comes to photo editing tasks. As follows:
"Combining six 30-megapixel photos into a single panorama was done by the new MacBook Pro M1 Max in an average of 14 seconds, while it took 67 seconds for the 2019 Intel-powered MacBook Pro to do the same – equivalent to with a difference of up to 4.8 times. This is a huge difference on two products launched only about 2 years apart. The smallest performance difference recorded in the test was in the case of combining 3 30-megapixel photos into one HDR photo: It took 22 seconds on an Intel device and 12 seconds on a product using the M1 Max , equivalent to an increase of 1.9 times.

Lightroom generally still struggles to handle the Phase One's huge raw files with up to 151-megapixel resolution, but the new Mac model handles it much better than its predecessor. Combining the panorama of 2 photos took 109 seconds on the MacBook Pro 2019; 3.2 times slower than the 34 seconds on the new MacBook Pro M1 Max. In situations where the raw file is interpreted to create a full-resolution preview, the MacBook Pro 2021 also performs 2.5 times better than its predecessor.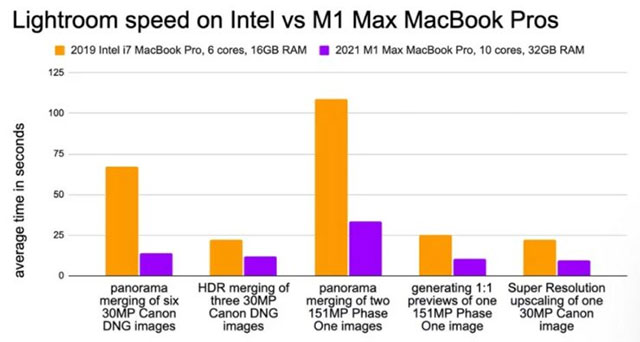 You can view the full Cnet test report HERE. If you have a rich budget and are looking to buy a high-end laptop for photo editing, the new MacBook Pro 2021 is one of the choices worth considering.
.