Microsoft has been heavily criticized for deliberately complicating the migration of the default browser on Windows 11 from Edge to third-party browsers. After hearing the user community complain too much, Microsoft decided to try the change in the latest Windows 11 Insider Builds. It's now much easier to switch the default browser.
Specifically, in Windows 11 Build 22509 for the Dev channel, a new button has been added to the Default apps section that allows you to quickly install the default browser. All you need to do is just select the browser you want then click the Set default button.
This method is still not as convenient as letting the browser set itself by default, but it is much better than having to manually adjust each protocol to your favorite browser as before.
But if you look closely you will see that this Set defaut button does not switch the entire protocol to your preferred browser. Some protocols will still be tied to Microsoft Edge forcing you to do it manually.
It is not clear after testing this change will be rolled out in the official Windows 11 version or not.
---
Compared with Windows 10, Windows 11 has a lot of changes in the overall interface and experience. While some changes were welcomed by users, others were not.
The way to install the default browser application on Windows 11 is one of the things that annoys users. Even Microsoft's competitors in the browser market must be "hot eyes" with Microsoft's actions.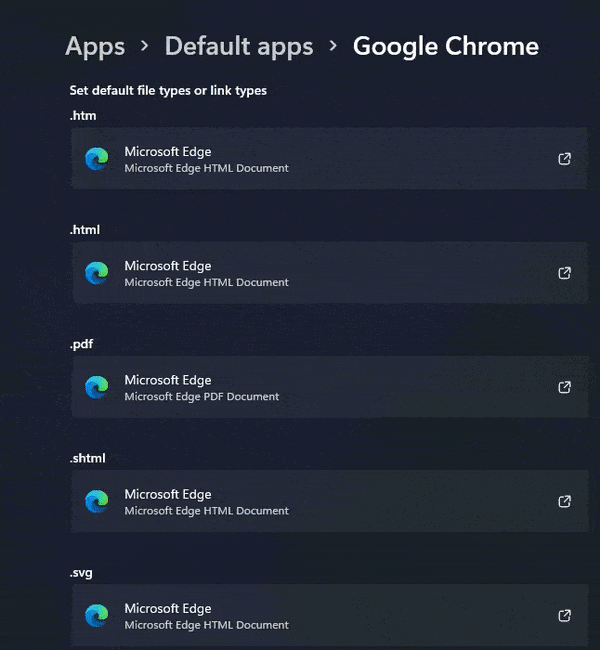 When installing the default browser application on Windows 11, users will have to go through a series of tedious settings. You will have to set the default application for each different file type separately. Moreover, you will be asked if you are sure you want to use a browser other than Microsoft Edge.
Not only that, but Windows 11 widgets have no option for default apps. All links that need to be opened in the widget will be opened through Edge, there is no other option.
"It seems that Windows 11 widgets ignore the user's right to choose the default browser and instead open Microsoft Edge to view content.
Brave puts the user first, and we condemn this approach of Windows 11 because choosing the default browser has a lot of impact on individuals and their privacy. Users should be free to choose", a spokesperson for Brave shared.
Firefox, Vivaldi, and Opera are also annoyed with Windows 10's default browser settings.
"We're increasingly worried about trends on Windows. Since Windows 10, users have had to go through many unnecessary installation steps to set up the default browser. These barriers are confusing and appear to be designed to get users to bypass non-Microsoft powered browsers.", Mozilla Firefox Vice President shared.
"We encourage all platform providers to respect user choice and allow competition on their platforms. Taking away user choice is a step backwards", said Opera's Executive Vice President.
"Microsoft has done this in the past and now they've made it even worse. With each new version of Windows, it becomes harder and harder to change default applications. They think locking users out with Microsoft Edge is the only way they can get people to use Edge", said a spokesman for Vivaldi.
"Unexpectedly, this comes from a company that claims to be the most open to the most choices. I hope this is just a developer trial and the final release of Windows 11 will live up to what they claim", Google Vice President shared on Twitter.
So far, Microsoft has not released any statement in response to the criticism of rivals.
.