Microsoft has just officially announced that the company will hold a special series of live shows called "Windows Wednesday" in 2022. This is an important part of the plan to improve connectivity and interaction between Microsoft and Windows users in general and the developer community in particular.
Episode 1 "Windows Wednesday" is scheduled to air on January 5, 2022, with a duration of about 30 minutes. Some of the topics that Microsoft will cover in the first episode include Windows Terminal, Windows Subsystem for Linux, Windows Sounds, PowerToys, and many other very interesting issues.
Besides the content as well as the topic of discussion, one of the other factors that can help Windows Wednesday become a successful program lies in the presence of leading Windows experts, and the open interaction on the desktop. discuss all issues that the community has been and is concerned about. In addition, there will also be senior leaders from Microsoft as well as the Windows team at each episode, to discuss innovations and development plans to make Windows a platform. more friendly to the developer community.
Windows Wednesday will broadcast live every Wednesday at 8am PST/4pm UTC on the Windows Developer YouTube channel and Microsoft's Learn TV website. The first pilot episode will air on Wednesday, January 5, 2022, where the main topic will revolve around how to customize Windows Terminal.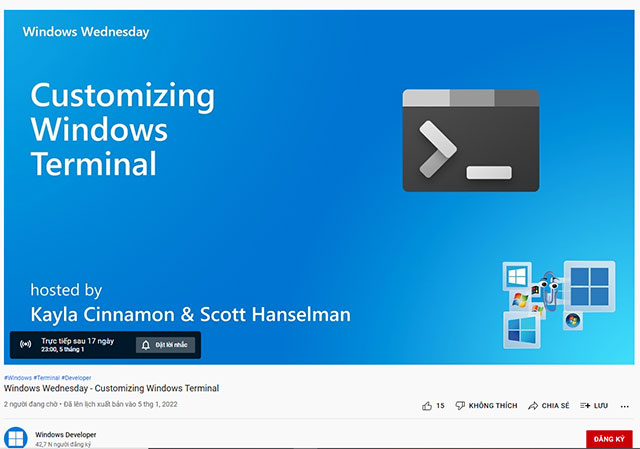 .