Microsoft is said to be launching Windows 11 22H2 RTM version this month, and as things nearer to general availability, the company continues to outline four new accessibility features to come with the final update. .
These new accessibility features include: Windows Focus, Live Captions, Voice Access, and Windows Narrator.
Microsoft outlines new accessibility features coming to Windows 11
1. Windows Focus
"Focus" is a combination of features"Focus Assist" and "Do Not Disturb" on previous versions of Windows. This feature is now built-in to the Notification Center and can be activated with the click of a button. Once activated, Windows will hide notifications for users to focus on. focus on work.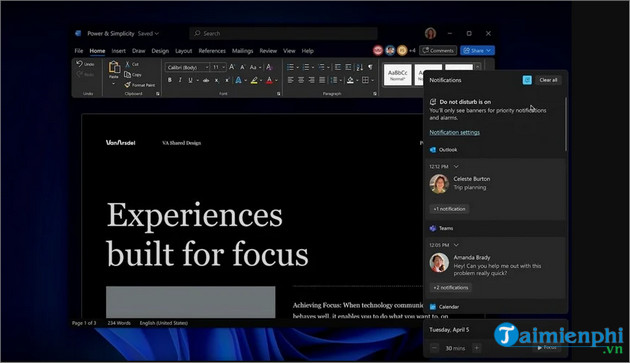 Besides, Microsoft also integrated the Focus Sessions feature on the Notification Center. This feature makes it easy for users to set a "work" timer to activate Focus Mode for a specific period of time. When Focus Sessions is activated, the system will turn on Do Not Disturb mode and turn on icons on the Taskbar to reduce distractions.
Windows 11 is the latest operating system today, there have been many people who have been automatically upgraded to Win 11 and many people have installed Windows 11 from the iSO file themselves.
See more:

How to install Windows 11
2. Live Captions
Microsoft's new Live Captions feature, which is available on Android, is a system-wide captioning feature. Accordingly, this feature will analyze the sound playing from any source and display the text when it recognizes the words being spoken.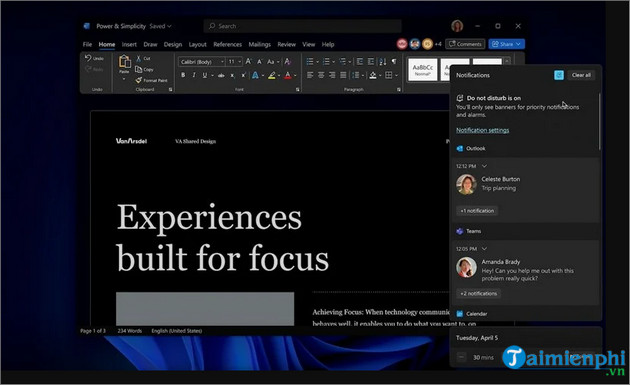 In particular, users can customize, place this feature at any position on the screen as well as change the size, font, transparency of text and captions. Plus these live captions are analyzed and displayed locally, which means no internet connection is required to work (after initial setup is complete).
3. Voice Access
The new Voice Access feature on Windows 11 works better than the tool Speech Recognition on older versions of Windows, allowing users to control and interact with the system using just voice instead of using a mouse and keyboard.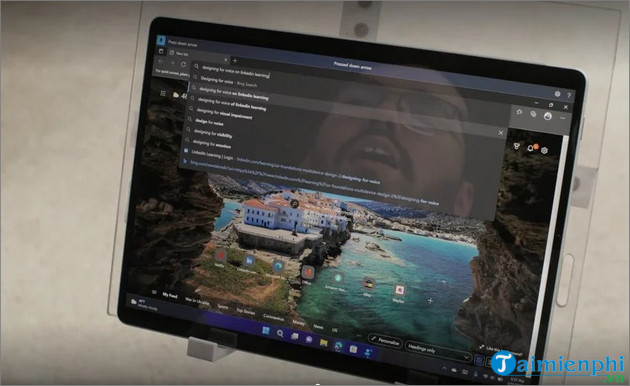 After activating the feature, users can ask Windows to perform tasks such as opening Start now switching to the Edge browser, interacting more deeply with applications with common commands such as Scroll Down, … .
4. Windows Narrator
After listening to user feedback about the Narrator experience, Microsoft is finally implementing and adding natural voice to this feature, helping the visually impaired experience better.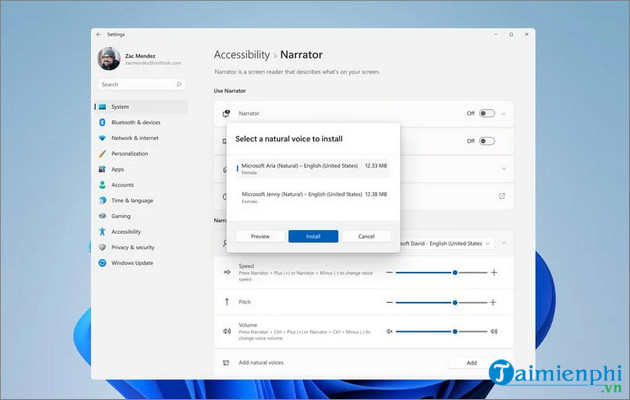 https://thuthuat.taimienphi.vn/microsoft-phac-thao-cac-tinh-nang-tro-nang-moi-sap-co-mat-tren-windows-11-69836n.aspx
Similar to the Voice Access feature, the natural voice in Narrator supports American English.
Related keywords:
Windows 11 has new features
new accessibility features Windows 11, Windows 11 22H2 RTM version,