OPPO has just officially launched its first commercial folding screen smartphone after years of research and development on the Inno Day 2021 stage with the name: OPPO Find N. OPPO Find N is considered one of the models. The most comprehensive folding screen smartphone today in terms of factors: Features, perfection, configuration and price. However, the most resonant is the level of "expected smooth" popularity that this smartphone has received in its home market of China.
In the first sale on December 16 in the domestic market, OPPO Find N was immediately sold out after only a few seconds on the shelves. In particular, the selling price on the black market also skyrocketed, up to 20-30% due to the original listed price. This is quite a rare phenomenon in the history of the smartphone industry as a whole.
Specifically, the listed price offered by OPPO for the 8GB/256GB and 12GB/512GB memory versions of the Find N is 7,699 yuan and 8,999 yuan, respectively, equivalent to VND28 million and VND32.5 million. However, as noted in the "black market" trading forums. The transfer price for this smartphone is currently being pushed up to 9,299 yuan and 12,000 yuan, equivalent to 33.5 million and 43.2 million dong.
The fact that OPPO Find N is loved is quite understandable, because in terms of price / configuration compared to other conventional high-end phones from Apple and Samsung, this is a smartphone worth owning. But the current shortage of goods has made this price no longer good. Those who want to experience the device early but are late in the initial sale will have to buy it back on the black market at a significantly higher price.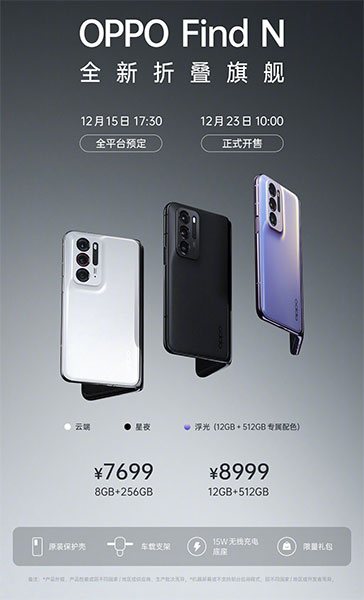 As planned, OPPO Find N will officially reach users on December 23, but of course only to those who have pre-ordered the device during the opening sale on the 16th. In addition, another reason why the smartphone model This is sought after because OPPO has confirmed that the product will only be distributed exclusively in the domestic market, not a commercial version in the international market.
Find N is currently OPPO's latest flagship product targeting the high-end smartphone segment in the market. Moreover, this is also a product that also marks OPPO's entry into the folding screen phone market dominated by Samsung. With the advantages it holds, OPPO Find N can completely create a spectacular overthrow. Let's wait and see!
.