Microsoft has just announced that they have launched a new Paint application for users who are participating in the Windows 11 beta test in the Dev channel. About the new feature in the update, the new Paint has a Windows 11-style design theme for the "Edit colors" and "Resize and Skew" dialog boxes. Microsoft also said that other dialog boxes with different options will also be updated similarly.
"We've updated the "Edit Color", "Resize and Skew" and other dialogs to match the new Windows 11 design style and to match the new Paint application background", Microsoft announced on the blog accompanied by two illustrations.
The software giant also points out some additional improvements they have made on the new Paint including:
Shift+click and a swatch will select that swatch as the secondary color.
Fixes an issue that caused the text box to move unexpectedly when using an IME.
Fixes an issue that prevented some text boxes from being properly localized in Hebrew, Dutch, Norwegian, and other languages.
Improved support for screen readers.
If you're using Windows 11 Insider Preview Dev channel and don't see the new Paint, you need to go to the Microsoft Store, then find Paint and press Update. According to TipsMake.com's initial experience, the new Paint is quite smooth and the interface is also more beautiful than the old Paint.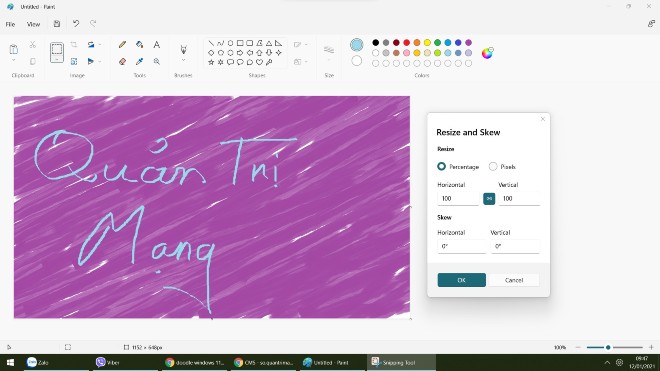 Microsoft is looking forward to hearing from users about Paint's new features. If you have anything to contribute to Microsoft, you can send it through the Feedback Hub application on Windows 11.
.