Qualcomm may lose its status as the exclusive chip supplier for Windows on ARM laptops, but the company certainly won't give up the battle for market share in this potential market. To partially realize that ambition, Qualcomm has just continued to launch a new generation of high-end and mid-range ARM processors for the Windows laptop market with the name Qualcomm Snapdragon 8cx Gen 3 and Snapdragon 7c + Gen 3.
Qualcomm Snapdragon 8cx Gen 3 is the successor to Snapdragon 8cx Gen 2 which was not really successful before. The new chip is developed on the 5nm process, promising up to 40% increase in single-core performance, 85% increase in multi-core performance, and 60% increase in GPU performance. They all deliver at least 60% better performance per watt than x86 chips. At the same time, the ability to optimize energy use is also improved. Qualcomm expects this chip to be able to work well in ultra-thin Windows laptops and passive heatsinks, where it will maximize its advantages.
As a high-end ARM chip, Snapdragon 8cx Gen 3 will of course also support 5G and WiFi 6/6E connectivity. Camera and audio functions as well as chip-to-cloud security have also been upgraded. According to Qualcomm, Snapdragon 8cx Gen 3 can handle games at Full HD resolution at up to 120 frames per second. It also lasts 50% longer than "competitive platforms".
In the lower segment, Snapdragon 7c + Gen 3 will be Qualcomm's "trump card" in the mid-range and low-cost ARM laptop segment. The chip is built on a 6nm process and will deliver up to 40% improved CPU performance and 35% higher graphics performance compared to its predecessor. The Snapdragon 7c+ Gen 3 also supports 5G, (sub-6 and mmWave) through the Snapdragon X53 5G Modem-RF system, as well as integrated Wi-Fi 6 and 6E.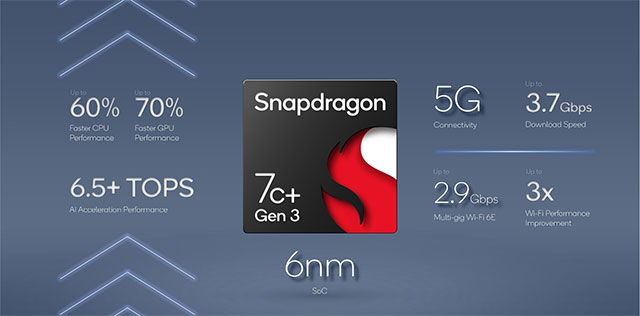 ARM laptops and tablets running Snapdragon 8cx Gen 3 and 7c+ Gen 3 chipsets are expected to be launched in the first half of 2022.
.