Although it is still a long time before the official launch time, however, information about Samsung's flagship tablet line – Galaxy Tab S8 – has been leaked relatively in detail on many reputable technology forums and websites, especially especially in Korea. So what's remarkable about this cult product line?
Summary of basic information
As revealed by a reputable source from Korea, the Samsung Galaxy Tab S8 series will be codenamed "Basquait", and especially will possess specifications that have many similarities with a laptop. compact multi-use, rather than a traditional tablet.
The lowest-end version, Basquait 1, will be equipped with an 11-inch TFT screen with 120Hz refresh rate, 8,000mAh battery that supports 45W fast charging. The source did not specify the exact processor model to be used, but instead just said that this is a "fastest new generation" processor. Traditionally, the top Galaxy Tab S-series is usually equipped with the most advanced Snapdragon chip by Samsung, and the Galaxy Tab S8 is likely to be no exception. Comes with that will be 8GB RAM and 128/256GB internal memory. "Basquait 1" will feature a dual-lens camera module and a body thickness of only 0.63 cm.
The more advanced "Basquait 2" version will have a 12.4-inch OLED screen with 120Hz refresh rate, with a 10,090mAh battery and 45W fast charging. The device will also run on the "fastest next-generation" processor, 8GB RAM and 128/256GB internal storage. The total weight of the device will be about 575g, 0.57cm thick and has an in-display fingerprint sensor.
The most popular device, possessing the most advanced configuration will be Basquait 3. This will most likely be a device marketed as Samsung Galaxy Tab S8 Ultra, and will be equipped with a large screen 14, 6-inch 120Hz OLED, 8/12GB RAM and 128/512GB internal memory. Powering the system will be a 12,000mAh battery that supports 45W fast charging, weighs 650g and is only 0.55cm thin.
All three models will come with a built-in S-Pen, a stereo four-speaker system, and 5G support. The first two models have an 8-megapixel front camera and a 13/5MP dual rear camera with flash. While Samsung Galaxy Tab S8 Ultra will own a dual front camera cluster with 8MP and 5MP ultra-wide angle. In addition, Samsung will also launch a new high-end keyboard with the ability to support different modes (laptop, drawing tablet).
The Samsung Galaxy Tab S8 versions are expected to hit shelves with prices ranging from $740, $1,120 to $1,320.
Galaxy Tab S8 appears on Geekbench 5 with Snapdragon 898
A new Samsung device with model number SM-X808U has been unexpectedly found on the Geekbench database. This is most likely the 5G variant of the Galaxy Tab S8+ for the US market. with information about the processor chip and memory has also been revealed.
We are looking at a high-end Android tablet model using the flagship Snapdragon 898 chip, with a single-core score of 1,211 points and a score of 3,193 points in the multi-core tests on the Geekbench performance rating scale. . The specifics are as follows: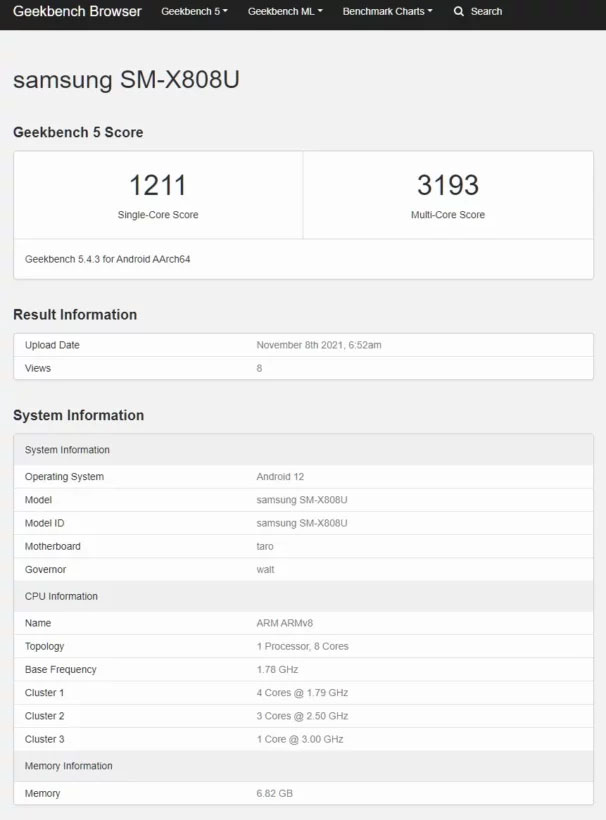 True to previous rumors, Snapdragon 898 on Galaxy Tab S8 + will own an 8-core configuration, including 1 super high-performance core running at 3GHz, 3 high-performance 2.5GHz and 4 economical cores. power runs at 1.9GHz. The variant listed on Geekbench has 8GB of RAM and runs on Android 12 out of the box. However, it is still unclear if Samsung plans to use Android 12L on its upcoming tablet models. If yes, this will be a relatively interesting highlight.
If nothing changes, Samsung will launch 3 variants of Galaxy Tab S8. The data posted here is the Plus variant, but the Ultra variant will probably also share the same hardware configuration. The difference will most likely be in the screen size, as the Ultra variant will most likely come with a large 14.6-inch OLED screen compared to the 12.4-inch panel on the Plus variant. In addition, the Korean manufacturer will also maintain the launch policy but finish two versions of the processor – Exynos 2200 and Snapdragon 898 – depending on each specific market.
Samsung Galaxy Tab S8 processor problem
Similar to the flagship Galaxy Z Fold 3 folding screen smartphone product line that was just launched in early August, the upcoming Galaxy Tab S8 tablet models will most likely only have a Snapdragon chip version (specifically). maybe Snapdragon 898), instead of the traditional Exynos.
That's the information revealed by leaker "Ice Universe", who is known for his extremely accurate sharing about upcoming top technology products. The exact reason of course has not been revealed, but the most likely cause lies in some problems with Samsung's production capacity with the Exynos 2200 series of chips. Before that, there were also many rumors about ca The Exynos Galaxy S22 series will also be launched in a limited number of markets than usual. Samsung will probably corner the Exynos 2200 production lines to service the Galaxy S22, which will have larger sales than the Galaxy Tab S8 in general. But in return, according to experts, it is highly likely that many Galaxy Tab S8 Snapdragon 898 variants will be introduced to meet market demand at different price points.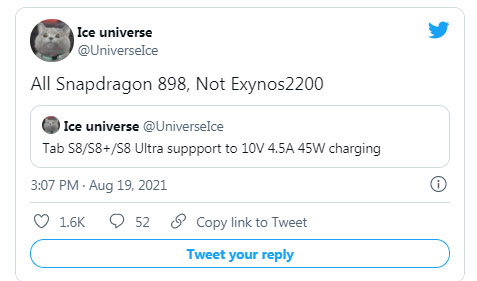 According to previous performance leaks, the Exynos 2200 has made a very strong impression. This chip not only beats the Snapdragon 898 in processing performance, but also scores higher than the A14 Bionic in the graphics test. This is probably thanks to the presence of the 6-core AMD RDNA2 GPU on the Exynos 2200. Therefore, the fact that Samsung cannot equip the Exynos 2200 on the Galaxy Tab S8 can bring a lot of regret.
As for the Snapdragon 898 (or possibly also known as the Snapdragon 895), this will be Qualcomm's next-generation high-end system-on-chip (SoC) for the mobile market. This chip will be integrated with the Snapdragon X65 5G Modem-RF system, and is built on the leading 4nm process for high power efficiency.
Basic specifications include:
Kryo 780 CPU is developed on Arm Cortex v9 . technology
GPU Adreno 730
Spectra 680 ISP
5G support up to 1GHz mmWave downlink and 400MHz Sub-6 EASY
Supports Qualcomm Aqstic WCD9380/WCD9385 . audio codecs
Integrated Qualcomm security processor (SPU260)
Supports Qualcomm FastConnect 6900 . subsystem
Supports 4-channel LPDDR5 package-on-package RAM
Adreno 665 . VPU
Adreno 1195 . DPU
Everything is built on the new 4nm process, which promises higher clocks and lower power consumption.
Above is the known information about the Samsung Galaxy Tab S8 product line. The network administrator will continuously update as soon as the latest information is available, please pay attention to read!
.