Both Box and Dropbox offer reliable cloud-based document management services to global audiences. Such platforms allow you to securely store all your files and documents in the cloud, accessing them for collaborative work.
Box and Dropbox are two popular names in this space, so you may find it difficult to choose between them. Let's compare these two services through some key metrics.
1. Sync and share files
One of the main purposes of cloud-based platforms like Box and Dropbox is to help users work collaboratively across devices, while ensuring security. Therefore, real-time synchronization between devices and simple file sharing are important features.
Sync files
Box uses the sync feature to store and manage users' cloud files. Box Sync saves a copy of the Box account to the local computer. As a result, all documents and files in Box are accessible in offline mode.
Any changes you make to these files will be synced in the cloud. However, to enable this feature, you need to download the app to your computer. Doing this on a Mac will require an HFS+ or APFS formatted hard drive.
Conversely, you need to access your team's Dropbox account from one device to see real-time updates on files created from any other device. It also allows you to enable the Available Offline option. Using this option, you can access documents without an Internet connection.
File sharing
Box allows you to share any file such as raw images, videos and compressed folders, regardless of device and file size. During file sharing, you can set any of 7 different permissions. Furthermore, you can allow users without a Box account to edit, comment, or download files.
With Dropbox, on the other hand, file sharing is pretty easy. The platform allows you to share a file or folder directly on the Dropbox website.
You can also use the desktop or mobile app to share files. While sharing, the platform allows you to adjust permissions separately for each person. By using link sharing, you can grant view-only access to non-Drobox users.
2. User Interface and Usability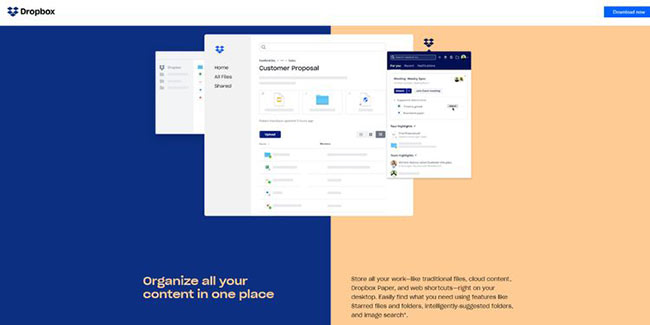 Thanks to Box's simple interface, you can easily get started with your account. You just need to create a folder and upload your files to it. Then share it with anyone by entering their email address.
Navigating through accounts isn't difficult in Box either. Box's tree structure allows you to find the folder you're looking for in a few clicks. Apart from these, it also provides other functions for advanced users.
Dropbox also promotes ease of use by providing a team space when you sign in with a business account. Administrators have the right to restrict access or share folders with external members.
Team members can also create shared folders. You can also browse the directory hierarchy to find files.
3. Price
Box offers a 14-day free trial. To sign up for the trial, you need a credit or debit card. After your trial expires, you'll need to choose one of Box's plans. These paid plans start from as low as $15/user/month for a minimum of 3 users.
For Dropbox, there is no free plan available. The platform offers two personal plans and three enterprise plans. The personal plan starts at $11.99/month, while the business plan starts at $19.99/user/month.
4. Cloud storage security and privacy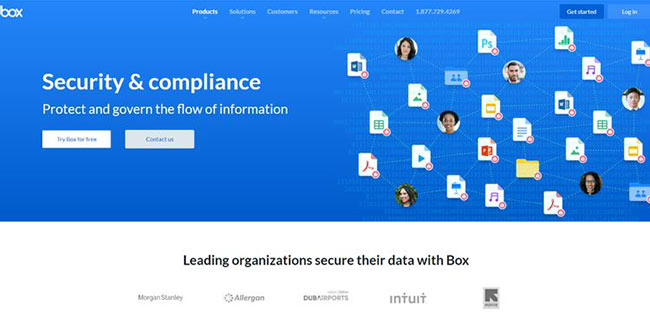 With Box, you get many advanced security features like customizable data retention policies and file encryption. Administrators can also control file sharing and access policies, providing centralized management and complete security capabilities.
It also encrypts data both at rest and in transit to prevent data theft. You can also choose your own manageable encryption keys.
Dropbox offers security features like advanced encryption, file sharing restrictions, secure data transfers, group management, network configuration, and application-level controls. In the event of a device loss or account compromise, Dropbox also allows you to remotely erase all of your account's data.
Administrators can add, remove and follow users of group accounts. They can also view the team's login, sharing, and device stats.
5. Productivity Features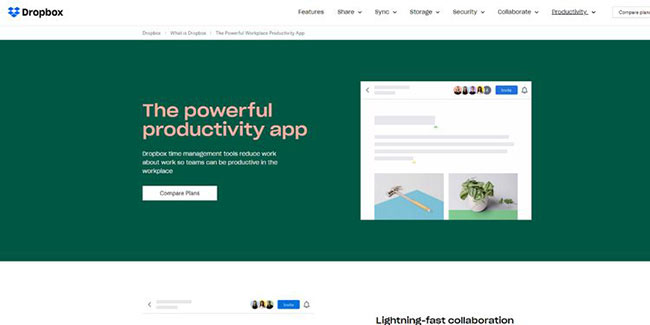 In addition to the above features, these two cloud storage platforms both provide additional basic productivity tools.
With Box, you get Box Notes, a note-taking app that also acts as a basic task manager. While it's not the best option, it allows you to create, view, and edit from a single window. You can also use it to create memos, share ideas, plan projects, and track status updates.
Dropbox comes with a document collaboration tool called Dropbox Paper. With this tool, your team can assign tasks, search documents, create to-do lists, chat with teammates, create and edit files, archive versions, and more.
6. Third-party integration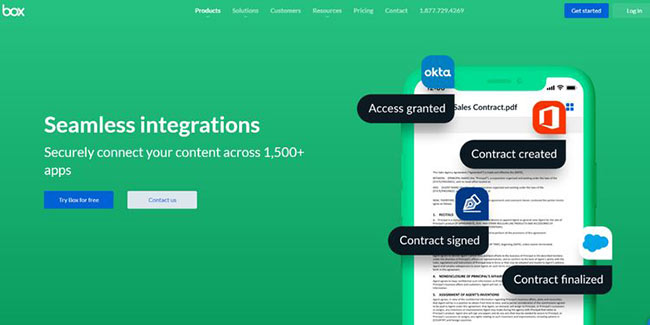 The built-in facility allows you to work seamlessly with different apps and devices. In Box, you get the benefit of integration with over 1,500 apps. The supported apps are mostly business software like CRM, but you can get the most out of the built-in apps to tailor your business.
Some of the top apps you can integrate with Box are Microsoft 365, Google Workspace, Salesforce, Oracle NetSuite, Okta, Broadcom, IBM, Adobe, Slack, DocuSign, 3D Viewer, Airtable, Cisco CloudLock, Asana, Nightfall DLP , DocFax, Air Sharing, etc..
While Dropbox only offers integrations with 200 apps, the list includes both consumer and business tools.
Besides Microsoft 365 and Google Workspace, it supports integration with tools like Salesforce, Zoom, Slack, Facebook Workplace, Zendesk, Zapier, Wrike, Vimeo, WordPress, Meister, UpWork, Canva, WhatsApp, McAfee, etc. .
7. Backup and restore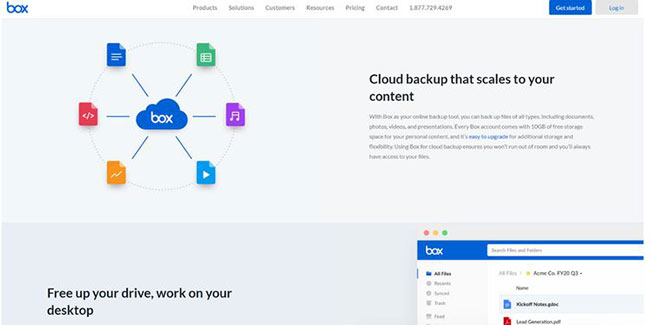 When you choose to store important data in cloud storage, you need to make sure the storage has the proper backup and recovery of data available.
If you choose to use Box, you'll get a 30-day file history. However, you will have less time to recover deleted files because it will delete the folder Trash every 14 days. It also doesn't have any built-in apps to help you do point-in-time data backup and restore.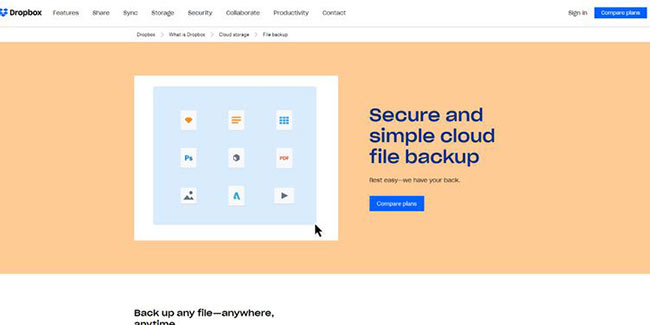 Dropbox also offers a 30-day file history, with no utility to backup and restore data over time. However, some Dropbox Business plans come with a 180-day file history.
Both Dropbox and Box are leading cloud storage providers with many useful features. Depending on your requirements and previous experience, you can choose which is the best option for you.
.