Standard email form for job, cover letter
March 19, 2020
Writing and sending a job email is one of the common ways you send your resume to employers today. However, not everyone knows how to write a standard cover letter form, create sympathy and fit into the employer's sights. If you want a standard cover letter form, reading the article below is essential.
According to the share of recruitment page GoodCV ( http://goodcv.vn ) that: Many candidates, although experienced, talented, are eliminated by employers Job application sketchy, simple job email, leaving no impression. If you are in this situation or if you are looking for a job, improving your cover letter is important to make the job email form impressive, capable of convincing employers.
How to write a resume email in English and Vietnamese
I. Standard job email template
* Sample 1: Download the word version HERE
* Sample 2: Download the word version HERE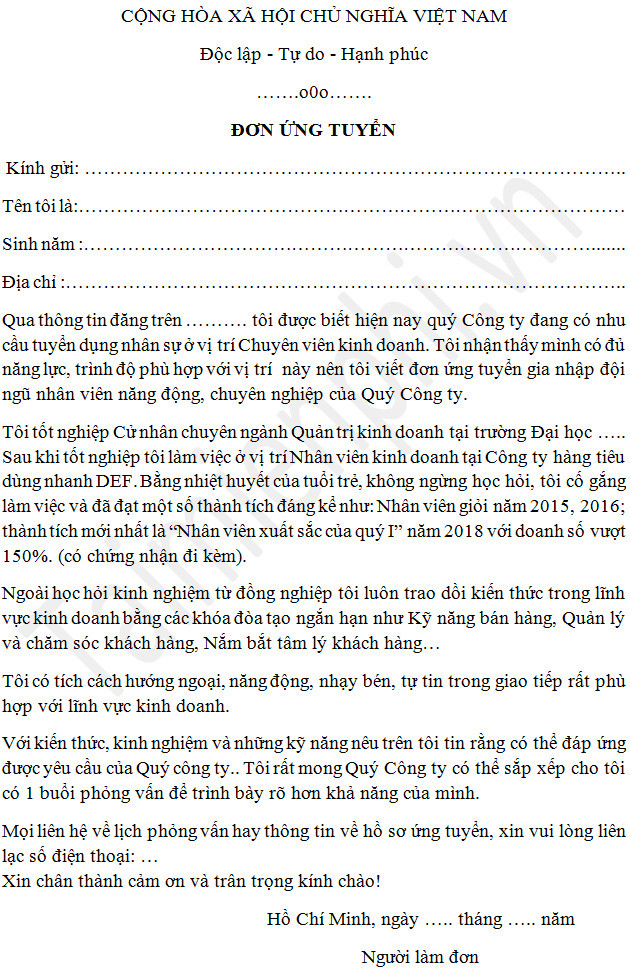 * Sample 3: Download the word version HERE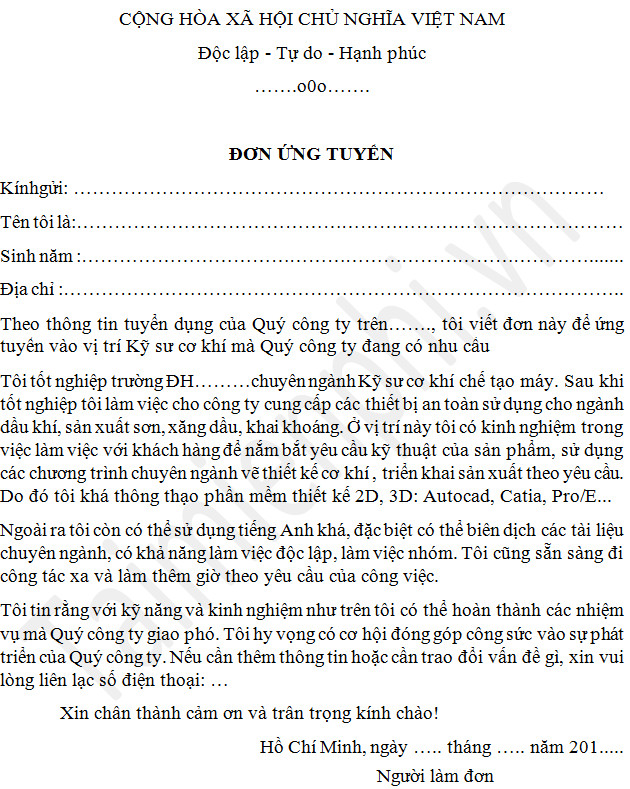 * Form 4: Download the word version HERE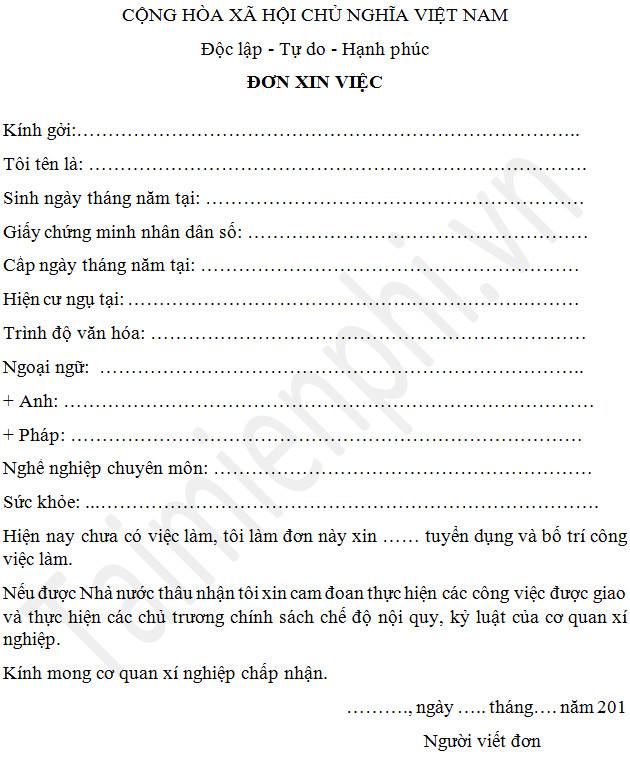 * Form 5: Download the word version HERE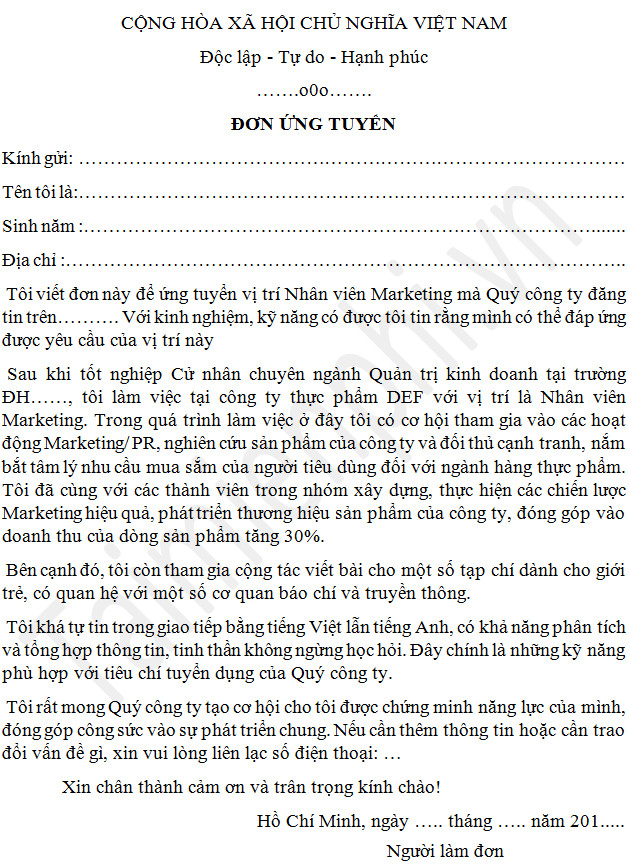 You can refer to, choose a standard cover letter form and download it to your computer to edit it as you like, fill in the necessary information and then send it when you need to apply for a company.
II. How new is the standard job email?
You can easily see that on job recruitment websites such as GoodCV, Vietnamworks …, all job posting email templates include jobs such as display name, signature, email avatar, email address. You can refer to when applying, writing all of these items to avoid losing sympathy with the employer.
1. Mail display name
The email display name is the name you give your email, when other people receive your mail will see. Names appear professionally when you write your full name with or without your accents, such as Nguyen Quang Minh, Nguyen Quang Minh or you can write Nguyen Minh, Nguyen Minh as well.
When you write your mail display name, you should use your normal name, instead of capital letters or not capital letters.
2. Email address
Email addresses show respect, so you need a professional email address, preferably using your own name and ending with @ gmail.com like nguyenminhan13@gmail.com instead of using personality, Lovely names like cobelanhchanh@gmail.com, caubenoiloan@gmail.com.
3. Email avatar (email avatar)
Many people think that email avatars are not important so whatever. But this is a wrong perspective. This profile image is also one of the things that helps employers assess who you are. Therefore, it is best to have your image as an email avatar.
4. Email signature
Professional email should be able to sign an email in addition to the avatar, email name, email address. Email signatures usually include content such as full name, phone number, Email …
III. How to write a standard, professional job email
A cover letter or any other letter you need to write in two parts. That is the title and the content. Depending on the purpose of the mail, you have different headers.
1. Title
For cover letters, many businesses ask for a clear cover letter, so you should rely on that to write the appropriate email subject. If the employer does not request, you should also know the following syntax: Your name – Job title, Company name
For example, your name is A, and you want to apply for the position of Tester of Xmedia. You should write the following mail subject: A – Tester, Xmedia company.
2. The content is in the mail
Not only does your application email but employers receive a lot of emails from other candidates so employers do not have much time to read the details of each email so in the email content, you do not need to write lengthy but need to ensure layout:
Dear Mr./Ms. ABC
Introduce names, graduate industry, any university. Then talk about your passion for the position you apply for. Finally, a sentence that says you are responsible, why you applied for that position.
Best Regards,
Your name.
Then, you attach your CV, Job application, resume into the content.
IV. Notes when writing a cover letter
To avoid errors before sending your job email, you should:
– Note on spelling
– To font, suitable font size
– Check the email header, signature, mail name … is it appropriate?
– Are the attached documents sufficient?
Specific email form for job application: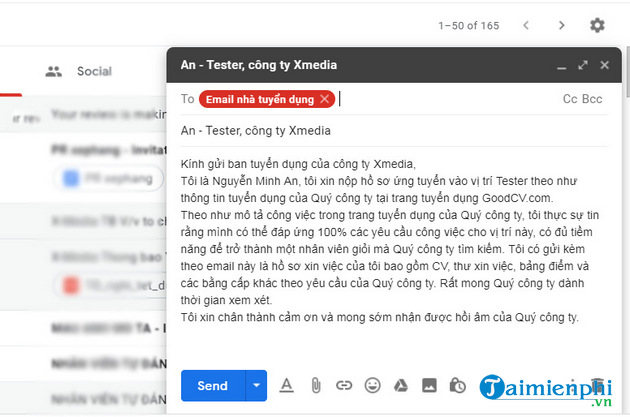 https://thuthuat.taimienphi.vn/mau-email-xin-viec-lam-chuan-thu-xin-viec-56162n.aspx
Employment email is considered to be the bridge between the candidate and the employer is the first thing that the employer contacts first, so if writing a cover letter via email does not show respect, it does not work well. If you are the one the employer needs, then the employer will eliminate you immediately. Therefore, you should seriously reconsider Standard cover letter form on here to write a standard email, thus helping your job search become more effective.
.