Supremo Remote Desktop – Control remote computers with Smartphone super convenient
March 19, 2020
Supremo is a great solution for those who are looking for a remote control software. Supremo Remote Desktop is not only a reliable and safe tool, but also easy to use thanks to an intuitive and simple user interface. Let's explore and experience Taimienphi.vn special and outstanding features of this super convenient remote control application in the article below.
Supremo Remote is an application developed by Nanosystems. This is an information technology consulting and software development company that has been established since 1986 and is based in Ascoli Piceno, Italy. Supremo desktop version was officially released in 2013 and quickly attracted a lot of attention from users and up to now, this application supports remote computer control has hundreds of thousands of downloads on the website. Officially on the CH Play and Appstore app stores.
Supremo Remote Desktop – Control remote computers with Smartphone super convenient
Content:

I. Salient features of Supremo Remote application
II. Instructions for installing and using the Supremo Remote application
III. Editor's Review
I. Salient features of Supremo Remote application
1. What is Supremo?
Supremo is a lightweight, easy to use, secure and powerful remote device control software. Supremo is made up of an executable file, so it does not require any installation or configuration of the router and firewall to access the remote device (computer or server), and Supremo has versions for Windows, Android, and iOS (MacOS versions will soon be released).
Supremo allows users to access remote computers or servers or hold a quick online meeting with just a few mouse clicks. It includes a completely free package, available for personal use and two paid packages, for commercial purposes. Supremo is designed and optimized for technical support or assistance and can be customized with your own logo or brand.
This remote control tool is capable of starting multiple simultaneous connections on the same device, activating copyright on an infinite number of computers and potentially being installed as a Windows service. This allows Supremo to automatically launch at Windows startup. Therefore, users can control the device remotely without the need for human intervention on the controlled PC or server.
Security on Supremo is entirely ensured by data stream encrypted using AES 256-bit algorithm and 4-digit password generated every boot to protect the machine from unwanted connections. For added security, you can use a 6-digit alphanumeric password more secure and even block specific IDs.
Download Supremo Remote Desktop right on your computer, phone to experience this preeminent remote control tool
2. Why should you choose Supremo?
– Simple: Forget about installing and configuring firewalls and routers. With just a few simple steps, you can connect to a remote computer or server to receive or provide support.
– Clever: Handling multiple monitors and connecting simultaneously without any hassle. Supremo integrates a tool to transfer files and folders in both directions.
– Safe: Choose a secure connection, data stream encrypted with AES 256-bit algorithm. Each new connection creates a new password.
– Easily: Remote customer support has never been this easy and convenient. A cross-platform software for remote assistance ensures reliability and quick intervention to help your customers.
3. Main features of Supremo:
Easy to use
Take advantage of a lightweight and easy-to-use software to control the remote computer with all the features that serve for remote technical support. Supremo is a single file that does not require installation, will allow you to provide and receive timely assistance without any problems.
Safe and confidential
Ensure secure connection because data stream is encrypted using AES 256-bit algorithm and a password is generated each time. You can protect your device remotely from unwanted connections by specifying a more secure password or blocking specific IDs.
Compatible with UAC security features
By using the Run as function, you can allow Supremo to display and interact with UAC (User Account Control) windows, even if the remote user is a normal user.
Unattended access
You can install Supremo as a service. This important feature allows you to control computers and servers remotely, even when no one is present in front of the device.
Customize the interface
Register a package, you can customize the application interface and distribute it to all your customers. Insert logos or company information and edit colors according to your brand color – all for free.
No configuration required
Supremo uses a data transfer protocol that allows you to connect to a remote PC or server without configuring a router or firewall.
Meeting feature
By launching the Meeting feature, you can share the screen without giving access to other users. This is a reliable and simple solution for demonstration, course and webinars.
Provide everything you need
Supremo includes a tool for transferring files or folders and a chat window to communicate with a PC or remote server (those tools can also be controlled with multiple monitors). Moreover, you can control multiple PCs at the same time from one device, or connect to a PC from different computers. Supremo has everything you need to provide efficient remote assistance to customers.
II. Install and use the Supremo Remote application
1. Installation instructions
At the web browser being used on the computer, go to the address of Supremo Remote Desktop software download for the computer: HERE. Proceed to click on the item Download located in the main interface of the website you just accessed
After downloading, open the Supremo Remote software. Next click on Run Supremo -> Click Accept to proceed with the installation.
2. Instructions for use
First, open the Supremo Remote software on both computers that need to connect the remote control.
IN The computer is remote controlled will display information including: Your ID and Password in the Connection function. You proceed to remember this information to also enter the computer equipment you need control.
In computer-controlled devices, you proceed Enter the sequence of ID numbers get above -> Click Connect -> Enter the password (Password) when the message shows up.
After successfully connecting the two devices, the interface on your computer will turn black.
Now, you can control everything on the other computer: Access the web browser, images, access applications …
To be able to interact more between the two computers, you will use the horizontal function bar above the Supremo Remote software including: File Manager, Chat, Control, Fullscreen, Display and Disconnect
At function File Manager, you can transfer, send data files, files, images … back and forth between computer devices conveniently and easily.
When you want to interact, chat with users on remote computers, you use the function Chat.
Function Control Supremo software gives you a lot of choices. You can quickly use the shortcut combination: Alt Tab or Ctrl + Alt + Del, Remote reboot or Remote reboot in Safe Mode … Especially, the key combination Ctrl + Alt + Del will help you to lock, open the device, change the user (User) … in the remote computer quickly.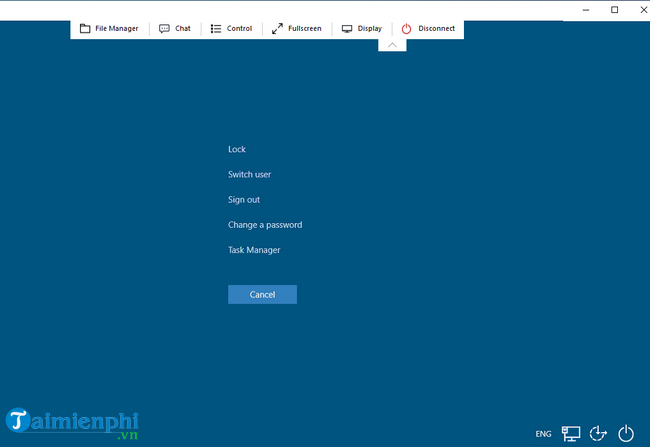 With function of display On Supremo Remote, you can take screenshots, change the resolution, change the display frame of the connected device … If you do not want to leave the black background of the remote computer screen when connecting If connected, you can select Show wallpaper to display the current wallpaper of the remote computer.
When there is no need for remote control between 2 computer devices, you choose to enter Disconnect to disconnect.
Editor's Review:
Today, users can easily search and download applications that support remote control of computers on the Internet. However, these applications often have limited functions, when accessing between the two devices, they can only view the image currently displayed on the computer, but cannot interact between computers. On Supremo Remote, the above disadvantages have been completely overcome. For business owners who often have to travel far away without direct meetings, this is really great news to be able to run meetings, direct the contents … easily.
https://thuthuat.taimienphi.vn/supremo-remote-desktop-55116n.aspx
So Taimienphi.vn just along with you to experience and learn about Supremo Remote application – an application that supports extremely convenient remote control of the machine. You rate stars on this application, please leave your comments below this article.
.