After a long period of development and internal testing, Microsoft has finally officially announced Windows 11 SE and the first hardware product running on this operating system platform: Surface Laptop SE, with an extremely attractive price. , only 249 USD. This is the cheapest Surface on the market today, developed by Microsoft mainly aimed at students and students, and competes directly with Chromebook products of the same price range that are increasingly popular. popular recently, especially in the field of education and schools.
The preferential price of Surface Laptop SE of course has a reason. This can be considered part of Microsoft's efforts to popularize Windows 11 SE, a "shortened" version of Windows 11 for students designed to compete with Chrome OS. After the Surface Laptop SE, this operating system will ship on a range of low-cost laptops in the coming months.
With a selling price of only $249, the Surface Laptop SE will of course be heavily cut in terms of hardware. Although it retains the same keyboard and touchpad as on the Surface Laptop Go, the Surface Laptop SE has a chassis made entirely of hard plastic instead of aluminum, and the 11.6-inch screen also only supports 1366 resolution. x 768px is relatively modest. However, this is the first Surface device with a 16: 9 aspect ratio in more than 7 years, after Microsoft switched to 3: 2 starting with the Surface Pro 3 released in 2014.
The screen seems to be the biggest drawback on the Surface Laptop SE, because even the cheap Surface Laptop Go model already owns a 1536 x 1024px resolution panel. The Lenovo Chromebook Duet in particular is also priced at $249, but ships with a 10.1-inch (1920 x 1200) display that's much better than the Surface Laptop SE. But again and again, such a screen resolution is not necessarily too bad on a device that mainly serves the basic learning and entertainment aspect.
The heart of the Surface Laptop SE is the Intel Celeron N4020 or N4120 chip, which comes with 4GB/8GB of RAM and 64GB or 128GB of eMMC storage. Right at the top edge of the screen will be a 1-megapixel camera that supports 720P resolution, enough for use in classes and online meetings. The device's connection ports include 1 USB-A port, 1 USB-C port, a circular charging port and a 3.5mm headphone jack. This is also the first Surface laptop model to ship without Microsoft's magnetic charging port.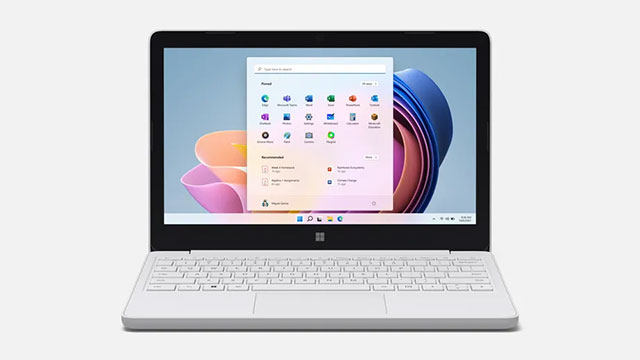 The ability to replace and repair flexible components is also another big highlight on Surface Laptop SE – according to Microsoft's commitment. The base of the Surface Laptop SE uses standard screws, allowing for easy removal and replacement of the screen, battery, keyboard, and even the motherboard. Microsoft will sell spare parts through its authorized service providers, and that means schools can replace parts on-site instead of having to send devices in for repair and wait a long time. days or weeks to wait for them to be fixed.
Microsoft will launch the Surface Laptop SE in early 2022 in the US, UK, Canada, and Japan. The base version with 4GB of RAM and 64GB of storage will cost $249. While the enhanced version with 8GB of RAM and 128GB of storage will cost $329. Also in 2022, there will be a series of Windows 11 SE laptop models from Acer, Asus, Dell, Dynabook, Fujitsu, HP, JK-IP, Lenovo and Positivo. Let's wait and see!
.