Learning English today has become a mandatory requirement for anyone, and, if you do not know how to learn effectively and still ensure the job requirements at the company, then please Refer and use one of the communication English learning software below!
Are you a beginner? Are you looking to learn communicative English but can't hire a tutor or take part in courses, …? If the answer is yes, then this is good news for you. Below is a list of the top 5 best English learning software / applications, compiled from user feedback.
Top best communication English learning software
Table of Contents:


I. Summary of English communication learning software.
1. Duolingo.
2. eJOY English.
3. Rosetta Stone.
4. Busuu.
5. English Attack.
II. How to use the software effectively.
I. Summary of the best application to learn English for communication
1. Duolingo
Duolingo is a free English learning application with worldwide coverage. To help you find the most effective study path, this software will give you a test to check your level first. You will then receive a course appropriate to your level. Duolingo consists of small lessons, forming branches of a large lesson; And your task is to complete all those lessons.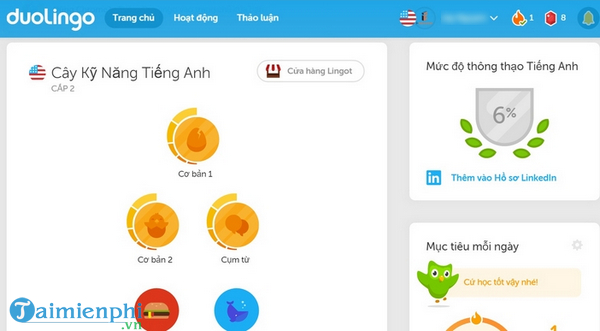 In addition, you can access the course library with various lessons and short conversations, helping you improve your listening and reading skills. In particular, you will have the opportunity to engage in conversation with other students to practice English speaking skills and expand your knowledge.
– Download Duolingo for iPhone
– Download Duolingo for Android
2. eJOY English
eJOY is a cross-platform English learning app that helps you learn English from over 50,000 interesting and inspiring videos from TED Talk, TV shows, music videos, movies, and many other interesting courses. With eJOY, you can easily memorize vocabulary by saving it in your new vocabulary book when watching videos and practicing it whenever you want with many different games. eJOY is available on platforms like mobile apps, web apps, Chrome extensions, etc.
– Download eJOY for Android
– Download eJOY for iPhone
3. Rosetta Stone
Rosetta Stone is an international standard English learning software that uses voice recording and analysis to help learners pronounce English correctly like native speakers. The software is broken down into several sections, such as pronunciation, vocabulary, grammar, listening, speaking, reading, and writing. The content of the lessons is also very rich, users can apply in practical cases such as shopping, asking directions, when using public transport, etc. Rosetta Stone focuses on developing. English communication skills, so the lessons are very simple. The application will help you remember the new word most easily by repeating it many times in many different contexts.
– Download Rosetta Stone for Android
– Download Rosetta Stone for iPhone
4. Busuu
Lessons learned in this application follow the standards of the European Reference Framework, with grades A1, A2, B1, and B2. With over 150 topics per day in each course, users will have full knowledge of pronunciation and vocabulary through audio, podcast, and PDF files provided by Busuu. Busuu's lessons are based on real-life situations and there are tests to determine a student's level. Besides listening and reading skills, learners will have the opportunity to improve their communication skills by being connected to a network of 60 million users around the world.
– Download Busuu for iPhone
– Download Busuu for Android
5. English Attack
English Attack is an English learning website, designed specifically for learners aged 15 to 25. This platform supports learning English through videos, from movies, TV shows, music videos to news. instant. In each video, you will have to watch and practice what you've just learned by doing the related content exercises. The content of the lessons is also regularly updated, especially for popular news videos, TV shows, and music videos.
In addition, English Attack also has tests to assess the level of students. Thanks to the online dictionary, memorizing vocabulary is also much easier when using this software. Learners will have to review new grammar, sentence components, or words they have just learned.
– Access English Attack here
II. How to use English learning software effectively?
Everyone knows that if they want to learn English effectively, they need to choose the most appropriate software. But, how to make the best choice? The three steps below will help you answer this question.
Step 1: Set goals. For example, learn to become a communication expert, a writer, or prepare for a foreign trip, ….
Step 2: Spend time looking for software or applications to learn English communication. You can do this yourself by reading other users' reviews. If it's free, you can try it out.
Step 3: Choose 1-2 software to suit your needs, time, and budget.
https://thuthuat.taimienphi.vn/top-phan-mem-hoc-tieng-anh-giao-tiep-tot-nhat-56091n.aspx
Above are the top 5 best English learning software, suitable for learners in most countries of the world. Hopefully, with the above information, you will choose the application that best suits you to make learning English simpler and more effective. In addition, there are many English learning application that you can research and use.
.