Back in August, long before Windows 11 was officially launched, Microsoft caught the attention when it suddenly introduced the Paint application for Windows 11, along with the option to set the main theme. Dark background theme brings quite unique experience. However, 4 months have passed since then, and it's still all just "drawing cake". Despite Microsoft's reiteration in September that the feature would appear in future updates, the Paint user community on the Insider channels has largely lost faith in this promise.
But instead of waiting in "hopeless", a freelance developer named Ahmed Walid personally created a method of installing a dark background theme for Paint application on Windows 11, to satisfy the desire. own experience.
The screenshot above is the interface of the Paint application on Windows 11 after applying the dark background theme (dark mode) developed by Ahmed Walid. This theme pack is named "Dark Paint", with a specific version number included.
The next image (below) shows the look and feel of the redesigned Edit Colors window area, and of course also follows the dark background theme.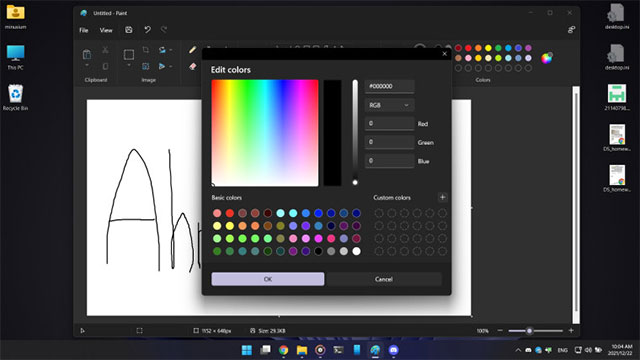 Ahmed Walid shared this Dark Paint project's XBF files publicly. Then a Twitter user with the nickname FireCube "packaged" it along with other necessary files to make the installation process easier for those who wanted to try it out. The steps are as follows:
Extract zip + enable developer mode + uninstall Paint.
Add-AppxPackage -Register .AppxManifest.xml
It should be noted, however, that this experience will only be available to Windows 11 Insiders on the Dev channel. Also, this is a third-party custom form and therefore, you should experience it with caution.
Download the Dark Paint project XBF file.
.