eSim is a technology sim card that brings a lot of benefits to users. Currently, eSim is being used by technology companies on mobile devices such as iPhone Xs, iPhone Xs Max, iPhone Xr, Google Pixel 2 and Google Pixel 2 XL. To learn more about what is eSim? How to use eSim? Please refer to the article below with Taimienphi.vn.
The use of eSIM offers a number of benefits to mobile device manufacturers and carriers. Users can use one phone number for business and another for personal calls, or use a data roaming SIM for use in another country, even using voice and data plans. separate data.
Find out what is eSIM?
So exactly What is eSIM? Readers refer to the following article of Taimienphi.vn.
Learn about eSim and how it works
1. What is eSIM?
eSIM or embedded SIM, is an electronic SIM, without the need for a sim tray or a physical sim like traditional sims.
eSIM must be supported and activated by networks and carriers. However, not all networks and carriers support eSIM. Also on devices like iPhone XR, XS and XS Max as well as Pixel, eSIM is used to support 2nd SIM.
Essentially, an eSIM is a small chip inside a phone that works similar to how NFC chips are used in payment technologies like Apple Pay and Google Pay.
The information on the eSIM is rewritable, meaning the user can change carriers through a simple call. In addition, using mobile data on eSIM devices is also much simpler.
Finally, the GSMA Association has recognized the eSIM standard worldwide.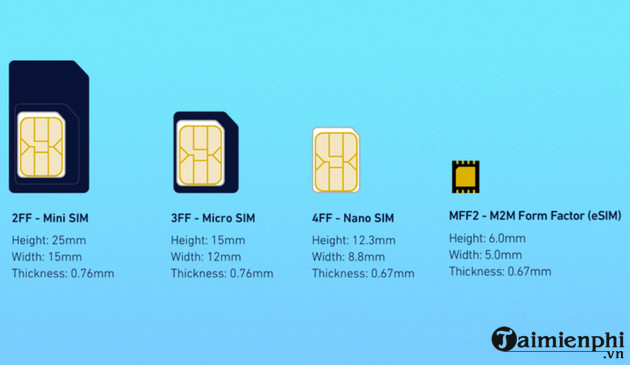 2. When is eSIM available?
eSIM is available now and is available with select carriers. Users of iPhone XS and XS Max devices must use a carrier app or a QR code to scan.
In the UK, carriers EE and Vodafone already support eSIM, however Vodafone currently only supports Apple Watch Series 3 or 4 Cellular.
Far away from traditional carriers, global mobile network Truphone has started selling eSIM data plans. Users can purchase these data packages through the MyTruphone app. Truphone's international mobile data plans work in 80 countries including countries in Europe, America, and Australia.
3. Benefits of eSIM for phone manufacturers
Because eSIM is extremely small in size and does not need to use a physical sim or sim tray like traditional sims before. So phone manufacturers can take advantage of this to integrate other components.
4. How does eSIM work?
According to carrier EE, if a user has a physical SIM and an eSIM connected to two different carriers, the iPhone will display both carriers on the screen at the same time.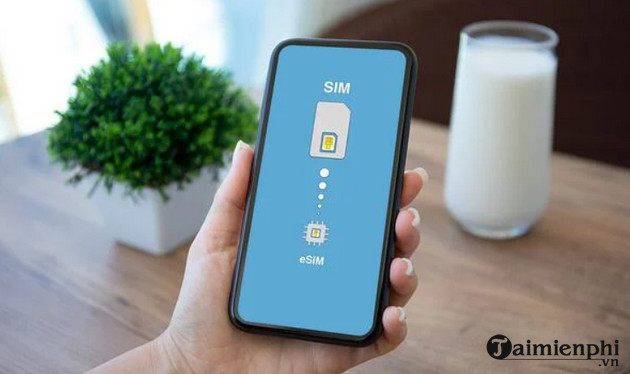 If the phone is in standby and both SIM and eSIM are provided, the user can make calls and text messages on both numbers.
Also, if you want, you can choose a second sim to use mobile data, which is extremely useful in case you are living abroad and using eSIM local data.
Not to mention you can store multiple eSIMs on one iPhone, but can only use one eSIM at a time.
To convert to eSIM, click Settings (settings) =>Cellular (mobile) =>Cellular Plans (mobile data plan) and select the data plan you want to use.
5. Trend of eSIM on Smartphone
It is highly likely that future smartphones will use an electronic SIM instead of using a physical SIM (and SIM slot) like today. And most likely the first devices to remove the traditional SIM will be released in 2020. There are many reasons to believe that it is too early for Apple to apply electronic SIM to the iPhone XI this year.
In addition to the Apple Watch Series 3, Apple's newly launched iPhone lines, including the iPhone XS and XS Max, now use eSIM technology. Not to mention Apple's iOS 12.1 update has eSIM support and enabled.
In addition, Google's Pixel 2 also supports eSIM, but support is currently only being rolled out and used in the US for Google's Project Fi. Carriers will roll out support as soon as the eSIM is launched.
6. How to use eSIM on iPhone XR, XS and XS Max
6.1 If using a QR code:
Step 1: Go to Settings (settings) => Cellular (mobile).
Step 2: Click Add Cellular Plan (add a mobile data plan).
Step 3: Use your iPhone to scan the QR code provided by your carrier, you may also be asked to enter an activation code.
The screenshot below depicts the eSIM in the EE package: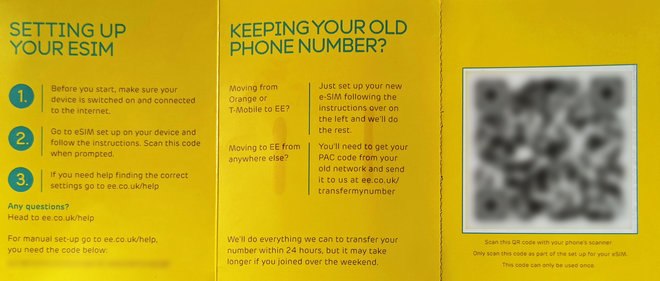 6.2 Using carrier apps:
Or another way to activate the eSIM is to use the carrier's app:
Step 1: Go to the App Store, find and download the carrier's app.
Step 2: Use the app to purchase a mobile data plan.
Step 3: Next, add your cellular data plan to the Settings app on your iPhone.
The image below shows how to activate an eSIM in the Truphone app: select the plan you want to use and pay with Apple Pay. Then open the Settings app on your phone and select the package you just bought, tap Add data plan (add mobile data plan).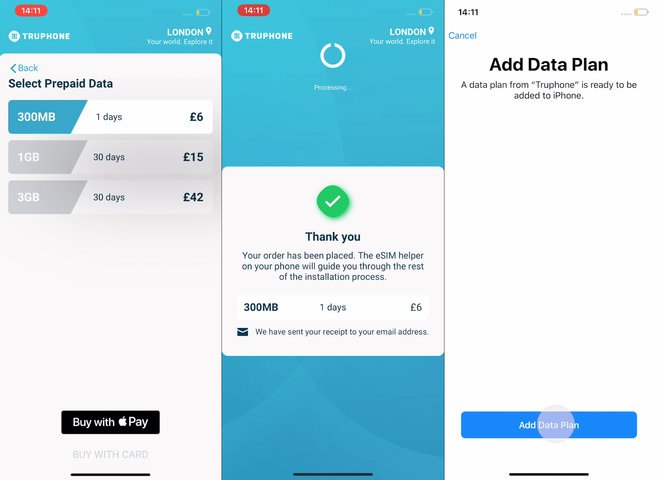 The next step is to add the data packet Settings (settings) =>Cellular (mobile). Click on the package you want to change, then click Cellular Plan Label and select a new package or enter a custom package name.
So in the above article, Taimienphi.vn has just introduced to you what is eSIM? How to activate and use eSIM on iPhone XR, XS and XS Max. If you have any questions or questions that need to be answered, readers can leave their comments in the comment section below the article, readers may also be interested in SIM Hey Zalo what we shared.
https://thuthuat.taimienphi.vn/esim-la-gi-44381n.aspx
If you use Viettel sim, please refer to register 4G Viettel to connect to the network, access the internet, play high-speed games.
Related keywords:
What is eSim?
eSim on iPhone 11, How to use eSim,