Google Sites is a useful application from Google, but not many people know about it. If you're looking to build an intranet for your employees, a website for your family, or an hotspot for your work team, then Google Sites could be the ideal choice.
What are Google Sites?
In simple terms, Google Sites is a tool that allows users to create personal websites to serve different needs. It is part of the Google Workspace (formerly G Suite) suite of business applications, and is also available as a web-based application that is directly accessible to users.
Google Sites is now completely free, and integrated with other Google services like Google Calendar, Google Maps, Google Docs, etc.
Compared to professional website builders like Wix and Weebly, Google Sites is much easier to get used to and use. Almost anyone can create a website using Google Sites with just a few simple taps. You don't need coding knowledge, design talent, or IT expertise to master this toolkit. In just a few minutes, you've got your own website with an intuitive, feature-rich interface.
When should you use Google Sites?
There is no exact answer as to when you should use Google Sites. But there are some cases where you should consider choosing this toolkit because of convenience and cost. Such as:
An intranet or wiki for your company, including guidelines, policies or contact information.
Family site with news, photos and events.
A project team with documents, meeting schedules, budget sheets, and slideshows.
An online resume about your education, work history, skills and experience.
An online portfolio to showcase your work such as articles or images.
Website for the classroom with rules, timetables and details of assignments.
Website for club or team including event schedule, map, discussion topic.
Now that you know what Google Sites is and the right use cases, let's take a look at the basic features and limitations of this toolkit.
Features of Google Sites
The biggest advantage of using Google Sites is the ability to integrate with other Google services. With a simple click, you can add calendars, maps, documents, slideshows, and more. Specifics include:
Google Drive
Google Calendar
Google Maps
Google Docs
Google Sheets
Google Slides
Google Forms
Google Photos
YouTube
Page and page elements
Google Sites offers a wide range of templates, themes, and layouts to get you started building your website. You can then insert items like text boxes, images, and charts… Simply drag and drop to resize or move them wherever you want, regardless of the selected layout. what.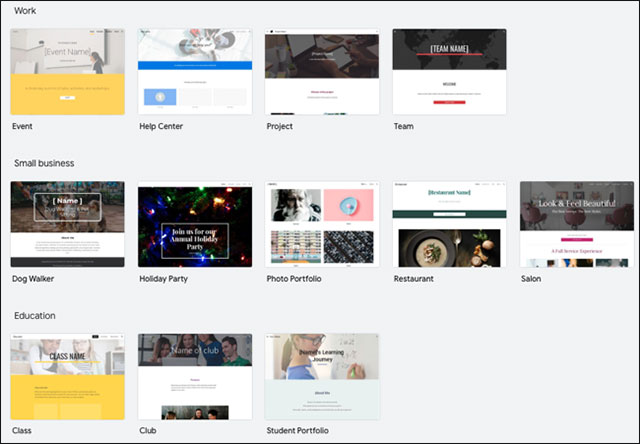 Share the site
If you want a colleague or friend to build a website with you, you can share it in a similar way to other Google apps. For example, you can set up the same restrictions as when sharing documents in Google Docs.
Some limitations of Google Sites
Every tool has its limitations and Google Sites is no exception. Some typical issues include:
No site category, description or sitemap
Embedding your website on other websites is not supported
No view of recent site activity without a Google Analytics account
No social sharing buttons
No access to HTML source code
No SEO features like title tags or meta descriptions
Above is the information you need to know about Google Slides. The network administrator has had an article about creating a basic website with this tool, please refer to:
.