The vaccine passport has been announced by the Ministry of Health, and the Covid-19 vaccine passport process includes three steps, applied from December 20. Vietnam's vaccine passport will have 11 information including personal information and information about the number of Covid-19 vaccine shots that have been administered. Vaccine passports are issued using QR code format and are valid for 12 months from the date of origin. Below are detailed information about the Covid-19 vaccine passport issuance process.
What is a Covid-19 vaccine passport?
The Covid-19 vaccine passport currently applies to 8 vaccines and has had 2 or more shots as prescribed. The Covid-19 vaccine passport will include the information Full name, date of birth, nationality, name of the disease that the certificate targets, number of injections, injection date, dose, vaccine, vaccine product, supplier issue or manufacture vaccines, the number of the certificate.
About looking up your injection number has been updated on the system or not, please refer to the article.
Passport process for Covid-19 vaccine
Step 1:
Immunization establishments will verify information of people who have received 2 doses of Covid-19 vaccine according to the direction of the Ministry of Health.
Step 2:
Immunization facilities conduct digital signatures on the Covid-19 vaccination management platform.
The Covid-19 vaccination management platform will connect and share data with the Covid-19 vaccine vaccination certification management system.
There will be 8 vaccines licensed by the Ministry of Health, including: AstraZeneca, Sputnik V, Vero Cell, Pfizer, Moderna, Janssen, Hayat-Vax and Abdala, each vaccine product has a code attached.
Step 3:
The Ministry of Health digitally signs the certificate of vaccination against COVID-19 in a centralized manner. The certificate is issued using the QR code format according to the EU regulatory standards.
Below is a diagram of the process of issuing a passport for the Covid-19 vaccine.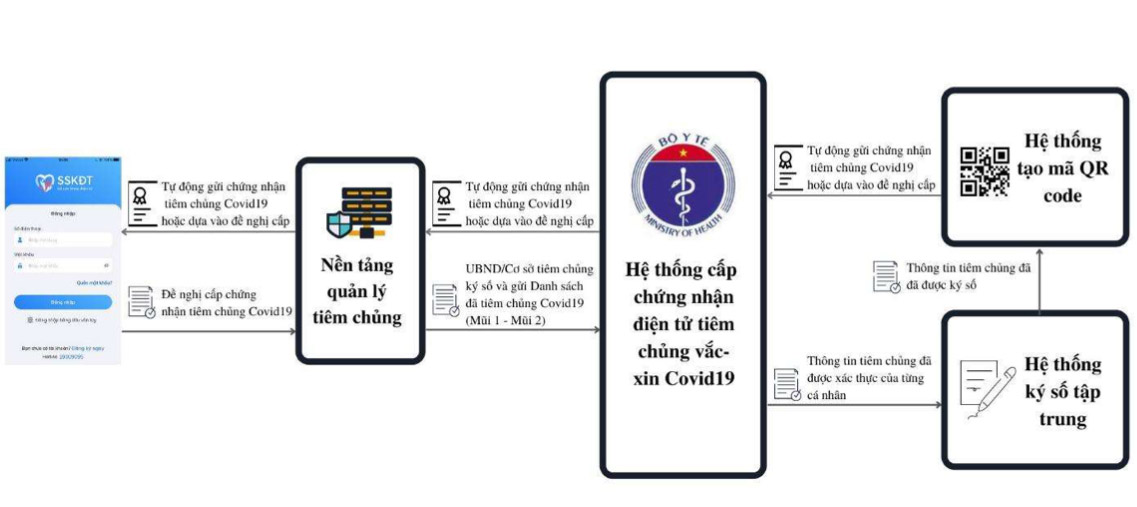 .